Why Your Community Must Plan for Emergency Communication and Training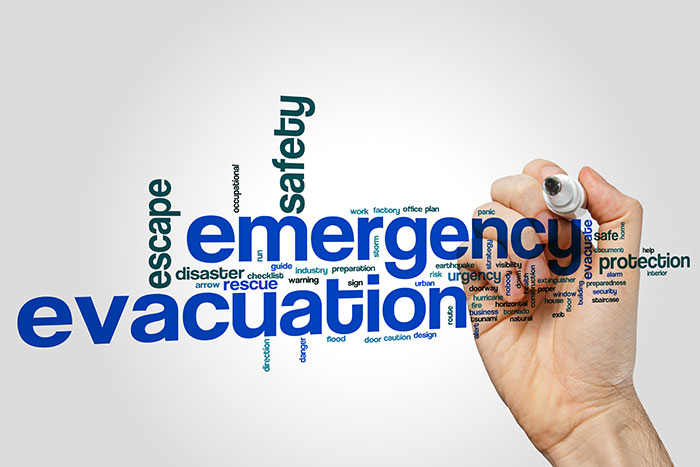 Whether you live in a high-rise condominium in Chicago, a homeowners association (HOA) in Houston or an active adult community in Las Vegas, emergencies can happen. Do you think your residents would know where to go or whom to contact in an emergency situation? Does your onsite staff know what to do to protect residents and the community's property in the event of a major storm like a hurricane, tornado or severe blizzard? How well would they handle a flood, a fire or a violent outbreak?
And what about your vendors? Do they know what your community association expects of them before, during and after an emergency?
The strongest
emergency preparedness plan
won't be very effective if you haven't communicated it to residents, if your staff isn't properly trained or if vendors don't know their role. The ensuing chaos that might occur in the face of an emergency could needlessly put people's lives at risk.
Your property also could incur more damage than it would have otherwise, which could hurt the community's financial wellbeing and impact property values. Additionally, insurance claims could be denied or your premiums could go up if untrained staff or vendors didn't take appropriate steps, such as protecting windows before a hurricane or tarping damaged roofs after a tornado.
Make sure that everyone knows what to do by following these important recommendations.
Communicate about emergency preparedness all year long.
Communicating your emergency preparedness plan with community residents once or using just one communication channel isn't enough. People may overlook an email, forget what they were told or be new to the community. Reiterate your plan at regular intervals on your community website, in your newsletter, by email and during annual meetings. If your area is prone to seasonal storms, remind residents of your emergency preparedness plan and what they should do a month or so before the season begins.
Timothy Snowden, executive director of high-rise operations at FirstService Residential in Philadelphia, points out that it is also important to communicate with residents prior to any highly publicized event that may have inherent risks. "When events such as the 2015 papal visit or the 2016 Democratic National Convention came to town, residents needed to know what was going on and what the board and the management team had done to prepare for it," he explains.
Have a system for communicating with residents during an emergency.
When an actual emergency occurs, it is especially critical that your community have a reliable communication system in place, like FirstService Residential's mass communication tool, Resident Alert
TM
. According to FirstService Residential Director of Management, Alex Taylor, "Our communities depend on Resident Alert to ensure that everyone receives all important information and knows what action to take."
Snowden explains that power loss and downed phone lines can be challenges to communication, so he recommends keeping an emergency generator for powering office equipment. However, he explains, "You may need to go back to the basics. You may need to hand out flyers door to door if there's no power and you need to reach people. That's the difficulty in the modern world in which we rely on electricity."
Make sure that onsite staff is well trained.
Preparation via scheduled reminders and drills is critical to making sure that your onsite staff is ready to face whatever emergencies may arise. Of course, if you work with a professional property management company, it will be the responsibility of the management company to keep staff properly trained. Examples of training you or your management company should provide include:
Storm preparation drills prior to the beginning of storm season
Drills to know what to do during a natural disaster that may be prevalent in your area, such as a wildfires or flooding
Active shooter drills
How to stock emergency supplies
Edwin Lugo, vice president of the south Florida high-rise division for FirstService Residential, also recommends working with your county, city or local emergency management teams. They will know what kind of disasters are most common in your area (for example, tornadoes in Kansas and Missouri, hurricanes in Florida and Texas and earthquakes in California) and how to prepare for them.
In addition, local emergency management will be able to tell you if your community is in a mandatory evacuation zone, inform you of your risk for flooding and provide other hyperlocal information that will help your association board and onsite staff keep your community safe. Emergency management offices can often provide information about conducting drills and training as well. Lugo also suggests working with neighboring association boards to share best practices and knowledge.
Your management company may be able to offer emergency training to your board members, too. "We recently provided an active shooter training and fire evacuation training for our associates," says Maurice Talley, corporate trainer for FirstService Residential. "We extended an invitation to our board members because emergencies can happen anywhere, anytime. It's important that board members are appropriately trained so they're able to execute an emergency plan as well," he explained.
Don't forget your vendors.
Your trusted vendors need to know what you expect of them before, during and after an emergency. Conversely, your board needs to be aware of what your vendors are capable of and what resources they have available to keep your community safe. Discuss your emergency expectations with your vendors, and plan to meet with landscapers, roofers and other contractors prior to storm season.
Your community needs to have an actionable emergency preparedness plan in place; remember to check out our article for more about creating an
emergency plan
that works. Then that plan must be communicated effectively and everyone involved needs training on their roles in it. This will minimize your association's risk and increase resident safety, as well as maintaining the financial health of the community.
Find out how an experienced property management company can leverage its propriety technology and professional expertise to help your community execute an effective emergency management plan, train your staff and communicate that plan.
Contact FirstService Residential
, North America's leading property management company, today.