Five Reasons to Love Your Community Management Company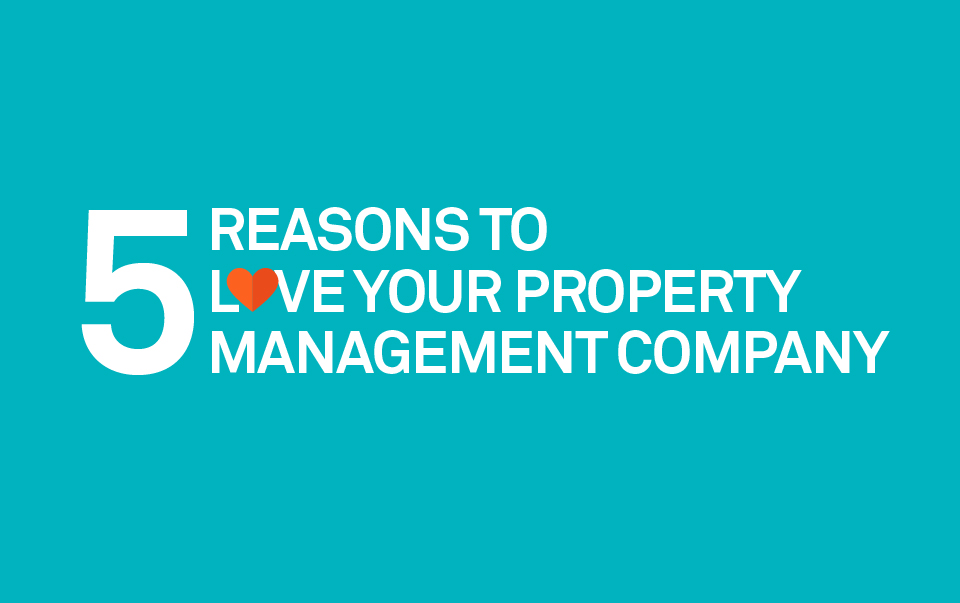 It's always great to have a reliable partner by your side. Whether it's a family member, someone at work, or even a fellow member of a sports team on which you play, knowing that someone has your back can instill you with confidence and comfort.
The same can be said for being a board member of a community association. You volunteer your time and services for the betterment of the community, and you do so because you care about where you live. You want your community to be as strong as it can be, and you want to make sure you and your neighbors are living the most comfortable life possible. But sometimes you can feel worn thin. Chances are you work a full-time job and have responsibilities at home with your family, so having a trustworthy partner can alleviate many of the stresses you may feel as a HOA board member. That's where your professional community management company can assist!
Below are five great reasons to consider hiring the best community management company to help with day-to-day operations.
Makes your job easier. Your responsibilities involve enacting policies, working on your annual budget, and interacting with community members on their needs and concerns. Satisfying just one of those roles can take a lot of time and effort, and having a community management team to help can make business run more smoothly. Perhaps you've had issues getting your budget in order each year or could use some guidance. Or maybe the community association board needs to adopt a new approach altogether for determining how money is allocated each year. An excellent community management company will be able to walk you through that process and help refine your budget. The best management companies have specific budgeting and accounting services to show you how to spend wisely and efficiently. That's just scratching the surface. Your community management company helps review contracts, secure vendor quotes, assist with insurance matters, and oversee major projects you have planned in your community. A professional management company employs industry experts who provide expertise on a wide range of topics and issues that may affect your community. While situations that arise may be new to you, the better management companies have successfully dealt with similar issues and projects in the past. It can be a major weight off your shoulders to know that you don't have to tackle these issues alone.

Adds value. The mere presence of a community management company should be seen as a positive by neighbors, fellow board members, and even prospective homeowners. Seeing your community manager visit the property can help to instill confidence in your neighbors that someone is paying attention to their community. Community association board members may not be able to survey the community as closely, and with as keen an eye, as a community manager. Having a reliable company can help to bring problem areas to your attention, and suggest potential resolutions to keep the community sustainable.

Saves you money. Are you unsatisfied with your landscaping especially with the amount of money you're paying? Or maybe you're looking for better, faster Internet service for the community. Having a good community management company to help negotiate those deals can mean better service and prices for your association. For example, FirstService Residential can leverage its size and scope with third-party vendors. After all, these vendors realize that a good community management company represents a number of different properties, meaning they have a chance to get business in their other communities. That boils down to preferred rates, exclusive savings, and a much healthier budget simply because your community management company has such significant influence. Also, they could get you access to preferred banking services, obtain better interest rates, and even help to ensure that you are making wise investments.

Offers great advice. Your community management company will develop an in-depth understanding of the challenges and issues facing your community. Maybe you're wondering if a landscaping project is the best way to beautify your community, or if another solution may be better suited for your needs. Maybe you need to develop an emergency response plan for fires, earthquakes, or storms. Your community management company can call on its expertise from working with other properties and provide pointers to help you to devise a plan that's tailored to your specific property.

Makes a difference. Every day. Think about everything you read above. All of those services, and being there as a trustworthy ally, take a great deal of pressure away from your role as a board member. With the help of your community management company, you can be certain that your budget is sound, and that your reserve fund is healthy and ready to handle any situation that might arise. You can rely on your management company to ensure that your community is in the best shape, and that policies passed by the board are enacted smoothly. Any time you need some good advice, or if there are any issues that need to be addressed, a close partnership with your community management company can help to alleviate any stress that comes with making difficult decisions. The best management company is an invaluable asset that will be there for you every step of the way to make sure your community thrives and continues to build strength and prestige.
Having a strong community management company as your everyday partner can make your tenure on your HOA board more fruitful and rewarding. For more information on what a great community management company can do for you,
contact FirstService Residential.