Six-Step Reference Guide to HOA Budget Preparation
Read our guide "8 Secrets to A Better Association Budget Process".
Association board members must learn how to manage the budget process effectively. In fact, it's one of your main responsibilities. As North America's property management leader, we want to help you ensure your community's financial success.
Preparing and adopting your annual association budget is a critical component of your responsibilities as a board. As your property management partner, we take an active role to provide guidance and expertise, helping craft a budget that positions your community for success. Use these steps below, along with the help of your management team, to get started on budget preparation in your community.
Create a schedule and timeline for your HOA budgets:

Taking the necessary time upfront to develop a realistic plan for your association budget will make this process smoother. Start by identifying when the final budget is due and then work backward to create checkpoints along the way. Together with your manager, determine any timing requirements dictated by state or local laws and ordinances, the association's governing documents, or the management contract.


Assign groups to set budget assumptions:

The location of your community will likely determine the specifics of this step, but the purpose remains the same. Engage the appropriate teams, committees or individuals, and outline what is expected to ensure that you are working with realistic numbers and accurate data. Since your budget will only be as good as the information you are working with, don't overlook the importance of this step in the process.


Review expenses and trends:

FirstService Residential, North America's property management leader, has tips to help your board with strategic financial planning and improving your community's reserve funds. Watch Improving Board Performance: Reserves for advice on fully funding your reserves.


While each community has its unique circumstances when it comes to specific expenses, there are common trends that impact all communities. Understanding those trends and leveraging that information when creating your budget is important. Association expenses can generally be categorized as follows (and you should ensure a thorough review and recommendation for each):

Repairs and Maintenance
Reserves
Utilities
Payroll and Medical Benefits
Taxes
Debt Service
Insurance Coverage
Vendor Contracts
Discretionary Expenses

In addition to the categories above, it is also good practice to consider factors like the prior year's deficit or surplus, repair versus replacement decisions, proper monthly cash flow, and accounts receivable delinquencies.


Identify any income sources:

Determine if your association has any revenue streams that will offset the common expenses in your budget. This may include income sources ranging from access cards and storage to parking revenue and commercial rent.


Budget review:

The finance committee or the board will review the first draft of the budget. During this time, it is prudent to examine all items in the budget with your management team, including the contracts, assumptions and trends that influenced the output. This is an opportunity to make any recommendations and request changes, prior to the approval of the final draft.


Final budget approval:

Once you have worked with your manager to make the appropriate modifications to the draft, it is time to approve the budget according to your community's governing documents. You will also want to ensure that owners are properly notified of the approved budget and its impact on their association dues.

As North America's property management leader, FirstService Residential is here to help your community thrive. Providing guidance to your board on best practices and delivering exceptional service, we have the experience and expertise to help you make the best decisions for your community's success.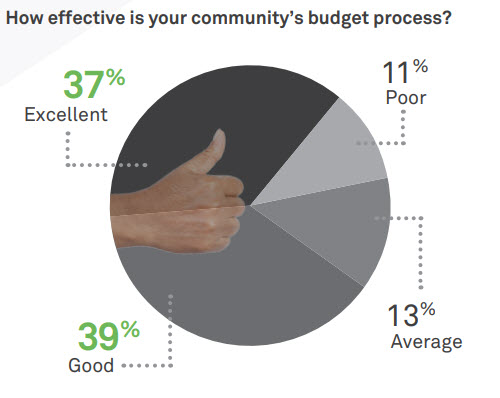 Download our HOA Budgets survey result
On average, board members selected over 3 reasons why their budget process was good, indicating that developing a solid budget takes a variety of factors working in your favor to keep the budget on course. Get the survey report to get the inside scoop.
Download our survey report

(Opens in a new window)
For more details on the budget preparation process in your community, reach out to your manager.