Seven Tips to Help You Live Large in a Small Space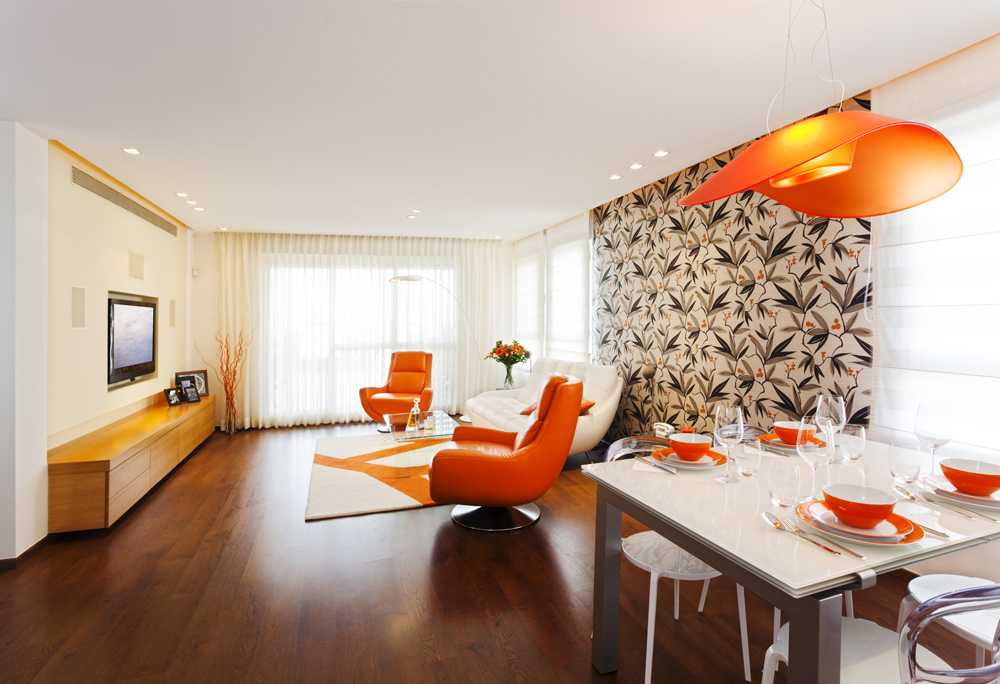 Large homes with sprawling floorplans can make some people swoon, but they don't always fit every homeowner's taste, budget or lifestyle. When it comes to living space, less can be more…less to furnish, less to clean and less to pay for. So if you're short on square footage, but long on flexibility and creativity, we've got seven smart tips to help you live large in a smaller space.
1. Lighter colors look larger.
You don't have to be a fashionista to know that wearing black makes you look thinner. Dark colors minimize and light colors maximize, and it's the same principle whether we're talking about our figures or our living rooms. So lighten up your walls with a fresh coat of white or light-colored paint to make your living space seem bigger, fresher and brighter. Which leads us to…
2. Bring in the natural light.
Natural light will make your home look and feel larger than it would in artificial light, which can cast glare and shadows. When possible, open your blinds or curtains to allow natural sunlight inside to lighten and brighten your rooms – and the views that extend outside will visually lengthen your space as well. You'll want to use curtains to protect your privacy at times, but to keep things light, choose window coverings that tend more towards thin and wispy than heavy and pendulous. Using mirrors can also help make small spaces seem larger and brighter. Position large mirrors on walls opposite windows to reflect back that natural light.
3. Small space, large furniture.
It may seem counterintuitive, but larger furniture can make smaller floorplans look larger. Here's why: small pieces, by design, may not be large enough to serve your needs, so you'll need more of them. Alternatively, one larger piece may take up more room initially, but it may do the trick. For example, consider the total floor space you'll need to accommodate a loveseat with several chairs, compared to one sofa. The sofa wins. Here's another furniture tip – avoid skirted sofas and instead opt for exposed legs which look less heavy and help to visually expand your space.
4. Make your furniture multitask.
We all wear many hats – so why not your furniture? If your floor space is tight, avoid furniture that serves just one purpose, and instead choose multifunctional pieces, like dining tables that double as desks, ottomans that provide hidden storage, or daybeds that do double duty as sofas when you add colorful throw pillows.
5. Store upwards, not sideways.
When it comes to bookcases, media cabinets and other decorative storage units, most people tend to think wider, not higher. But if you compare two bookcases side by side, one wide and one tall, the wider piece has a much larger footprint than its vertical cousin. So take advantage of unused vertical space by purchasing storage units that extend straight up – or stack several smaller units on top of each other – expanding your storage ability into your vertical space instead of your floor space.
6. Use your community's storage space.
Many condominium associations offer storage units or spaces to their residents – but not everyone takes advantage of these valuable features. "Some people aren't aware or don't effectively utilize the storage space provided to them by their communities, so their homes can be unnecessarily cluttered," says Rebecca Clemson, a Community Association Manager at FirstService Residential. "For example, you don't need to store holiday decorations in your closet year-round just to use them once a year. If you store these items in your storage unit instead, you'll have more room in your home for the items you actually use every day."
7. Use built-ins.
Expand your living space by getting your furniture, decorative and storage units off the floor and onto the wall. Built-in furniture and shelving are great to maximize the available floor space in a small room, and at the same time, add style and panache to virtually any room in your home. If you're a do-it-yourselfer, you can install floor-to-ceiling shelving to display books and decorative objects on the wall, or you can hire a professional to create built-in shelving or even built-in bedroom, kitchen or living room furniture customized to your space.
So remember, larger homes may not be the solution for everyone. In fact, smaller homes can be cozy, beautiful and very livable – and certainly a lot easier on your cash flow. For more tips on how to maximize your living space and your lifestyle,
contact FirstService Residential
.