New York's Climate Mobilization Act | Frequently Asked Questions
In April 2019, New York City passed the
Climate Mobilization Act (CMA)
, one of the country's most progressive legislative packages to combat the effects of climate change. The CMA comprises 11 laws that establish deadlines for compliance, benchmarking for energy use, energy efficiency scores and fines for properties that do not comply.
As New York City's property management leader, FirstService Residential and its energy advisory affiliate,
FirstService Energy
, are prepared to help condominium and cooperative boards and multifamily building owners navigate CMA compliance, avoid costly fines and identify investments in sustainable systems and technology that add value to the property.
Which local laws comprise New York City's Climate Mobilization Act?
Local Law 97, a centerpiece of the CMA, establishes carbon emissions caps, fines and compliance deadlines for buildings comprising 25,000 square feet or more. The law impacts a majority of the city's condos, co-ops and rental buildings. Affected buildings will need to reduce their emissions by 40% by 2030 and 80% by 2050 or face costly fines.
Local Law 95 requires buildings to post their energy efficiency score and corresponding letter grade.
Local Law 92 and 94 requires the installation of green roofs or solar panels for all new buildings and substantial roof-level renovation projects. Please note, there are exceptions, reach out to our team for more information.
Local Law 96 established Property Assessed Clean Energy (PACE) loans, which help boards and building owners finance up to the costs of energy efficiency and renewable energy projects. Urban Green Council recently discussed which buildings and projects are eligible for PACE financing, exceptions to which buildings qualify and how eligibility is determined. Click below to learn more.
What does Local Law 97 require?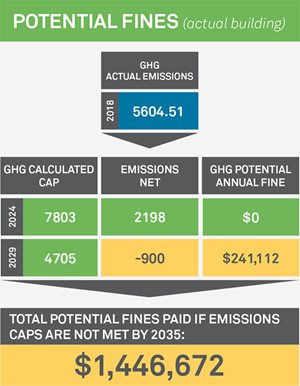 Buildings 25,000 square feet and above are required to reduce their carbon emissions to allowable limits by December 31, 2024. Starting in 2025, these buildings will be required to submit an annual emissions intensity report certified by a registered design professional that states the building is in compliance, or be subject to substantial fines. The first compliance report is due May 1, 2025 and every May thereafter.
How can my building get started?
Meeting your emissions caps will require a whole- building approach to efficiency improvements. Building systems are highly interdependent, so improvements to each system must be considered holistically.
The first critical step is completion of a carbon study, which will provide a foundation for all future strategies and investments related to Local Law 97 compliance. The study is a comprehensive analysis of the building's carbon profile (i.e. natural gas, electricity, oil, etc.), its current emissions, use type and total square footage, and quantifies the property's emissions intensity limit.
The results of the study will help boards and owners identify operational improvements, equipment to replace and potential upgrades that can reduce emissions and improve efficiency. Buildings that exceed their allotted emissions and fail to compensate by implementing alternate compliance options to offset emissions will be fined.
The carbon study is also a good place to start if your building recently completed or is in the process of conducting a Local Law 87 energy audit. If you haven't begun an energy audit, ask your provider to expand the scope of the audit to include longer-term energy savings strategies into the analysis.
Our in-house energy experts recently discussed the most common questions and challenges facing multifamily buildings impacted by Local Law 97.
Click here to watch the presentation in full
.
How does my building emit carbon?
Different forms of energy use — electricity, natural gas, various types of fuel oil and district steam — release different amounts of carbon. To calculate carbon emissions, each type of building energy use is multiplied by an "emissions factor" to convert from energy use to carbon emitted.
Emissions are typically the result of fuel combustion and can occur onsite as a result of an oil or gas boiler or off-site at a power plant that burns natural gas to generate electricity.
The carbon emissions limits set by Local Law 97 include onsite and offsite emissions in a single limit, so reductions in lighting, heating, cooling and plug loads all contribute to reaching your goals.
What are the financial fines for non-compliance?
The city has imposed hefty annual penalties for buildings that do not comply with Local Law 97, including a fine of $268 per metric ton of emissions that exceed the building's carbon cap. While this number may sound small, annual fines can quickly reach or exceed $100,000 if boards and building owners do not take action to reduce carbon emissions.
What are the benefits of acting now?
The amount of allowable carbon emissions is set to decrease over time. The first benchmark arrives in 2024 and the next in 2029. The top 20% of buildings that have the highest carbon intensity are required to reduce their carbon emissions by December 31, 2024 or face an annual fine commencing in 2025. While the average building will likely already be close to or in compliance with 2024 emissions limits, energy retrofits can take years to complete. Boards and building owners should not stall their efforts to comply given the progressively restrictive emissions caps in 2030 and beyond.
Compliance timelines are designed to give buildings enough time to integrate projects into capital planning and align with normal replacement or refinancing cycles.
How can we achieve the highest return on investing in efficiency measures?
Saving energy is the most effective way to reduce building emissions and targeting the most carbon-intensive fuels will yield the biggest carbon savings. Boards and building owners will need to coordinate the results of the carbon study or energy audit with current capital and financial plans. This includes forthcoming improvement projects, ongoing compliance projects, facility operation plans, contracted services and your energy management systems. A strategic approach to both long-term carbon reduction and capital planning will facilitate the most favorable return on investment.
What role do residents play in helping us reduce emissions?
Energy used in individual apartments can account for a sizeable portion of a building's total electric consumption, in many cases, accounting for up to 80% of a building's overall electric consumption. It will be difficult to reach your emissions targets without your occupants reducing their personal energy use.
Education on energy consumption and carbon emissions is a crucial first step to help occupants understand just how much energy they are using and how that impacts the building's energy grade and carbon emissions. When occupants are unaware of their individual energy use, they have no frame of reference for how their consumption impacts the building, which gives them little incentive to change behaviors. To get the conversation started, consider hosting an educational event for owners and occupants to help them understand how the CMA will impact your building.
Learn how to engage your building occupants and advance your energy efficiency initiatives. Click here to watch our webinar.
How does having rent regulated units in our building affect our compliance obligations?
If a building has 35% or more rent regulated apartments, the city has outlined a list of alternative pathways to compliance. FirstService Energy recommends evaluating costs associated with these measures and timeline versus the standard pathway. The deadline to complete the list of prescriptive measures is December 31, 2026.
Prescriptive Measures for Affordable Housing:
Adjusting temperature set points for heat and hot water
Maintaining heating systems and repairing all heating system leaks
Installing individual temperature controls or insulated radiator enclosures with temperature controls
Insulating pipes for heating and/or hot water
Insulating steam system condensate tank or water tank
Installing indoor and outdoor heating system sensors and boiler controls
Installing or upgrading steam system master venting and replacing or repairing all steam traps
Upgrading lighting
Weatherizing and air sealing
Installing timers on exhaust fans
Installing radiant barriers behind all radiators
What proactive measures can we take to stay in compliance?
Decision makers should act with a sense of urgency when it comes to identifying your building's obligations under the law, as the 2024 deadline is just a few cycles away. The first step is to undertake an energy assessment so that you can fully understand your building's current energy usage and identify operational improvements, equipment to replace, and potential upgrades that can reduce emissions and improve efficiency. Developing a comprehensive, strategic, long-term carbon reduction roadmap and capital planning structure now will go a long way towards mitigating most of the potential costs and other burdens associated with compliance.
Even if a building is not expected to exceed the 2025 or 2030 emissions limit, it is important to note that the city will continue to incrementally reduce the allowable emissions every five years until 2050.
How Boards & Building Owners Can Maximize GHG Reductions:
Transition away from fossil fuels
Reduce energy and carbon waste by implementing efficiency strategies and technologies
Maximize on-site renewable energy
Improve operations and maintenance
Empower residents to reduce energy use
Are there financial incentives available to offset the costs of Local Law 97 compliance?
The New York State Energy Research and Development Authority (NYSERDA) is currently offering incentive opportunities to offset costs related to the carbon study through its
Flexible Technical Assistance (FlexTech) Program
. The
Low Carbon Capital Planning Support for Multifamily Buildings
will provide access to funds that cover up to 75% of project costs for completing a comprehensive, actionable energy study that provides a roadmap to guide low carbon energy-saving upgrades and put them on the path towards compliance.
Higher incentives are available for affordable housing properties.
For more information on this program and to get started contact
Lily.Malota@FirstServiceEnergy.com
. Be advised that incentives can change at any time based on available funding.
How can FirstService Energy assist our building?
Since 2009, FirstService Energy has helped FirstService Residential properties save more than $23 million while reducing their carbon footprint by 15.6%. Their in-house team of experts takes a unique, holistic approach to energy management by applying state-of-the-art data analysis to evaluate a property's energy consumption.
Working in collaboration with FirstService Residential, FirstService Project Management and Steven Winter Associates, FirstService Energy introduced a proprietary Carbon Reduction Roadmap in 2020. The program offers boards and building owners a one-stop solution integrating all the essential services needed to comply with the CMA. This includes a comprehensive energy audit and carbon study, financial services to identify specific funding strategies, construction and project management for planning the timing of necessary retrofits, and educational efficiency opportunities for building occupants.
Buildings managed by FirstService Residential can
contact our energy experts today
for a GHG Emissions Report, which estimates carbon emissions and potential fines for non-compliance to jumpstart their path to compliance.