What to Know When it Comes to the Basics of Community Pool Insurance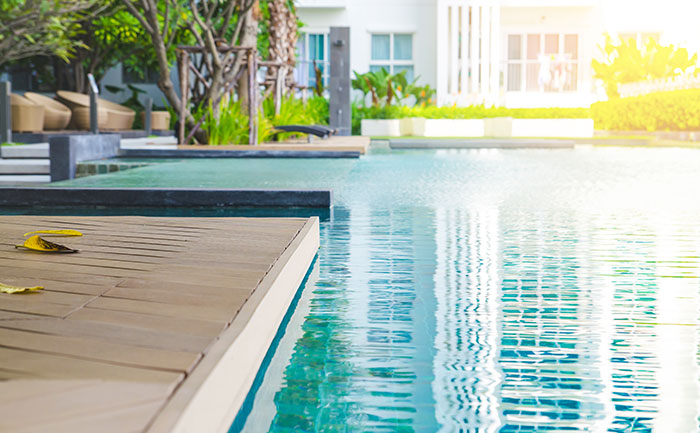 Swimming pools are one of the most common, and most desirable, amenities in managed communities. Whether your pool is an Olympic-sized fitness lover's dream, a resort-style oasis or a rooftop paradise, your pool is an important feature for your residents that enhances their lifestyles every day.
Pools are also, unfortunately, an accident-prone area. In the event of an incident at your swimming pool, a lack of insurance, or a gap in your insurance coverage, can be devastating to your association's budget. As a board member, making sure that the proper insurance coverage is in place is part of your fiduciary responsibility to your association.
What can happen if you don't have the right insurance coverage for your community pool?
"Lawsuits, which may lead to special assessments and a loss of reputation for the community, are definitely a possibility when you're talking about a lack of insurance for a pool," explained Katherine Beltran, product manager at FS Insurance Brokers, a full-service insurance brokerage which works exclusively with FirstService Residential-managed properties.
How can you make sure you are covered?
Before you purchase any additional insurance for your association, be sure to speak to a professional, licensed broker or agent and advise them of all areas you need coverage. Your broker can't advise you of the right coverage if he or she doesn't know what you need covered.
Most insurance agents or brokers will make a site visit, but if they don't, make sure to tell them: how many pools are on your property, the size of each pool, all special pool features, etc. Sean Kent, senior vice president of FS Insurance Brokers, stated that "Any special features around the pool, such as a waterslide or diving board, will increase the potential liability and can have an impact on an underwriter's appetite, making it more costly for the policyholder," Kent elaborated. "In fact, there are very few insurance carriers willing to underwrite an association's liability coverage if there is a diving board or slide at the pool."
It's important to note that any policy is going to require that your community abide by all federal, state and local pool laws and ordinances, or your coverage can be invalidated. Some of these laws may include, but are not limited to, the height and type of fencing used to surround the pool, posted signage on the property, available safety equipment and staffing within the pool area.
Most policies will also have requirements about keeping the pool area clean and well-maintained, including water testing and chemical maintenance. Improper maintenance can also invalidate your insurance policies.
An association board should do its best to enforce the rules of the association to prevent greater potential liability, including whether or not alcohol consumption is permitted around the pool.
What kind of coverage do you need?
"Usually, your community pool is covered by your association's general liability policy and general property policy," Beltran said. "In general, a property policy covers any damage to the pool itself and a liability policy covers any incidents that happen at the pool or around it." Beltran recommends discussing an additional umbrella policy, or excess liability policy, with your insurance broker or agent. That policy may be necessary because of the increased risk associated with anything water-related.
If your community pool area has lifeguards and other staff, she suggested also discussing adding an endorsement to the general liability policy to protect your association in the event that someone makes an accusation of improper conduct. Your broker or agent will know if that is a good idea.
Are there any ways to lower your premiums?
The only way to find out is to consult with your licensed insurance agent or broker. You may be able to lower your insurance costs by having staff complete trainings for loss prevention, risk management and/or CPR. Anything that can help staff be better prepared in the event of an emergency may provide an opportunity for a discount, but only your licensed insurance agent or broker will know for sure.
You love your pool. Your community loves your pool. Make sure that it remains a valued feature in your community rather than becoming a risk management nightmare by investing in the right insurance coverage. The right insurance coverage will also protect your budget and property values, helping your community remain financially healthy.
Does your community pool have a set of rules clearly outlined?