Swimming pool safety: 6 things your association should do
Download Our Guide
Download our Guide on Pool Safety Tips To Protect Your Residents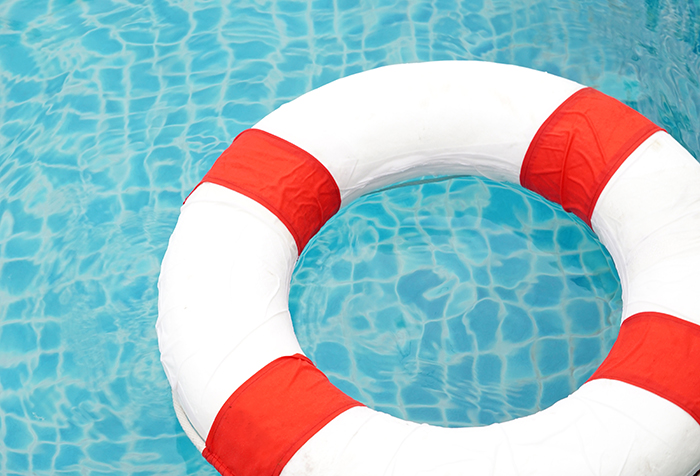 Pool safety is paramount in any scenario, but it can be especially critical in residential communities where many families with small children reside. That's why FirstService Residential is supporting the U.S. Consumer Product Safety Commission (CPSC) in its nationwide campaign to reduce pool drownings.
According to the
CPSC
, fatal child drownings remain high among children ages 1-4. Safety becomes even more critical when you consider the sheer number of pools and swimmers in North America. Swimming is the most popular recreational activity for children and teens ages 7 to 17 in the U.S. They have ample opportunities, with over 10.7 million pools in the country, the overwhelming majority private pools.
In Canada, there are around 1.1 million pools. The most recent studies available place swimming as the third most popular sport of choice in that country, trailing only extremely popular mainstays like hockey and golf.
Hence, the need for swimming pool safety practices in your community is essential in reducing unsafe conditions for your residents. Below are our top 6 steps your community should take to promote safe practices.
What are some pool rules?
1. Supervise children
Ideally, your community pool is staffed with a trained and certified lifeguard. A property management company can help you hire this professional, and they can assist with ongoing training, too. Remember that your busier pool hours may require multiple lifeguards. In some states, like
New Jersey
, pool size is a factor in lifeguard requirements. It is also important to monitor water depth and ensure children are capable to swim in different areas of the pool, and never allow them to swim in areas too deep for their skill level.
"It's important to have a policy that all children under the age of 18 must be accompanied by an adult, preferably a parent or guardian," said Timothy Fowler, Director of Security Operations and Community Solutions at FirstService Residential. "If you don't have a lifeguard, you must post signs indicating that there is no lifeguard and that all using the pool are swimming at their own risk and indicating basic safety rules such as no glass, no running, no diving, etcetera."
In addition to constant supervision, ensure your community keeps emergency equipment nearby. Most state regulations require a phone, first aid kits, and a life-saving device, such as a flotation ring or a reaching pole, near the pool at all times.
2. Educate to save lives
Whether you have a lifeguard or not, the more people trained in CPR and emergency response techniques, the better. Sponsor community-wide educational opportunities in your condominium or master-planned community. Invite staff and residents to become certified in CPR, first aid, and more. Your local
Red Cross
can be a great resource! A community management company can be instrumental in helping you implement these programs.
3. Create better swimmers
Have you considered hosting swim lessons in your community pool? This approach offers multiple advantages – the biggest being lives saved through better swimming skills. The secondary plus is that it's a great way to get community members together to
build neighborly rapport.
4. Make the rules – and enforce them
Your neighborhood pool rules are essential to the safety of your residents. They should be clearly posted and enforced consistently across all areas where people may enter. Additionally, it is encouraged to include them on your community's social media accounts, website, and newsletters so residents may stay up to date.
A few common rules you can expect to see posted in your community's pool are the following:
No diving

It's important to prohibit diving in the pool for safety reasons. Diving in a shallow pool can result in serious injury, including spinal cord damage and head trauma. Additionally, even experienced divers can be at risk of injury in an unfamiliar pool.

No horseplay

Horseplay, such as pushing or splashing, can cause accidents and injuries in the pool. It's important to discourage this behavior to prevent accidents and ensure a safe and enjoyable swimming experience.

No running around the pool area

Running around the pool can be dangerous, increasing the risk of slips, trips, and falls. Additionally, it can disrupt the tranquility of the pool area and cause distractions for other swimmers.

No swimming alone

Swimming alone, without proper supervision, can be incredibly dangerous. It's important to ensure that there is always a designated pool supervisor to watch over children and ensure their safety in the water.

5. Ensure you have the right enclosures
Make sure you're familiar with your local laws regarding swimming pool enclosures. Most cities or counties have specific requirements for how far an enclosure is from the water's edge, how the entrance gate should function, and more. Following these rules isn't just a matter of compliance – it's a matter of saving lives. Property management companies are well-versed in the law and can help ensure your pool meets these crucial requirements. If your community is self-managed, consult your association attorney about local laws and regulations.
6. Stay on top of maintenance
The last thing you want during pool season is a malfunction or a breakdown. We have tips to help you avoid those headaches – look
here
and
here
. Make sure your safety equipment is in good working order and watch those chemical levels to ensure they're adjusted for the season. Also, encourage residents to swim only when they're healthy – community pools can be a place for viruses to spread.
As part of our commitment to providing exceptional service to our residents and communities, we are sharing this article in support of the U.S. Consumer Product Safety Commission's (CPSC) Pool Safely campaign, a national public education effort aimed at reducing child drownings and non-fatal submersions, as well as entrapments in public swimming pools and spas.

FirstService Residential is committed to supporting this initiative alongside other national organizations such as the Boys & Girls Club, the United States Swim School Association, and the American Red Cross, to promote pool safety across residential communities in the U.S. and Canada.