Six Steps to Putting More Play in Your Neighborhood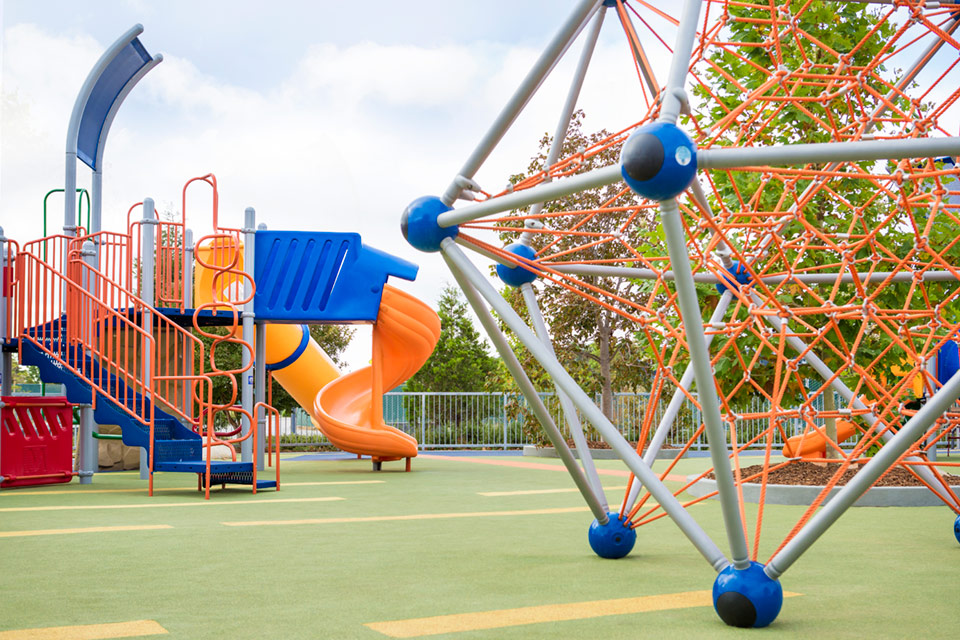 All too often, when we talk about enhancing our communities, we focus mostly on what's right for the adults. The reality is many of our community residents are children. And let's face it: if it's good for kids, then the grownups will probably feel pretty good about it, too.
That brings up the idea of playgrounds. Creating a centralized location for neighborhood kids to safely get together and play provides a great means of exercise and togetherness for the entire community. It helps kids engage in healthy, safe activities, and it enables parents to get to know one another, too.
Here are a few steps to connecting your residents through a safe playground facility, courtesy of American Pool Enterprises, the largest swimming pool management company in the U.S.
1. Decide what you need.
You'll want to begin with a thorough assessment of your playground area requirements. Engage a playground expert – they can factor in considerations such as your budget, capacity and the average age of the community's children when making a recommendation for you. Your playground advisor will analyze the space you have to work with, how the Americans With Disabilities Act (ADA) guidelines can be met, and more. It's also a good idea to involve your association's insurance agent in the process to understand whether there will be an impact to your insurance costs with the addition of a playground. There's a lot to keep in mind, but if you talk to your community association management company, they'll be able to connect you with a reputable company who will enable you to navigate these complicated waters.
2. Design.
This is the part that really feels like play. Working with your playground expert, you'll be part of a creative process that considers age range, use zones and, most importantly, safety. Maintenance will also be a consideration. This is where that professional expertise will really come in handy, because your playground should meet American Society for Testing Materials standards, ADA standards, and International Play Equipment Manufacturing Association Criteria. Throughout the design process, communicate openly with your playground consultant and be realistic about your expectations.
3. Get the community involved.
As you know, anything that happens in your community must have community consensus. When you solicit input from children, parents, and owners, you'll get people behind the project – and you'll make it more likely that the facility will be used. Installation day, by the way, can also be a fantastic community event. Make sure that any plans for a playground also meet the approval requirements under governing law and/or your association's documents
4. Plan for a smooth delivery.
It's not putting the cart before the horse to plan for delivery far in advance. Again, you'll want to make an event of it. What's more, you'll need to accommodate the size of a semi-truck and trailer coming into your neighborhood, dropping off huge pallets of materials. Prep work like leveling the ground and installing the safety surface will need to have been completed by this time as well.
5. Install it.
Yay! This part can be really fun. Whether you choose a professional installer or opt to assemble some structures yourself with a team of volunteers, you'll want some sort of expert guidance. If you choose the volunteer route, keep at least one reputable expert from a playground company on hand to supervise and help with questions.
6. Play - safely.
With a good safety surface installed on the ground, a shade structure to protect against the sun's rays and a community culture that encourages proper supervision, your playground area should be a source of safe fun for your neighborhood children. For more safety tips, you can visit
playgroundsafety.org
.
Play is fun. But installing the right playground facility in your community can also be a little bit of work. Partnering with the right playground experts can really help. For more insight on play structures in your community,
contact FirstService Residential
, North America's residential management company leader.