Making a Difference One Face Mask at a Time
Download Our Guide
Download Our Guide on Improving Your Board Communication During Covid-19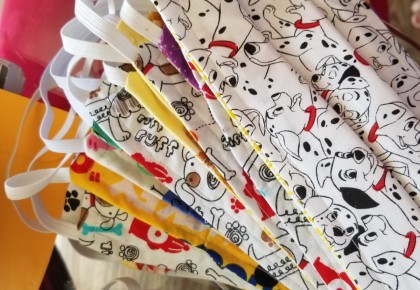 As days and weeks go by, bringing more coverage of the COVID-19 pandemic and its impact on communities, it can be challenging to find a silver lining. But looking for positivity within the chaos has revealed some powerful moments from people around the world. These moments of greatness have provided feel-good stories, offering a glimmer of hope during this difficult time.
Small acts of kindness and tokens of appreciation are more important than ever. Amidst the COVID-19 outbreak, people have come out of the woodwork to help others in need. Whether it's providing lunch for healthcare workers, making homemade face masks or hosting a virtual activity to stay connected while apart people are coming together in new ways to support each other.
Now more than ever, lending a helping hand to those in need makes a difference, every day. FirstService Residential associates, residents and board members across North America contributed to that effort by dedicating their time and energy to making and distributing high-quality, homemade face masks. All of the stories below were sent in by FirstService Residential associates but some star board members or residents.
A New-found Skill
Mitch Kessler is working in the office of his Chicago high-rise every single day, but he still manages to dedicate a time daily to a new hobby he's acquired since quarantine. He purchased a sewing machine online and taught himself how to sew by watching YouTube tutorials. The desire to sew stemmed from wanting to make a face mask for each member of his entire team. The masks Mitch is making have two layers with extra room to insert a filter in the middle. Mitch worked closely with his engineer to utilize viral-rated air filters used in the building for the inserts. The inserts can be changed daily, and the masks are washable. Thanks to his hard work and willingness to learn a new skill, associates in his building can start their day off with a clean mask and new filter. It's a win-win for everyone!
Token of Appreciation
Sometimes the littlest things make the most significant impact! Jennifer Bishop of Kansas City, Missouri, received a letter of appreciation from the U.S. Department of Justice thanking her for her selfless contribution to Court Security Officers (CSOs) in the district of Kansas. Jennifer inherited her grandmother's sewing machine and put it to good use by making and donating approximately 20 cloth face masks to protect the health of those officers. CSOs have the important job of guarding the federal courthouse around the clock every day, so it's comforting for them to know that they now have a layer of protection to keep them safe while on the clock. Every time one of them wears their face mask, they are reminded of Jennifer's kindness and generosity.
Creativity Meets Safety
Deborah Murphy is an interior designer, as well as a board member for one of our communities in Kansas City, Missouri. She put her skills to work and sewed 40 face masks for her communities' maintenance team and cleaning crews. Her mother and sister helped out with her efforts as well. Not only are the masks comfortable, but they also add some pizzazz to the associate's daily routines!
The Mask Maker
Jayne Meyer lives at the Tuscan Village in Austin, Texas. She was recognized in her community's May newsletter for her significant impact during the pandemic. Jane is part of a group of sewing volunteers called Angel Wings of Lake Travis, who made over 450 high-quality face masks. Other Angel Wings seamstresses also contributed to the mask-making, thanks to Marilyn Nielson, co-founder of the organization. Their team has made masks for doctors in Washington state, home healthcare nurses, midwives and many others on the frontlines of COVID-19.
"I'm working on mask number 430 this morning. It fills my heart with joy to do a little part to keep people safe, but I wish this would come to an end. I wear my mask to go to the grocery store and can't wait to get it off my face. How are these frontline workers able to wear them for hours and hours on end? Hopefully, we will soon be back to normal, able to hug one another again," said Meyer.
Spreading Joy
Katherine Newman is a senior property manager at FirstService Residential in Mississauga, Ontario. She has been sewing batches of face masks and giving them away to those at a higher risk of being affected by COVID-19, mostly frontline workers. Katherine sent a batch of face masks to a veterans' home in Maine and another to a lab at Peterborough Hospital in Ontario. Katharine made sure to take care of family and friends as well, including her best friend in Maine, who is a nurse who just started her redeployment on the frontlines at Maine Hospital.
If you or your community's residents would like to learn how to make your own face mask, the CDC website has detailed instructions on how to make, wear and wash a cloth face covering.
Stay tuned for more heartwarming stories of how associates, board members and residents are taking action to support the people in their lives and communities. We are truly stronger together.