4 Safety Tips to Keep Your Holidays Merry
It's that time of year again! Lights and decorations adorn the community. Plans for the association's annual holiday party are in full swing. And neighbors are busy shopping and preparing for upcoming travel. It's also the time of year when an increase in fires, accidents and thefts ruins many people's festivities. For example: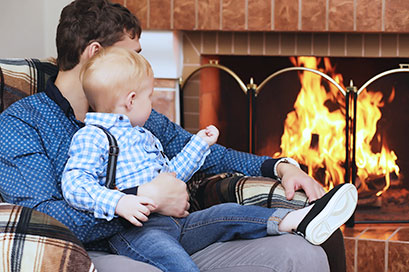 As alarming as these numbers may be, "Most holiday-related accidents and thefts are preventable," says Christopher Campbell, FirstService Residential regional director. "You just have to know – and implement – some simple measures." Here are four things you can do to have a safer holiday season.
Be watchful so fire remains delightful. There's nothing like curling up by a cozy fireplace, watching lights twinkling on a fresh Christmas tree, basking in the glow of candlelight or enjoying the scent of a holiday meal eminating from the kitchen. But carelessness can turn any of these comforting scenes into a fire nightmare. "Every home should have smoke and carbon monoxide detectors," Campbell points out. "Check them regularly to make sure they are working properly." In addition, take these specific precautions:

Fireplace – Before you light the first fire of the season, get your chimney inspected. An inspection will determine if everything is working properly and whether there's an excess buildup of creosote. Creosote is extremely flammable and builds up from repeated use of your fireplace. It needs to be professionally removed to prevent ventilation problems and fire hazards. Always use a screen to prevent embers from popping out and to protect children and pets. Keep anything flammable at least 3 feet away, and make sure the fire is out before you go to bed.
Candles – Place candles on sturdy surfaces away from any flammable objects or decorations. If you have young children or pets, keep candles, lighters and matches out of reach. Consider replacing wax candles with electric ones to be extra safe.
Christmas tree – Although Christmas trees don't cause that many fires, those they do cause tend to be more serious. To reduce the risk, pick out a fresh tree, and cut a few inches off the trunk so it can absorb more water. Place the tree away from open flames, as well as other heat sources (such as a radiator). Water it every day, and dispose of it right after Christmas or as soon as it begins to get dry. If you opt for an artificial tree instead, make sure it is fire retardant.
Kitchen – "The holidays are a time when we tend to get distracted easily," Campbell says, "but as busy as you may be, it's best not to try to multitask during meal prep. Remain in the kitchen when cooking, and set a timer as a reminder to regularly check food in the oven." Campbell also urges residents to keep a fire extinguisher on hand. "That's important to have not just during the holidays, but all year long," he says.

Deck the halls with care. Making your home more festive with lights, decorations and seasonal plants is part of what creates holiday fun. However, you won't enjoy it nearly as much if a decorating accident results in a trip to the hospital. Avoid the emergency room by following these recommendations:

Lighting – Check for frayed wires, broken sockets and missing bulbs. Inspect extension cords for damage too. Unplug lights on your Christmas tree before going to bed or leaving the house. If you are putting up lights outdoors, be sure they are appropriate for outdoor use. Use outdoor extension cords as well. Use clips to hang your lights. Nails can damage cords and so can running cords through windows or doors.
Holiday plants – The berries from holly and mistletoe are toxic, so avoid these plants if you have young children or pets. Contrary to what you may have heard, poinsettias are only mildly toxic to cats and dogs. Although they may cause symptoms like vomiting and drooling, ingestion rarely requires medical attention.
Ornaments – Another precaution if you have young children or pets is to avoid using breakable ornaments. It's also best to forego ornaments that children can mistake for candy or that might pose a choking hazard.
Outdoor decorations – It's a typical comedy scene in many holiday movies: A zealous homeowner attempts to decorate from a precarious position on a ladder or on the roof. Not surprisingly, that zeal leads to a dramatic fall. Although it might be funny in a harmless movie, there's certainly nothing funny about falling from 10 or more feet in real life. Use ladders correctly and heed warning labels. "If your decorating project requires going on the roof, leave it to a professional," advises Campbell.

Prepare before driving home for the holidays (or anywhere else). More people are on the road this time of year doing last-minute shopping and traveling to holiday celebrations. That extra traffic means a higher risk of accidents, and weather conditions can even leave you stranded. Make your drive safer with this advice from Carfax:

Vehicle maintenance – Make sure you've had all scheduled maintenance prior to a long trip. Before you leave, check your tires, lights and fluids. Breaking down isn't something you want to include in your travel plans.
Staying alert – Avoid alcohol if you'll be driving, and make sure to get a good night's sleep before any long trips. With so much to do this time of year, many people shortchange their sleep, but driving drowsy can be as detrimental as driving under the influence. Take plenty of breaks, share the driving or make an overnight stop to avoid being on the road too long.
Emergency preparation – Unexpected weather can leave you and your family stranded. Be sure you have a roadside emergency kit, as well as flashlights, food and water, and blankets.

Discourage the Grinch. Criminals are opportunists, so the best way to keep a Grinch from ruining your holidays is to take extra precautions. Of course, follow normal safeguards, like locking doors at home and in your car and parking in well-lit areas. In addition, add these safety measures:

Gifts – Don't put gifts under your tree until Christmas. You don't want to tempt a burglar who peers in your window. The same goes for presents or shopping bags in your car. It only takes seconds for a thief to break the window and grab that special gift you just bought. Keep packages in your trunk while you're out shopping.
Deliveries – With all the online shopping we do nowadays, it's common for delivery services to leave packages at your door. However, those unattended deliveries are easy to steal. Always require a signature for packages or have them delivered to a trusted neighbor or to your work address.
While you're away – Criminals look for telltale signs that you're not home, so take appropriate precautions. Set lights and even your TV on a timer. Stop your mail and newspaper deliveries, or have a neighbor to pick them up regularly. Ask your neighbor to also leave a car in your driveway periodically to make it seem that someone is home.
Your holidays will be much more enjoyable if you take the proper steps to protect yourself, your family and your property. Have a safe holiday season!