Virtual Board Meetings: Comprehensive Guidelines for Board Members
Virtual Annual Meetings Best Practices for Board Members
For more information on how to successfully conduct your annual meeting online, watch our ask our experts webinar replay.
Condominium and cooperative annual meetings are no longer an in-person only affair. As a result of social distancing policies established by New York State in spring 2020, boards across the city were forced to adapt and stage their annual meetings online in a virtual setting. At FirstService Residential, we anticipate virtual annual meetings to become standard practice for the foreseeable future.
While the transition away from in-person gatherings to virtual annual meetings has its unique set of challenges, the long-term benefits of virtual communication should not be ignored. For starters, virtual meetings are more convenient for many owners and shareholders to attend. Across FirstService Residential's management portfolio, the switch to an online platform has spurred a 20% to 50% increase in attendance. Buildings that were unable to reach quorum requirements are now able to do so in a virtual setting which allows access from home, at work, and on-the-go.
To help boards and shareholders navigate the legal and logistical nuances of virtual annual meetings, our property management experts have assembled a collection of guidelines and best practices that address the most common concerns and logistical hurdles affecting condominium and co-op boards in New York City.
In case you missed our 2021 update for board members interested in learning more about hosting Virtual Annual Meetings, click here to watch the webinar featuring thought leaders from the New York City Property Management Division.
What happens if we missed the annual meeting date that is in the by-laws?
As boards and owners continue to navigate these unprecedented times, it is quite likely the normally scheduled annual meeting date was missed. This is okay and you are not alone! There is no "penalty" for missing that date.
Start off by scheduling a virtual townhall led by the board for all residents to attend. A townhall is often perceived as an attempt to keep residents informed and part of the building community. Next, get a date on the calendar for your virtual annual meeting.
It's important to remember that term limits and staggered term limits still apply if you missed your last annual meeting and did not hold an election. The board should check in with the building attorney to navigate any legal questions around the annual meeting.
Can a cooperative or condominium hold a virtual annual meeting?
On April 6, 2020, Governor Andrew Cuomo ratified a set of amendments to
New York's Business Corporation Law (BCL)
, the primary statute that defines the rules and regulations for cooperative entities. These amendments allow corporations to conduct business and meetings electronically either for the duration of the state disaster emergency or until December 31, 2021, whichever is later.
For cooperative boards, this means that shareholders are now permitted to attend their annual meeting by dialing in or through live video conferencing. State lawmakers are currently working on a new amendment to make these changes permanent.
Condominiums operate under a different group of laws and requirements known as the
Condominium Act
. This legislation does not provide clear legal authority to hold virtual annual meetings.
"State courts have historically suggested that most rules established by the Business Corporation Law and applicable for cooperatives also apply to condominiums," said Ben Kirschenbaum, vice president and general counsel for FirstService Residential and past chairperson of REBNY. "Although the amendment does not specifically name condominiums or replace the Condominium Act, most legal experts and the New York real estate community believe that condominium boards can adhere to the new regulations."
Have annual meeting requirements changed following the New York Business Corporation Law amendment?
The prior amendment states that the board may implement reasonable measures to facilitate virtual attendance and participation in an annual meeting. This includes procedures that enable owners or shareholder to vote on matters under consideration. For example, along with an invitation to join using a web-enabled device, the board can also include a phone number for participants to dial-in. The goal is to avoid excluding participants who are not technologically savvy or lack access to a device with reliable internet among other circumstances.
How can a board safely facilitate voting by proxy?
Given the nature of virtual meetings, it is recommended that owners or shareholders submit their votes by proxy. This may include a text message to a designated number, transmitting the vote via email or a secure physical dropbox in the lobby of the building. Similar to in-person meetings, the board is required to tally all votes, maintain a record of other actions taken in the meeting, and verify that each voting member is, in fact, an owner or shareholder.
To help secure your virtual annual meeting and the voting procedure, unit owners or shareholders should register in advance of the meeting and confirm that they will be attending. If it's a video conference, require that attendees turn their camera on. For votes submitted via email or text message, make sure the board has up-to-date contact info for each unit owner or shareholder.
As with an in person meeting, the board should distribute proxy-ballots with the official annual meeting notice, and request that the proxy be returned in advance of the meeting to help insure a quorum. A standard proxy authorizes the proxy holder to vote at or during the annual meeting which is not conducive to a virtual setting. Instead, a directed proxy ballot in now the norm. This type of ballot allows a board member or shareholder to vote remotely.
To facilitate voting by directed proxy, the board must issue clear instructions for the completion and return of each ballot. The notice should include how the board prefers to receive the ballot. Delivery of ballots by email, mail, a lobby drop box or a text message to a designated number are all appropriate alternatives, provided that appropriate verifications procedures are in place. To avoid unnecessary physical contact with the building staff, the ballots should not be handed to the building super, front desk attendants or the concierge.
The notice of annual meeting must be sent in accordance with the bylaws and, generally, should be sent to owner and shareholders at least three weeks prior to the virtual meeting with a clearly stated due date for return of the proxy. If the unit owner or shareholder does not wish to vote in advance, procedures should be provided so the participant is permitted to submit the ballot during the meeting. However, by submitting the directed proxy ballot in advance, the participant can ensure that the shares or ownership percentage will be represented for quorum and voting purposes.
What is the best way to collect and tally the votes?
Virtual meetings make tallying votes easier than in-person meetings. Tallying votes can now begin before the scheduled meeting which simplifies the election process and results in a shorter annual meeting.
While most annual meetings do not present contested elections, providing a fair means to address contested elections is a concern for some board members. Third-party companies, like
Honest Ballot
and
eBallot
, provide tallying services for annual meetings. Service costs begin around $500 on the low-end and increase depending on the number ballots. If cost is a concern, consider your building's accountant, general counsel or a board member who is not running for election to tally the ballots. As always, records of how people vote should not be open for public viewing.
Once the ballot is cast, it cannot be changed after the meeting has been adjourned, even if the votes are still being tallied. If the owner or proxy holder casts two ballots voting for different candidates, the most recently transmitted vote will be accepted. If that cannot be determined, both ballots will be voided. In the event that the owner and a proxy holder both cast ballots, the ballot of the proxy holder is automatically revoked.
The result of the election should be announced as soon as all votes are received and tabulated. It's also critical that the results are correct. Owners and shareholders may lose faith in the process if the board needs to correct a previously shared outcome.
What are the best video conferencing services?
There are dozens of virtual conferencing tools available for little to no cost. Take into consideration the unique requirements of the board, owners and shareholders before committing to a product that does not accommodate your collective needs.
Most boards have opted to use
Zoom
, but it is not the only option available to conduct a professional annual meeting. Additional platforms include
GoToMeeting
,
Microsoft Teams
and
Cisco WebEx
, all of which are available on mobile, tablet and desktop devices. The tiered service costs are based on the need for live recording capabilities and distribution when the meeting has ended, the number of attendees, and the length of each meeting among, other technical specifications.
Below is a comparison chart to help you easily compare these four conferencing platforms. Click the image to enlarge.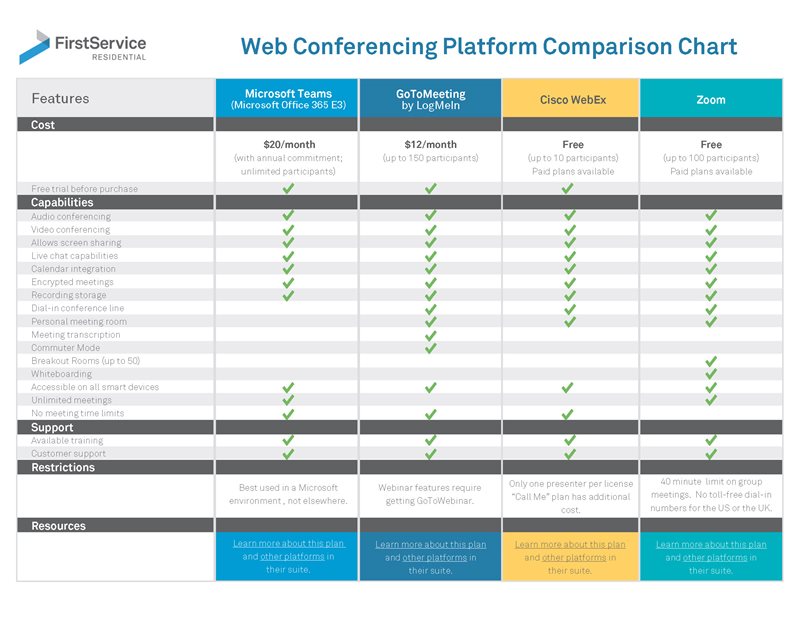 Webinar Recap: Virtual Annual Meetings - The New Normal
There is no one-size-fits-all solution to virtual annual meetings. FirstService Residential is here to help boards proactively identify the best available platforms and processes to host virtual meetings. Many of our valued clients have found that the benefits of a virtual format far outweigh any negatives and are committed to making virtual meetings a permanent alternative.
Watch a recap of this month's Ask Our Experts webinar series – a comprehensive overview of voting procedures, nominating candidate, proxy ballots and the legality of virtual annual meetings for co-op and condominium boards in New York City.
Contact FirstService Residential today
for more information on how we can help your board host and coordinate virtual meetings.