FirstService Residential Joins DSNY to Announce Success of e-cycleNYC
President Dan Wurtzel joined New York City Department of Sanitation Commissioner Kathryn Garcia on July 15th to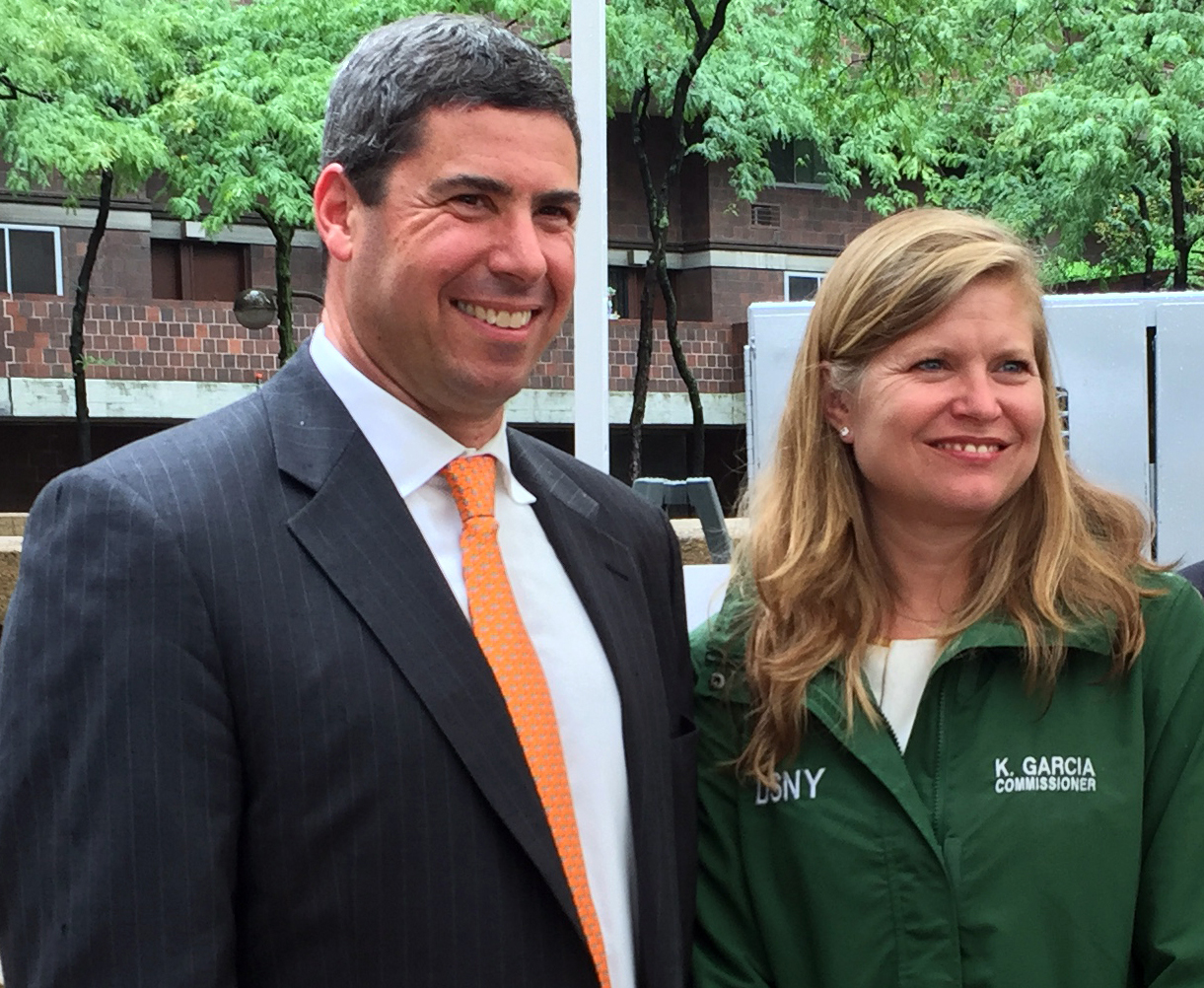 announce that one million New Yorkers now have access to e-cycleNYC, the city's electronics recycling program. Manhattan Borough President Gail Brewer and Councilmember Rosie Mendez also delivered remarks.
"We were delighted to be invited to celebrate e-cycleNYC's remarkable success, which is helping to make New York City cleaner and greener," said Wurtzel.
The press conference was held at East Midtown Plaza Housing Company, a six-building complex managed by the company that has collected nearly 11,000 pounds of e-waste since January 2014. In total, 148 FirstService Residential properties have collected over 120,000 pounds of e-waste.
Right: Dan Wurtzel, President, FirstService Residential, with Kathryn Garcia, DSNY Commissioner
Educating our Team
A New York State law took effect on January 1 which bans the disposal of electronic waste in the regular trash. The city began issuing fines to violators on April 1.
To ensure its properties are in compliance, FirstService Residential held a mandatory e-cycleNYC
training session
earlier this year at which Jessica Schreiber, Senior Manager of DSNY's Bureau of Recycling and Sustainability, provided the details of the program. Over 100 property managers, resident managers, and superintendents attended and were able to enroll their properties on the spot.
Significant Threat to Our Environment
The average American household contains 28 electronic devices. As a result, e-waste accounts for the largest amount of hazardous material sent to landfills and is one of the fastest growing threats to our environment.
Fifty-five percent of New York City households have no vehicle access to unload their e-waste. "Providing the city's vast population of apartment dwellers with this convenient and effective collection program is an enormous benefit to our residents," added Wurtzel. "This program also aligns with FirstService Residential's efforts to help our clients implement environmentally-sound recycling practices."
"The e-cycleNYC program represents the most innovative and comprehensive electronics recycling service offered in the nation," said Commissioner Garcia. "The program is a true partnership with support from manufacturers as well as labor, property owners, and management companies."
The program is not only dramatically reducing the amount of toxins in our waste stream but is also helping to
cut greenhouse gas emissions
, reduce pollution,
save energy
, and conserve resources by extracting fewer raw materials from the earth.
"We have seen first-hand the huge impact these programs are making to recover what amounts to a veritable mountain of material for a second life," added Wurtzel.
By The Numbers
FirstService Residential currently has 420 properties participating in New York City's sustainability programs. To date:
Please contact
FirstService Residential New York
to learn more about our sustainability efforts.