FAQs for making an HOA payment online
Not too long ago, one of the main ways residents in homeowner associations (HOAs) could pay their association fees was with a check, money order, or cash. Fast forward a decade or two later, and paying with a check is inconvenient for many residents who no longer use checkbooks or carry cash—leaving many homeowners wondering how to make an HOA payment online. Luckily, we know how.
How can I make an HOA payment online?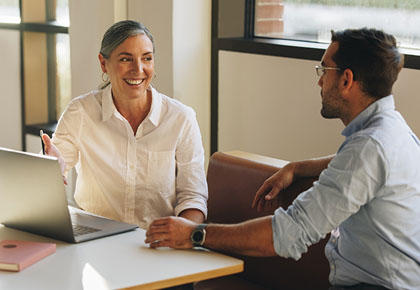 Thanks to advancing technology, residents now have the possibility to pay their HOA fees straight from their mobile phones and even set up automatic payments so they don't have to worry about missing another payment again. This is possible through property management software.
If your community has partnered with a professional management company, they should have access to a homeowner portal where residents can pay their HOA fees online and set up automatic payments.
One example is
FirstService Residential Connect
, a property management software exclusively available to communities FirstService Residential manages. The program allows residents to communicate with their property manager, board members, or neighbors; pay HOA fees; update account information and more.
Additionally, the customized dashboard lets board members and management staff quickly manage community business, such as initiating work orders, tracking violations, accessing financial information, and more. Built-in advanced security and privacy features mean residents can feel confident that their community's information is safeguarded. The goal in developing FirstService Residential Connect is to lighten board members' workload by helping them stay in tune with every aspect of their community quickly, easily, and safely.
You can learn more about property management software in our article
What is HOA Property Management Software?
If your community is not partnered with FirstService Residential and does not have a homeowners portal, speak with your board of directors to determine what other online payment options are available to your community.
What are ACH payments?
ACH, short for "automated clearing house," is a system that facilitates transactions between financial institutions using an electronic network. Below are important characteristics you should be aware of regarding ACH payments:
ACH payments support both direct debit and credit transfers.


The processing times for ACH payments vary and usually fall within 2 to 5 days.


While ACH payments may involve transaction fees, they are generally lower than standard credit and debit card transactions.


Authorization is still required for billing purposes.
Can my association require ACH payments for HOA fees?
Mandating ACH payments can be a risky proposition. Depending on your location, state laws may prohibit associations from compelling owners to use ACH billing. Some HOAs have offered quarterly payment plans for those who use ACH and annual plans for those who pay by check. However, this practice may violate state laws or governing documents, so caution is advised.
Furthermore, ACH payments may raise security concerns. Homeowners may be hesitant to provide their bank information to the HOA if there are no safeguards in place. In conclusion, it is generally unwise to require ACH payments, but you can seek guidance from legal counsel to explore your options.
Can an HOA use Venmo?
Advancing technology has simplified the process of transferring funds between different accounts. Money-transfer applications have become increasingly popular due to their affordable fees, user-friendly interfaces, wide availability, and prompt transaction processing. However, the feasibility of HOAs utilizing money-transfer apps such as PayPal and Venmo for collecting dues depends on various factors, such as your location and the governing regulations in place. Considering these factors before moving forward is essential, as specific important considerations must be addressed even if using money-transfer apps is permissible for your association.
Transactions fees

Transaction fees and surcharges are standard for many money-transfer apps, either as a per-transaction fee or a recurring subscription fee. Determining who will bear the cost of these fees, whether the HOA or the individual homeowners, is critical. If the HOA is responsible for covering the expenses, the full amount of the dues may not be received. On the other hand, if homeowners are expected to pay the transaction fees, they may not be open to using the service due to the added expense on their part.


Security

Like ACH payments for collecting HOA fees, money-transfer apps can also present security issues. These apps may be vulnerable to account breaches, and the responsibility for securing the transactions falls on a third party, such as PayPal or Venmo. Therefore, it is up to your HOA board if they are confident in the security measures of the chosen money-transfer app.


Access

To prevent theft, money-transfer accounts should be accessed and controlled by several board members rather than just a single individual. This principle applies to ACH payments, too. Moreover, when opting for money-transfer apps, it is crucial to create an account specifically for the HOA and not a personal account.
If your community happens to be undergoing special assessments and you wish to know more information on the process and payment options, read our latest article,
HOA special assessment taxes: What you need to know
.
Whether you live in a massive master-planned community or a luxury high-rise in the city, HOA fees are inevitable. They help maintain your community so you can continue to take advantage of available amenities, services, and property upkeep. And while the manner to make those payments is quickly going digital, it is always important to refer to your association's governing documents to determine next steps if online payment is not currently available in your community.
If you are a current board member looking to bring on a professional management company to better support your community,
contact
a member of our team to learn more about FirstService Residential and our available resources.