Eight Essential Parts of HOA Community Association Elections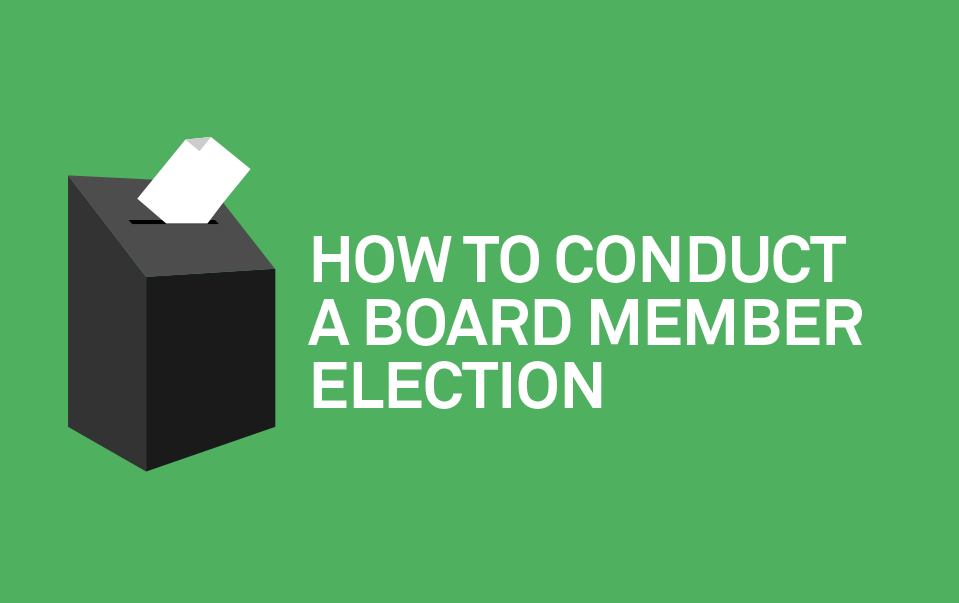 Elections are a big part of what make our community associations work. It's what empowers members, galvanizes our community, and brings residents together for a common purpose.
To make sure your election is fair, inclusive, and consistent with the documents governing your community, follow these protocols.
1. Create an election committee.
Consult with your management company regarding the possibilities of implementing an election committee. A specifically appointed election committee can be very helpful in ensuring a fair and organized election. This committee can include a Chairperson, along with Committee Members, but all should have limited tenure. If such a committee is established, restrictions should be included such as prohibiting candidates, current board members and officers, or the spouses of such. Be specific about the powers and duties within committee members' roles. Speak to your managing agent directly for guidance and options, and to ensure that all procedures are in compliance with your association's by-laws.
2. Start the nominations process.
You can begin this process by creating a nominating committee. If implemented, you should follow the same rules and guidelines you followed when creating your election committee. This committee can assist the Board and managing agent in establishing what kinds of nominations to allow, how to treat write-ins, and how to accept nominations from the floor. Be sure to set limits on nominees, requirements for eligibility, and whether any nomination motions need to be seconded. Your governing documents will determine how this process should be executed so, be sure to check with your property management company and your association's attorney for their expert opinion.
3. Distribute a meeting notice and a call for candidates.
Your governing documents will state the requirements on calling for candidates, and dictate a specified timeframe for when this part of the process should be completed.. As a Board, you should discuss with your managing agent the procedures reflected within your by-laws for the official Annual Meeting Notice distribution, and the best method of delivery for official documents. Most likely, he best method would be by certified mail. Your Annual Meeting package to all owners should include the official notice, total number of Board seats up for election, request for candidates (and instructions on how to become one), a general and/or specific proxy (dependent upon what is required within your by-laws, along with a ballot for voting procedures.. Each candidate should have the opportunity to submit their credentials for eligibility, and for their biographies to be distributed to all owners prior to the meeting taking place. Take special care to discuss each necessary item with your managing agent to ensure that all requirements for your Annual Meeting mailing have been met.
4. Appoint an Inspector.
Again, governing documents might provide for the appointment of an individual who makes sure the election happens in a way that is objective and unbiased, but if not, now is the time to do so. This individual should not be affiliated with the Board in any way and their primary role should be to ensure the election happens fairly. In some instances, the judiciary committee or the covenants committee can act as the election inspectors.
5. Monitor the election.
It's critical that each member/owner acknowledge the receipt of their ballot or absentee ballot. This registration process ensures a fair election. Talk to your property management company about what steps to take to make this portion of the process ironclad and official -- it will go a long way toward ensuring a foolproof election.
6. Establish your quorum.
It's not a word you hear every day, but "quorum" refers to the minimum number of homeowners who must respond to the ballot initiative in order to effect a binding election. This voting number can happen in person or by proxy. Contrary to popular belief, the term "quorum" does not refer to the number of current board members present at the election meeting. The percentage of homeowners needed in order to reach a quorum is explicitly stated in your association's by-laws – you should confirm this information with your managing agent prior to the meeting. It is important to know that without reaching a quorum at an Annual Meeting, your meeting will not be able to take place officially, as your homeowners will not be able to officially vote. Consequently, an election will not be able to be held and the meeting may only move forward as an "informational" one.
7. Count your votes reliably.
Whether votes are cast by machine or with paper, make sure all ballots are counted in a way that complies with tally procedures – and ensure that these procedures are clearly explained to appointed judges prior to the election taking place.
8. Tabulate the results.
Remember the election committee you established earlier? This is their chance to tabulate the results and deliver their data to management. If you'd like, legal counsel can be present for this part of the process, too. In any case, the total tabulation should include total votes cast in person, total number of absentee and proxy votes, and total number of invalid votes.

Make no mistake, elections are a key part of an association's growth and welfare. Follow these steps – along with the expert advice of your property management company and legal counsel– and you're assured fair and reliable elections for your next era of leadership.