Episode #6: Does a Title Make a Leader?
Watch the full video here!
About the Episode
It's an age-old question – does having a leadership title really make you a leader?
In episode #6 of the Get On Board podcast, Michael Mendillo and guests Jesse DiGiovanni and David Calloway, review the importance of "leaving your ego at the door" in business and in life. They also share some personal stories that highlight the importance of self-awareness and the difference between leading by example vs. making demands. They also talk about how being humble is the 'common denominator' of effective leadership skills.
About the Guests
Jesse DiGiovanni
Vice President, Human Resources | FirstService Residential
Jesse DiGiovanni, vice president of human resources, is responsible for the oversight and direction of all human resources activities, including planning and development of initiatives to align with company policies, culture and best practices. She will also serve as a strategic business partner, working closely with market and operational leaders to help meet and exceed organizational goals.
David Calloway
Vice President, Business Development |
FirstService Residential
David Calloway is the Vice President of Business Development for FirstService Residential. In this role, Calloway provides leadership and operational oversight to the division's lifestyle communities and associates throughout New Jersey.
Calloway has over nine years of community association and business management experience and most recently held the regional director position for the company's NJ/PA Lifestyle Division. Prior to his regional director position, he was the business development director for the company's NJ/PA High-Rise division. Previously, Calloway worked with DowntoEarth Landscaping where he opened their Virginia/DC Metro branch and worked on both the business development and operations ends of the business. He was also the head coach for the Monmouth University Hawks basketball team for 13 years where he brought them to three of their four NCAA Tournament appearances. He was recently inducted into Monmouth University's Hall of Fame.
About the Get On Board Podcast
The Get on Board podcast is a leadership podcast that will help you discover leadership wisdom through thoughtful and real conversations. Join your host and FirstService Residential, president, Michael Mendillo, as he shares perspective on culture, people and what being a great leader truly means.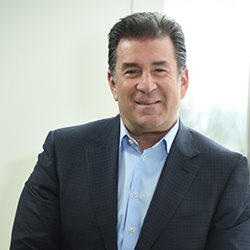 Michael Mendillo is an equity partner with FirstService Residential, the largest residential management company in North America. As president and principal, Michael's responsibilities include client retention, leadership development, culture building, organizational growth and strategic initiatives. Michael possesses first-hand knowledge of industry and corporate trends and challenges, having directly pitched and closed some of the largest communities in the region. Michael is responsible for identifying, due diligence and negotiation of all regional acquisitions – through closing and integration. He has been involved in 24 such strategic acquisitions including The Niles Company, Community Management Group and the Abbott Group, attributing to the key growth of the organization.
Listen and/or watch the full episode above! For more Get On Board podcast updates, follow FirstService Residential on Facebook and LinkedIn, and don't forget to subscribe on the podcast platform of your choice!



You Can Read the Full Episode Transcript Below!
0:14
does a title make a leader so a lot of
0:17
times i feel especially in our industry
0:20
some titles are thrown around very
0:22
easily you know and you've got an
0:24
executive title right and i'm a big
0:27
believer is
0:28
the executive title should not be how
0:31
long a person has been in the industry
0:33
it should be driven
0:35
by the quality of what that person
0:37
delivers
0:38
in leadership and that might mean
0:41
somebody who's younger it might be
0:43
somebody who's been in the industry for
0:45
only a few years versus somebody that
0:48
has learned and got there after a longer
0:50
period of time as well but your thoughts
0:53
does a title make a leader so jesse your
0:56
thoughts on on that
0:59
you know i think it depends on which
1:01
point of view we're looking at um
1:04
so let's take it let me let me give you
1:05
a point of view yep so um a person has a
1:09
title they're an executive title and
1:12
they're leading their team
1:14
does that title
1:16
make that leader i know it's it starts
1:19
with it but does that title actually at
1:21
the end of the day at the end of the
1:23
year
1:24
if i'm reporting into an executive
1:28
and i'm assessing how this executive was
1:30
as a leader is it based on that title or
1:32
is it something different from your
1:34
point of view well i think it goes back
1:36
to what you said it depends on whether
1:37
or not the title was earned um through
1:40
performance right and through experience
1:43
um
1:44
so again it does depend on the situation
1:46
obviously when people
1:48
when when a team of folks see you with
1:51
the title they automatically feel you're
1:53
the leader right so um there's a certain
1:56
amount of
1:57
uh you have to sort of morph into that
2:00
for the expectations of that others have
2:02
on you
2:03
but no i i think ultimately um does just
2:08
having the title make you a leader
2:11
if you didn't earn it you know if you
2:13
didn't get there through a journey um if
2:16
there isn't if you don't have the the
2:19
the experience and the performance to
2:21
back that up um
2:23
i i would say the answer conclusively is
2:24
no yeah and i and i agree and i'm going
2:27
to get a little more specific for our
2:29
listeners
2:30
um
2:31
and i'll use you know obviously our
2:32
industry's property management so if
2:35
you're leading
2:36
managers
2:38
um
2:40
i believe there's two sides of this
2:41
business right there is the skill side
2:43
of it
2:44
which is learning the trade
2:47
you know if you're at a specific
2:49
property or you're managing multiple
2:50
properties you know there's certain
2:52
bylaws there's certain uh leadership uh
2:56
direction that a board may want to take
2:58
that i'd put under the skill
3:00
right and then there's the leadership
3:02
side the leadership is are we developing
3:05
our leaders and i'm very big on this
3:08
that i feel and i've learned this most
3:10
recently i'm going to say over the last
3:12
five to seven years in my career
3:14
that the real important value is
3:16
developing somebody developing someone
3:19
as a leader and that leader doesn't
3:21
necessarily mean that that person wants
3:22
to be an executive or eventually be
3:25
president of the of the organization or
3:27
maybe it does but it hits on both how
3:30
well are you this year
3:32
versus last year
3:34
because at the end of the day you know
3:37
you are going to learn the skill side of
3:39
this in time
3:40
but are you developing as a leader your
3:43
patience your ability to influence the
3:46
board your ability to
3:48
articulate the vision do you see the
3:51
power of vision and creating your path
3:55
and i feel that that
3:57
has a lot of great opportunities in our
4:00
industry
4:01
to really really play more on is how we
4:04
can lead in that way because that's i
4:06
think where you want to at the end of
4:08
the year and say wow this is what i
4:09
learned
4:11
from my leader you know not just oh how
4:13
to run an open
4:15
meeting or put a board packet together
4:17
or learn the bylaws
4:19
put those aside because those are one
4:20
part of your your your career
4:23
the other part is how am i as as a
4:26
business leader and that can go for
4:28
anyone in a county administrative and go
4:30
for any
4:31
vendor uh
4:33
the professionals the vendors that use
4:35
any position that you're in it goes to
4:37
board members it's the same thing what
4:39
are we doing to develop and and really
4:41
really take awareness of ourself and it
4:43
kind of leads into
4:45
dave uh a question for you
4:49
um
4:50
leading without an ego how important do
4:53
you see that and have you had any
4:56
uh
4:57
incidents or or experiences better word
5:01
in your career where you may have looked
5:03
back and said man i led that way too
5:06
much with an ego versus i should have
5:09
been doing this without an ego
5:11
um can you share with us that that
5:13
thought
5:14
well there's where do i start michael
5:18
and there's so many stories you know and
5:20
jesse mentioned and even yourself i know
5:23
we we were we had the great
5:25
opportunities to move into leadership
5:27
positions
5:28
uh that you know i think all three of us
5:30
earned a little bit to jesse's point at
5:32
young ages
5:33
you know for all three of us so
5:35
therefore you know the learning
5:37
experience along the way
5:39
uh you know and and just to piggyback
5:41
off of what you you know what you were
5:43
just talking about you know to me
5:46
uh well one the more you move up the
5:48
leadership ladder but in general um you
5:51
have to earn your your title you know
5:54
every day and the more the higher your
5:57
title the more you need to earn it
5:59
because there's more of it trickles down
6:01
on the tree and uh it's it comes down to
6:04
that awareness you were talking about
6:06
michael and to me it's that
6:07
self-awareness
6:09
of
6:10
um you know
6:12
what what are my strengths and what are
6:14
we talking about this all the time what
6:15
are my blind spots and you know where do
6:19
i you know grow and learn from that
6:22
and
6:23
the part of the ego to answer your
6:25
question is probably the one that
6:27
um as we develop as leaders and probably
6:31
as people in general and we we age a
6:34
little
6:34
um you know we get to understand that
6:37
ego's still important you know you you
6:40
have to care you know what that drive of
6:44
it is important but when when can you
6:46
sort of like you know check the ego at
6:48
the door and say hey you know we're all
6:51
in this together and let me step back
6:54
and you know this will allow our team to
6:57
develop here and really uh come up with
7:01
the ideas
7:02
uh the plan
7:04
uh and then as leaders we can
7:07
gather that and maybe fine-tune it as we
7:09
get into the strategy you know and to me
7:12
that's that's what i've learned and to
7:14
just flat out answer your your question
7:16
michael i i i got to tell you know sort
7:18
of a story and that you know just going
7:20
back and
7:21
we we joke from my coaching days that it
7:24
comes up often but it so applies that
7:27
when when i first got the job i
7:29
mentioned earlier i was 28 i was the
7:30
youngest head coach in the country and i
7:32
had kind of what you would mention like
7:33
that that old school
7:35
mentality and i would just come in and
7:38
push and and the players would look at
7:40
me you know i was only in some cases six
7:43
years older than some of some of these
7:45
guys
7:45
but they would say hey you know he just
7:47
did this six years ago he was a player
7:49
i'm going to listen to him i'm going to
7:50
take it and i pushed you know and
7:53
probably you know a little stronger on
7:54
the ego side as we mentioned
7:57
uh and what happened you know had some
7:59
success early as i mentioned you know we
8:00
went to the tournament but then fast
8:02
forward
8:03
like 10 years went by you know now all
8:06
of a sudden i'm 38
8:07
and i didn't develop as much as i needed
8:10
to as a leader i went with the same
8:11
style and the same push and all of a
8:13
sudden now i'm i'm no longer six years
8:16
removed from these guys as a player i'm
8:18
16 years
8:19
removed and i didn't curve my leadership
8:23
and my
8:25
listening skills and my ability to adapt
8:28
uh and adjust
8:29
uh you know and i learned that over time
8:32
as you talk about the mistakes we've
8:33
learned and that's where i've learned
8:35
that you know you have to develop every
8:37
day you have to perform every day and
8:38
you have to adjust
8:40
uh with
8:41
in the leadership times
8:43
yeah that's a that's a great that's a
8:45
great point because i think
8:47
you know when i think back in in
8:50
you know i came out of college started
8:52
my own business and started uh building
8:55
on it and you know the the people that
8:58
were reporting to me were
9:00
10 years older
9:02
so i had
9:03
i had a struggle you know and my
9:05
struggle was trying to prove
9:08
that i'm worthy enough
9:10
to be the leader of these people who
9:12
have 10 more years experience of being
9:14
on this planet than i do
9:16
well that was not an ego what i realized
9:19
as i matured was that was my insecurity
9:22
my insecurity
9:24
of of looking at it was moving me more
9:27
towards the ego of
9:29
using that boss kind of swag
9:32
versus really being humbled on the
9:34
journey and look there is no right or
9:37
wrong here i think what we're we're
9:39
sharing with with all of you if you're
9:41
leading a board or if you're leading
9:44
your your company or you're
9:46
a manager at a property or you're a
9:49
staff accountant or a support to any of
9:52
those you're a leader
9:54
right and at the end of the day it
9:55
starts with
9:57
really coming back to
9:59
as dave said ego is important
10:02
but it's it's like the gas pedal on your
10:05
your car is important but it's not
10:07
important to use your gas pedal at a red
10:09
light
10:10
so you know when do you use your ego
10:13
to floor it and when do you step on your
10:15
brakes to listen and be a good listener
10:18
or be aware of when it's okay to be
10:21
humble a lot of people feel that
10:23
leadership is one where you can't make
10:25
mistakes or you should have the answer
10:27
for everything it is the absolute
10:29
opposite
10:30
a great leader uh
10:33
is one who can surround themselves
10:35
with not only talent but be a good
10:38
listener and having great self-awareness
10:41
knowing when it's important to use that
10:43
ego to drive you to get what you want
10:46
but also to be humble and hit the brakes
10:49
of what it is and those are good those
10:50
are really good experiences
10:52
that a lot of people
10:54
hide those and and i
10:56
i wear them like a badge of honor now i
10:59
probably wouldn't have felt that way in
11:01
the moment at the time but i use that to
11:04
say that it's okay
11:06
you know
11:06
failing and tripping and and not
11:09
succeeding
11:10
is so important in your journey as a
11:13
leader of wherever you're at and again
11:15
don't look at leader as just
11:18
the title leader that's that's one
11:20
leader but you're all leading in what
11:23
you do from a support position or not
11:25
and that's something again that drives
11:28
around a leader and how that leader
11:30
casts that shadow
11:32
to allow that but great great points uh
11:34
on that day
11:36
again
11:37
i wanted to add one more thing that
11:38
jesse did and you jump in michael i
11:40
think that's so important to me
11:43
the balance between
11:45
confidence
11:47
and humility you know and the confidence
11:49
is probably more on the ego side and the
11:51
humbleness that you're talking about is
11:53
so so important in a leader and if you
11:56
think about it
11:57
if you're too humble
11:59
and have too much humility
12:01
people will tend to walk all over you
12:02
and you're eventually going to make a
12:03
decision right 100
12:05
but if you're too confident who wants to
12:08
follow that yeah if there's a cockiness
12:11
involved in right right so how do we
12:13
balance that and it's all these traits
12:15
we're talking about and the better you
12:17
can balance all the traits
12:20
and what you've learned from the other
12:22
leaders that you've learned from when
12:24
they've made mistakes you don't want to
12:26
just call turkey not do what they did
12:28
there was a reason they did that it just
12:30
maybe fell flat or didn't work out or
12:32
you they had a blind spot but there was
12:35
a a valid reason why they chose to do
12:37
whatever they did for you to just now
12:39
all of a sudden well i'm going to go
12:40
cold turkey and not do that that doesn't
12:43
make sense either it's balancing the
12:45
positives with the negatives the
12:47
humility with the confidence and the
12:49
more you can balance all the traits i
12:52
believe the more success you'll have as
12:53
a leader and the more success uh the
12:56
your teams will have and the more
12:57
success you'll have in helping grow
12:59
other leaders
13:01
you know i think um
13:03
i love this topic because i think it's
13:05
interesting how
13:07
you know you mentioned david that um the
13:10
three of us were in leadership roles
13:12
very young well it's ego that got us
13:14
there right
13:15
so um it's because of our drive
13:18
our confidence in ourselves that we were
13:21
even able to be you know considered for
13:24
um for a role like that at a young age
13:27
but you know i have probably it's
13:29
probably my most disastrous story as a
13:31
leader
13:32
um and
13:34
and like
13:35
like michael said i sort of wear it as
13:37
my badge of honor now because it
13:39
happened so long ago it's the same you
13:41
know my first leadership role stepping
13:43
out of
13:44
being an individual contributor into a
13:46
leader you know i thought i was bad you
13:49
know like yeah look at me you know i'm
13:51
20 years old and i'm leading a team of
13:54
40 people
13:55
and you know i it's interesting when you
13:58
think back at that because you know you
14:00
you kind of rely on your the versions
14:03
that you've seen of leadership when
14:05
you're getting into a role of leadership
14:07
right there's this sort of idea in your
14:09
head um based on the folks that you've
14:11
seen leading around you or the people
14:13
that have led you to say oh i know what
14:16
leadership is leadership has you got to
14:17
be tough you know it's my way or the
14:19
highway
14:20
um you can't let anybody walk all over
14:22
you you gotta expect excellence you know
14:24
do all those things so i came in like a
14:27
bull in a china shop into that
14:29
department right i'm just like laying
14:32
down the law and you know i'm i'm making
14:35
sure that i could play with the big boys
14:37
and you know i'm i just had
14:40
an enormous ego going into that role and
14:43
so humiliating that within the first 90
14:46
days i'm in that role i get called into
14:48
the office you know with my manager
14:51
and he reads this letter
14:54
you know that like i don't even know
14:56
half of the team i was managing wrote
14:58
together
15:00
requesting to get transferred out of my
15:02
group because it was horrible
15:05
to be led by me you know that i i was
15:08
horrible at communicating that i was
15:10
just a dictator like all of these things
15:12
well i immediately just started to bawl
15:16
and cry in that office you know because
15:18
here i am i got this opportunity and
15:21
this manager who gave me this chance and
15:23
i totally crashed and burned and let him
15:25
down so i'll never forget that feeling i
15:28
can feel it right now like just being so
15:30
choked up hearing all that information
15:33
and
15:34
you know the words he said to me say
15:36
we're gonna put you in an interpersonal
15:39
skills course and i'm like oh my god is
15:41
it really that bad i have been
15:44
out for training
15:45
right you're suspended you're putting in
15:47
the corner right yeah so i said oh
15:49
please don't do that give me the weekend
15:51
because this is like a friday i was so
15:54
upset he's like you should go home for
15:56
the day you know i said yes this is what
15:58
i want to do just give me the weekend
16:00
and i am going to figure this out and i
16:02
remember that i said to myself okay how
16:05
am i going to figure this out because i
16:06
just got this feedback half my team
16:08
hates me and this cannot be you know for
16:12
all the work i did to to earn this this
16:14
cannot be how it's going to end
16:16
so in those days you know you had like a
16:18
little radio boom box
16:20
i packed up my my boombox you know my
16:23
dog um a a sleeping bag and a tent and i
16:27
went to this lake that you were allowed
16:28
to sleep you know in overnight and uh i
16:31
laid in the sand of this lake and i
16:33
stayed there the whole weekend i read
16:35
every leadership book i could i wrote
16:36
down lists and i'm like you know i've
16:38
gotta i've gotta
16:40
do this differently and i came back on
16:43
monday and
16:44
um boy did i mean that whole weekend i
16:47
probably ate like five humble pies you
16:49
know because
16:50
i came back you know
16:52
and i asked my manager i said listen i
16:54
want to have
16:56
a group meeting with my team and i just
16:58
want to apologize and i just want to be
17:00
honest so like hey i've never been a
17:02
manager before and i'm not 100 sure how
17:05
to do this you know and
17:07
this is what i thought it was it
17:09
obviously isn't landing the right way
17:11
um and i need to figure out how to do it
17:13
better so i'm going to ask you guys to
17:15
teach me
17:16
tell me you know
17:18
um how do you want to be
17:20
coached you know what's what's the ways
17:23
you know tell me what the pain points
17:24
are and i'll figure out how we can work
17:26
together and
17:28
you know my team went from so there were
17:30
10 teams um in that company and we were
17:33
number 10 in performance like horrible
17:36
just absolutely horrible um we went to
17:39
team number two and we held that for
17:42
nine months and then we went to team
17:44
number one for the rest of my employment
17:46
there nobody ever knocked us down
17:48
um but the lesson that i came learning
17:51
out of that was that
17:53
you really just have to be your
17:55
authentic self and not be afraid
17:59
you know to let people know when you
18:00
don't know what you're doing
18:02
um and not let the ideas that you have
18:05
of what leadership should be or your ego
18:08
be the what really leads up front you
18:10
know you just have to level with people
18:12
and be yourself
18:14
um be authentic say when you've made a
18:17
mistake apologize for the things you've
18:19
done and just stumble on it because at
18:21
the end of the day leadership is like
18:22
life it's like anything else right when
18:24
you're a parent for the first time you
18:26
don't know how to be a parent right you
18:28
learn right and so michael's had four
18:30
kids but by the fourth one he's like you
18:32
know an expert right but
18:34
but you know it's very different to
18:36
parent the first kid than it is the
18:37
fourth kid right because you learn how
18:40
to parent along the way there isn't
18:42
really truly
18:44
a book that you could just read
18:46
and say okay now i'm the perfect leader
18:48
right that only happens by acknowledging
18:51
that
18:52
um that you make mistakes and then
18:54
letting your people know that i screwed
18:56
up help me out yeah right now they're
18:58
it's a phenomenal story and again it's
19:02
always great
19:03
when it's very authentic and it's a real
19:05
it's a real life story right which is
19:07
what you you gave us not a
19:09
a friend of a friend told me this where
19:11
i read and i think the takeaway for
19:14
our folks listening
19:17
is really about the power of
19:20
self-awareness here
19:22
because
19:23
most people do not take that approach
19:26
jesse they don't what most people do
19:30
is screw them what do they know or blame
19:32
others
19:33
i don't need that i don't need this job
19:35
you know what this is not the right
19:37
company for me you're taking your trait
19:41
and all you're doing
19:43
is you're moving it along to the next
19:45
road i always say it's like
19:47
having a sore arm and taking the
19:50
soreness off and putting it on your knee
19:52
your arm is better but your knee now is
19:55
sore you've got to cure it and cured is
19:58
getting to
19:59
what's the root cause
20:01
of why you operated that way okay
20:04
uh youth in maturity chalk it up to
20:08
everybody in the at that age group but
20:10
then it was okay
20:12
i believed because what influenced you
20:15
may be what you read or what you saw was
20:18
lead by fear
20:20
lead by dictatorship
20:22
and then what was great was that someone
20:26
someone among that team of 40 said to a
20:30
few of them
20:31
we got to speak up because this is not
20:33
right and this is not good for us which
20:36
by the way
20:37
are ones you should be thanking because
20:39
they had the courage to give the
20:40
feedback yeah but then how well do you
20:42
receive the feedback and this this i see
20:46
a very very important topic and i see
20:50
this
20:50
harder for people who have matured
20:54
in their careers because they don't want
20:56
to be wrong
20:58
and the greatest quality of a leader
21:00
is a leader that genuinely really has to
21:03
stop and think
21:06
could i have a blind spot here
21:08
am i hearing this from two different
21:10
people notwithstanding i don't like the
21:13
way it feels
21:14
my ego is bruised
21:16
and i'm the boss i'm going to do what i
21:17
want to do anyway and can i put those
21:20
all aside
21:21
and say is there really rich content
21:24
there that can help me
21:27
that is a type of leader that has to
21:30
have the ability to stop
21:33
and have true
21:34
true self awareness because if you don't
21:37
have self-awareness then you're not then
21:40
going to listen
21:41
and if you don't listen you can't take
21:44
the feedback and then start designing
21:46
your plan to correct it because it's a
21:48
learned behavior
21:49
that's not a trait it's a learned
21:52
behavior so your learned behavior can
21:54
change just like someone who said oh i
21:56
was never a runner and i started running
21:58
at 30 years old and now i'm running
22:00
marathon that was a learn behavior it
22:04
was a
22:05
time plan discipline cadence
22:09
leadership
22:10
in any aspect of it is the same thing
22:13
if your arms are folded and you believe
22:15
that only you can do
22:17
what you can do
22:18
and you're not going to change and you
22:20
better you know just deal with me
22:22
because that's who i am
22:24
then you are a fixed mindset
22:27
and by the way i'm not going to say
22:28
you're having you're going to have a
22:29
horrible career and a horrible life but
22:31
i'm going to tell you that you're not
22:33
doing yourself justice with pushing
22:36
yourself to the next
22:38
limit and bettering you bettering
22:41
yourself as a personal as a person and
22:43
as as a leader
22:46
[Music]