Episode 23: The Shortage of Strata Managers Spark Fears of Impending Crisis
About the Episode:

In this episode, Brent and James meet with Chris Churchill, President of FirstService Residential BC to discuss significant challenges the strata industry is heading towards over the next few years and the implications this has for strata corporations and residents.
Get the Guides:
3 Keys to Decision Making for Strata Councils
Maintenance Planner Checklist
8 Steps for Going out to Bid

About the Guest:
Chris Churchill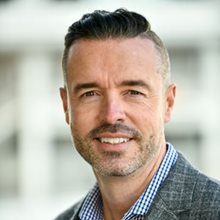 President, FirstService Residential BC
As President of BC's largest Property Management company, Chris is licensed in both Strata Management and Rental Property Management.

Before joining FirstService Residential, Chris held executive leadership positions at some of North America's largest retail brands.

Chris is passionate about service, technology and being the best employer in the market. He understands that FirstService Residential holds responsibility as the largest player in the BC market and works closely with all teams on automating processes, innovating service delivery while setting the bar for enhancing asset value and maximizing operation budgets.

When not working, Chris is an avid athlete. He participates in Marathon running, basketball, tennis, and outside pursuits in Beautiful British Columbia.
About the Hosts:
Brent Anderson

Business Development Director, FirstService Residential British Columbia
As Business Development Director, Brent is responsible for the continued growth and strategy of FirstService Residential's Market throughout British Columbia.


Brent's professional career in sales began selling souvenirs at Canucks games back at the PNE Coliseum. For the past 15 years, has been closely working with strata managers as a salesperson for various trades, including painting, high-rise window cleaning, and HVAC services.

The sales world is full of cookie-cutter reps who lead with their ego and put their needs ahead of the customers. Not Brent; he is passionate about the needs and goals of his clients and specializes in bringing them peace of mind.

Brent lives in South Surrey with his wife and their Jack Russell Terrier. He is an avid hiker and budding kayak enthusiast.



James Milne
Business Development Director, FirstService Residential British Columbia
As Business Development Director, James is responsible for the continued growth and strategy of FirstService Residential's Market throughout British Columbia.

James takes a consultative approach to his role, recognizing that having the right fit between a community and its management is crucial to long-term success. Prior to joining FirstService, James worked in luxury hotel management and business-to-business sales.

James has more than 20 years of experience in customer-facing roles and a true passion for customer service. He is a licensed strata manager and has a degree in Business Management.

When not working, James is also an avid mountain biker and serves as the President of one of BC's largest non-profit mountain bike clubs.



About Stratagize Podcast
Over 1.5 million people live in strata housing in the Province of British Columbia.

Let's face it, you'd rather watch reruns of the nightly news than read the Strata Property Act (And we can't blame you) Still, most people are at a loss when it comes to understanding such an important framework for how many of us live our lives in proximity with one another.

🎙 Stratagize with Brent Anderson & James Milne features conversations with industry leaders and experts who share their knowledge to demystify an industry that impacts the lives of more than 1 out of 3 British Columbians.

Whether you are a council member, owner, investor, or renter, if you're looking for content that will bring value to your strata and help you get to the next level… THIS is it!

Listen to our latest episode, subscribe and rate us on iTunes. 👊

_________________________________

🚨 STRATA TIP:
Take advantage of the multiple avenues for strata education. Whether that is signing up for a membership with CHOA, CCI or registering for the webinars or events that we conduct. Smaller stratas are very likely to see a reduction in their level of service over the next decade requiring the council members to be more hands on. Getting skilled up with available education will be a key to your stratas success.
_________________________________
MAIN TAKEAWAYS:
🛠 Up to 50% of strata managers will be retiring in next 5-10 years. The industry will move from being underserved to completely overwhelmed.
🛠 As the supply of strata managers dry up, management services will be rendered from the top down, where the largest buildings receive coverage. This supply will start to run out at around 80 unit buildings. This will result either in massively increased management fees or these buildings will end up being self-managed.
🛠 To keep people in the industry, companies need to invest in technology so that strata managers are not overwhelmed with thousands of emails per month.
🛠 The most successful properties/councils cooperate with their strata manager, it is not a one-sided relationship.

💬 QUOTES
"We don't need government intervention, we need government cooperation to speak with industry leaders to understand the complexity of the housing issue and the role strata plays in this situation."
MYTH VS FACT 🦄
All management companies are the same.
(Myth)
If that were true then all companies would be managing the same type of asset and that is simply not true. Some specialize in small boutique properties, others specialize in large developments.