FirstService Residential B.C. Raises $65,500 for the Canuck Place Children's Hospice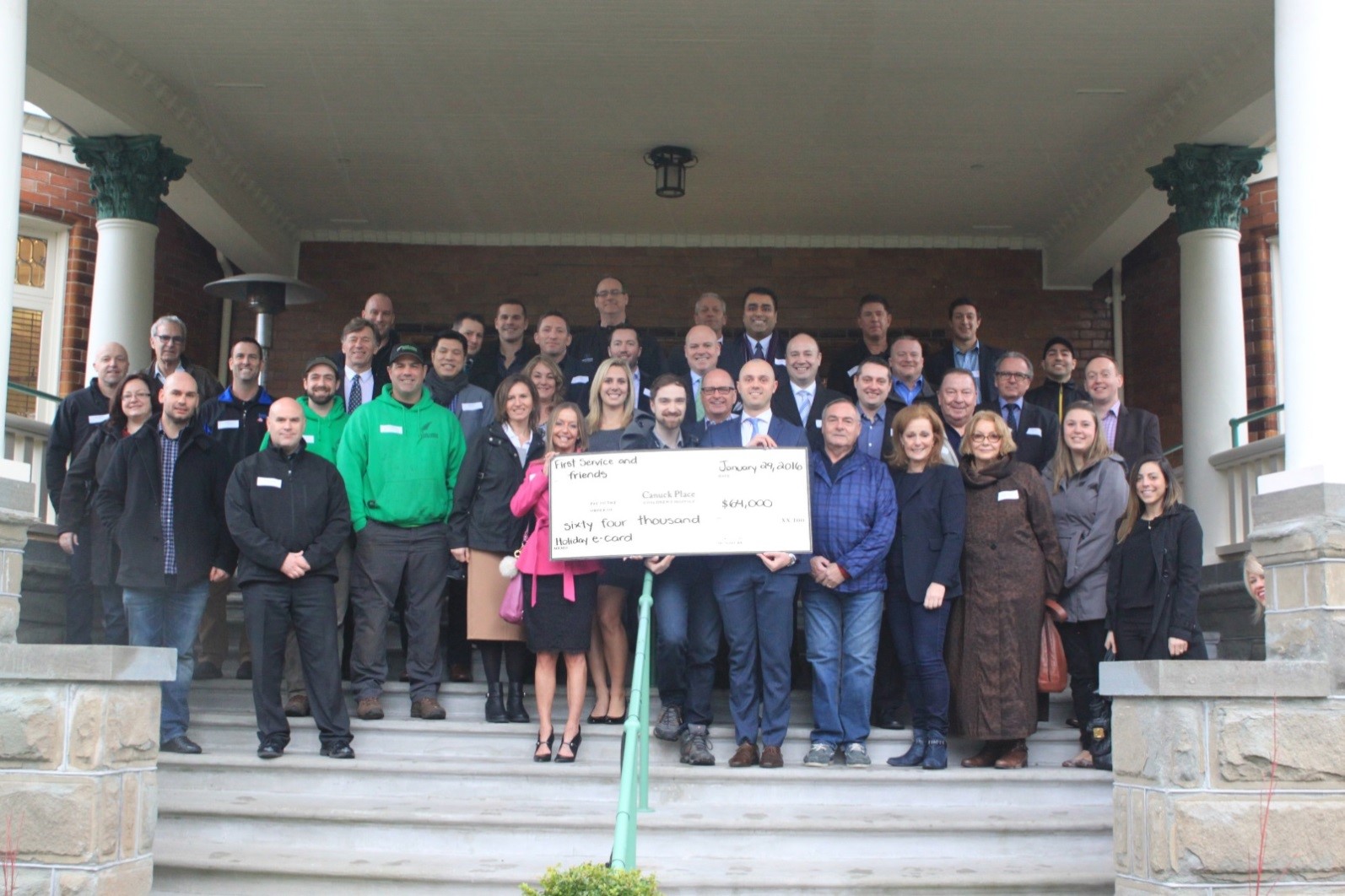 VANCOUVER, B.C. – MARCH. 7, 2016 – FirstService Residential, Metro Vancouver's leading residential property management company, raised $65,500 in donations for the Canuck Place Children's Hospice during its annual donation campaign for the hospice. The donation amount raised this year more than doubles the gift raised during last year's campaign. This past holiday season, FirstService Residential, the strata management leader, teamed up with more than fifty local vendors used by its strata corporation clients to raise money for the Children's Hospice, supporting local children with life-threatening conditions. The donation was presented to the Canuck Place team by representatives of FirstService Residential and its vendor partners.
"Canuck Place Children's Hospice is grateful for the incredible generosity of FirstService Residential, their vendors and partners," said Margaret McNeil, Chief Executive Officer of Canuck Place Children's Hospice. "The 2016 holiday campaign is a fundraising achievement and doubled the gift amount of the previous year. This remarkable contribution will help ensure Canuck Place can continue to provide pediatric palliative care to children with life-threatening conditions and support the families who love them."
To recognize the contribution, FirstService Residential sent a
holiday e-card
to its clients, more than 100,000 residents living in over 500 strata properties across Metro Vancouver. "We are humbled to see the support for the annual Canuck Place campaign more than double," said Scott Douglas, President of FirstService Residential in British Columbia. "The Children's Hospice is a true symbol of hope and community building. The relentless work of the Canuck Place team to make a difference in the lives of children in need and their families is an inspiration to us all."
About FirstService Residential
FirstService Residential B.C. provides full-service strata management solutions to a wide range of strata corporations including some of Metro Vancouver's most beautiful and recognizable communities. For more than 37 years, the organization has worked hard to serve the homeowners in British Columbia, and today, it is recognized as the leading strata management company throughout the province.
FirstService Residential
is also North America's largest manager of residential communities and the preferred partner of HOAs, community associations and strata corporations in Canada and the U.S. FirstService Residential's managed communities include low-, mid- and high-rise condominiums and cooperatives, single-family homes, master-planned, lifestyle and active adult communities, and rental and commercial properties.
With an unmatched combination of deep industry experience, local market expertise and personalized attention, FirstService Residential delivers proven solutions and exceptional service that add value, enhance lifestyles and make a difference, every day, for every resident and community it manages. FirstService Residential is a subsidiary of
FirstService Corporation
, a North American leader in the property services sector. For more information, visit
www.fsresidential.com
.
About Canuck Place Children's Hospice
Canuck Place Children's Hospice is British Columbia's recognized pediatric palliative care provider. Over 560 newborns, children and teens with life-threatening illnesses and their families receive care from CPCH through outreach programs and two provincial hospice locations; Vancouver and Abbotsford. Services include clinical respite and family support, pain and symptom management, 24-hour phone consultation support and in-house clinical care, art and education, recreation therapy, grief and loss counselling and end-of-life care. Through the investment of the community, our talented team, and over 325 energetic volunteers we make a lasting difference in the lives of children and the families who love them.
www.canuckplace.org
Sponsoring Vendors and Partners:
Allied Maintenance, BFL Canada, Access Law Group, Accurate Glass, Ashton Service Group, Barclay Restorations, Bar-El Building Maintenance, Bartlett Tree Experts, BEMCO Pacific Services, Black & McDonald, BMS Plumbing & Mechanical, Brighter Mechanical, BUR-HAN Garden & Lawn Care, Busybee Gardening, Cambridge Plumbing Systems, Canstar Restorations, CertaPro Painters Canada, Champion Window and Pressure Cleaning, Clark Wilson LLP, Commercial Lighting Products, DCI Building Services
Design Roofing, N.E.S. The Door Express, Fehr Strata Repairs, Fire-Pro Fire Protection, Five Star Building Maintenance, Fraser Valley Snow Removal, Imperial Paddock Pools, Latham's, Lumenix, Matrix Access Systems, Lesperance Mendes Lawyers, Monterio & Company, Mountain Fire Protection, National Air Technologies, Nikls Property Services, Normac, Para Space Landscaping, Phoenix Restorations, Prostar Painting and Restoration, Remdal Painting and Restoration, Roofix Services, ServiceMaster Canada, Shield Security Services, Silver Lining Landscaping, TEK Roofing, Trotter & Morton, Valley All-Door
Vancouver Security Management, Walden Disposal, Waste Management, Xpert Mechanical, XTR Building Services.