The Six Ways a Condominium Management Company Adds Value

When your condominium corporation is self-managed, you may think that everything is running smoothly. However, what if we told you having the assistance from a professional property management company could improve your community and cut costs for your corporation in the long run. Would that make you reconsider?

Many condo boards often do not realize how beneficial having a property management company is. They are pleasantly surprised when they discover the hidden value they receive from hiring a full-service all-star team! Here we describe six ways in which hiring a management company can help you and why you should consider working with one.
1. Costs for a variety of products and services decrease
An immediate benefit when partnering with a full-service property management company is to gain their knowledge about local costs and their buying power. Think about every vendor or contractor that you currently do business with. You'll know you have excellent support when the company can benchmark what you pay versus what other similar properties pay to see if you are overspending. If they come to this conclusion, the company can renegotiate your contracts on your behalf, or switch to other competitively priced vendors.

Imagine the savings you can bring your corporation regarding utilities, waste management, landscaping, cable services, and so on. The right management company will also ensure that it's not just about price but also about value. Finding a vendor that has the right combination of knowledge, experience, service excellence, responsiveness, and cost is the key to success.

At FirstService Residential, we do our research when it comes to choosing vendors. We look for prior experience, an established track record and one that is most suitable to the community's needs. We have preferred vendors that can perform any job, or your community can choose their own.
2. You discover areas of fantastic savings
An experienced property management company will immediately know hidden cost-savings for your corporation that you would not have considered. They will perform an analysis of all your operations and decide upon strategies on how to reduce your costs, thereby improving your residents' quality of life as well. This is where our years of experience in property management can really come in handy.
3. Residents' units retain their value
A property management firm helps increase your condo value by having regular maintenance or new projects completed. Whether it's getting a fresh coat of paint in the lobby done, resurfacing pavements, or taking responsibility for any other long-term project or upgrade, their job is to keep your condo looking its best. This is not just for your resident's benefits but also for your interest, especially when you are trying to appeal to potential buyers in the future.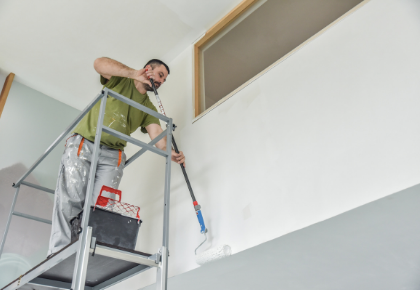 Not only does maintenance help improve the aesthetics of a building, but often the maintenance required is to ensure the safety of its residents. It's for this reason that it's important to have a comprehensive maintenance plan and schedule. A good property management company will not just help you complete these maintenance tasks but will also work with you to create that plan and keep on top of any issues that may not have initially been accounted for.
4. No more chasing after condo fees
One of the toughest parts of being a self-managed community is when condo fees are due, and you are having difficulty collecting them from every resident. It is an often-awkward situation for board members when they collect any late fees from neighbours who may also be your friends. However, hiring a property management team makes that situation disappear because they are now the middleman. They can remain professional and objective throughout the entire process.

At FirstService Residential, our financial management services connect you to the expertise of our accounting and financial professionals who will provide you with the tailored services you need.
5. A stronger team is built
When your existing staff comes under the responsibility of a property management company, they are placed under excellent care. This is because they are often offered development and training opportunities to further their career goals and skill sets. These programs make a noticeable difference very quickly. Also, employees tend to be happier when they know they are supported in this way, and it will show when working with your residents as a cleaner, concierge, security guard, etc.

At FirstService Residential, we believe it's crucial to always keep improving. That's why we invest in educational programs that grant employees of all types access to a variety of online courses and instructor-led webinars. There are classes in customer service skills, communication techniques as well as leadership training, to name a few.
6. Residents experience a greater sense of community
Having more streamlined operations and more professional and dedicated staff does a lot to enhance residents' lifestyles. The onsite management team also knows how to improve and initiate activities and programs that are best suited to your residents' unique needs and desires. Because of this, residents have more opportunities to get to know each other and feel more connected.

We take connecting to the next level with FirstService Residential Connect. Our fully integrated property management software can be used by anyone in the community, from property managers to residents on any desktop or mobile phone. The software is designed to meet the specific and unique needs of communities like yours and include important features like the ability to send out community-wide alerts about potential threats or weather warnings.

Reduce your workload
It can be tricky for residents to manage a condominium corporation themselves. Board members have
to tackle many things at once
, often taking on a considerable workload as well as any ad hoc projects that come their way. Being able to hire professional property management takes away a lot of that stress. It lets your board focus on the more important things, such as policy making, budgeting, and running meetings.
Learn more about how your condo corporation can transition from being self-managed to being professionally managed.
Contact FirstService Residential
, the leading condominium management company in Alberta.