FirstService Residential Chosen to Manage Two Downtown Communities
(May 7, 2015, Las Vegas, NV) - FirstService Residential, the leading community management company in Nevada,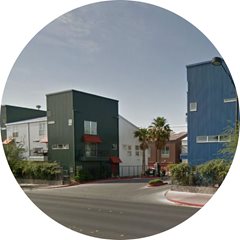 has been selected to provide HOA management services for both Eleventh Street Loft Townhome Owner's Association and Fremont Street Loft Home Owner's Association. The Trinity Haven Development communities are located in downtown Las Vegas, right off of the Strip. FirstService Residential assumed management responsibilities for both communities on May 1, 2015.
"These are very unique properties that Trinity Haven developed and we are excited to provide them with our local presence, value-added tools and exceptional service to enhance the lifestyles of their residents," said Chris Wood, senior vice president of business development for FirstService Residential in Nevada.
Eleventh Street Loft Townhomes consists of 30 units while Fremont Street Lofts consists of 70. The units in these gated communities are built with a sheet metal product to give a distinct urban look for the downtown Las Vegas feel and offer their residents a variety of amenities including attached garages, pools and fitness rooms.
About FirstService Residential
FirstService Residential is recognized as Nevada's largest and most experienced full-service community association management firm. For over 25 years, FirstService Residential has continued to provide the best-in-class community management solutions and genuinely helpful service to its over 350 properties and communities throughout Nevada.
FirstService Residential is a subsidiary of
FirstService Corporation
, a global leader in the rapidly growing real estate services sector, one of the largest markets in the world. As the leading property management company in North America, FirstService Residential oversees more than 6,500 residential and commercial associations including 1.5 million residential units and over 50 million square feet of commercial space across 21 U.S. states and three provinces in Canada. The company has more than 12,000 employees driving local market expertise and manages in excess of $6 billion in annual budgets. For more information, visit
www.fsresidential.com
.
###