Managing Package Deliveries During the Holiday Season
The necessity of managing packages
Over the past decade, managing package deliveries has become a necessary part of association management due to the increasing popularity of online shopping for clothes, furniture, toiletries, and much more. Buying virtual is accessible, convenient, and fast, and has only become more so in the last few years due to retailers moving online. After placing an order online, residents keep a watchful eye and track their packages along the way. Still, since they live in a condo association, they depend on the concierge and property manager to keep their package safe and ready to be picked up at the front desk with minimal effort.

eMarketer forecasts that when it comes to holiday shopping U.S. retail ecommerce sales with climb 14.4% over last year, accounting for 18.4% of total retail sales. That means packages will be coming in at an astonishing rate, with piles of them coming to the concierge desk. This produces a high amount of pressure on the concierge because they need to manage different packages for quick and easy pick-up while continuing to conduct all other tasks responsibly.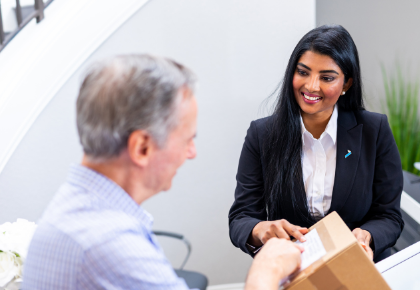 Also, as the busiest shopping season of the year is upon us, our attention is moving toward another recent trend, the number of packages that never make it to their intended owner. "Porch Pirates," as they've come to be known, are on the rise across the country, and the issue may be especially close to home for many in the Twin Cities. Shorr Packaging Corp. conducted an extensive study in 2018 into package theft across urban America focusing on the dizzying rate of Amazon purchases going missing. Of the 50 largest cities in the United States, Minneapolis ranked 3rd for most people searching "Amazon package stolen."

"Package theft has become a significant problem for townhome, HOA and condo associations across the state," said Shaun Zavadsky, Vice President, Community Management at FirstService Residential. "We've had property managers receive 15-20 calls a week about missing packages in some associations."

Communities built before the rise in online shopping couldn't have predicted how big an issue this would be– it just wasn't part of the original blueprints. Don't worry – there are several options available to help combat the growing issue.

"Board members aren't alone; they should work with their property manager to find a solution that works for their community," said David Schultz, Senior Association Manager at FirstService Residential. "We recently supported a downtown condo in finding a solution to help safeguard their residents' packages. In just one month, we've heard positive feedback about the ease of use and the peace of mind residents feel knowing their packages will be waiting for them when they get home."

Professional property management companies should assist association boards in identifying solutions and throughout the bidding process with local vendors.

Community associations aren't one size fits all, so the way they receive packages shouldn't be either. What's the best for your community?
Amazon Lockers - With endless products and next-day delivery options, it's no wonder Amazon recently surpassed Walmart of the largest retailer in the world. If your community sees a lot of Amazon packages, having a self-service kiosk may be a good option for you.

Locker Package Rooms – if your condo or community doesn't have the infrastructure to house lockers but have an empty storage room, this could be an option. With a passcode that changes regularly, only residents that have received a package will have access to the secured room.

Automated Package Management System – Similar to Amazon Lockers, having an automated package system works for several delivery carriers and offers efficient and secure access to packages. Your property manager can help design the package system that suits your building and your community needs.
COVID-19 continues to be a risk factor.
While things have improved since last year, COVID-19 continues to be a risk factor, and this increases immensely with the holiday season. This is because delivery interactions don't start with the pick-up of packages from residents. Many package carriers will be coming into the building every day, Many package carriers will be coming into the building every day, which involves an increased number of interactions with several different people, which is why it is of utmost importance to maintain in the right COVID 19 protocols such as the following.

Keep plexiglass to separate concierges and others.
Minimizing contact with residents and carriers is essential during this time since there will be a lot of face-to-face interaction. For this reason, we recommend keeping the plexiglass to separate the front desk staff or concierge and protect them throughout this process, with drop-off or pick-up occurring on the side of the lobby's front desk.

Protect your front desk workers with mask mandate required compliance.
When picking up packages, residents should be wearing a mask covering their nose and mouth since there may be a small amount of face-to-face contact when dropping the package off on the side.

Place distancing stickers on the floor.
Placing designated stickers on the floor spread six feet away from each other encourages social distancing for residents. This also prevents residents from crowding around each other as they wait to pick up their packages. Now is a good time to replace any damaged distancing stickers that may no longer be legible.

Consider the elevator capacity.
Residents should be encouraged to avoid entering elevators in groups of more than two people, especially if they have large deliveries. Residents should wait for the next elevator if recommended social distancing cannot be maintained.
Streamline the pick-up process.
To ensure that residents know what time pick-ups are allowed during the day, establish hours where this will be made possible. Our property managers can determine these times and have them posted throughout the condo association or emailed to the residents for notice. For example, property managers can notify residents that hours of pick-up are between the hours of 8 AM and 9 PM. Further, we have provided time slots for residents to come to pick their delivery from the front desk. Emailing or texting residents with their specific time slot for pick-up makes the process more streamlined. This process benefits concierges as they will know which residents will be coming down at which times, checking their list beforehand to know what packages to bring out for a quicker exchange.
In conclusion, condo associations have had to adjust the process of managing package deliveries. During this continued time of uncertainty, FirstService Residential has provided concierges, property managers, and residents the correct safety protocols according to the Centers for Disease Control (CDC) and city bylaws.