FirstService Residential Selected to Manage Summer Place Village
FirstService Residential, the leading
community management
company in Arizona, today announces being selected to provide HOA management services for the Summer Place Phase II Homeowners Association, Inc. The community is located in Mesa, Arizona and consists of 217 garden style homes. FirstService Residential assumed management responsibilities on August 1, 2014.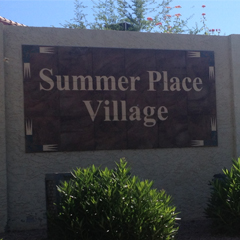 "We welcome the Summer Place Village community to our FirstService Residential family. We are excited to partner with the community in carrying out their goals and delivering the exceptional service that has made us
Arizona's #1 ranked HOA Management Company
for eight consecutive years," said Jason Proudfit, FirstService Residential Arizona President.
The Summer Place Village community is located at Gilbert Road and Southern Avenue in Mesa and offers residents access to local schools, shopping and restaurants. The community features a community pool and spa and is adjacent to the Silvergate City Park for the homeowner's enjoyment.
FirstService Residential provides full-service community management solutions to a wide range of homeowner and condominium associations including some of Arizona's most beautiful and recognizable communities. Since 1968, its team has worked hard to serve the homeowners of Arizona, and today, the company is recognized as the leading HOA management company throughout the state. FirstService Residential has been selected as Arizona's top choice of
HOA management companies
by Ranking Arizona for eight consecutive years.
About FirstService Residential
FirstService Residential is a subsidiary of FirstService Corporation, a global leader in the rapidly growing real estate services sector, one of the largest markets in the world. As a leading property management company in North America, FirstService Residential oversees more than 6,500 residential and commercial associations including 1.5 million residential units and over 50 million square feet of commercial space across 21 U.S. states and three provinces in Canada. The company has more than 12,000 employees driving local market expertise and manages in excess of $6 billion in annual budgets. For more information, visit
www.fsresidential.com
.
###