FirstService Residential Selected to Manage The Allison Condominiums
FirstService Residential, the leading
community management
company in Arizona, today announces being selected to provide HOA management services for The Allison Unit Owners Association, Inc. The community is located in Scottsdale, Arizona and consists of 332 condominium homes. FirstService Residential assumed management responsibilities on July 1, 2014.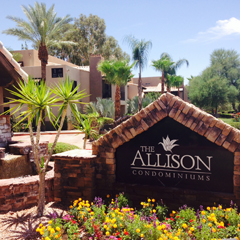 "FirstService Residential is excited to be managing The Allison Condominiums in Scottsdale. This community offers residents a beautiful place to call home and as their new HOA management company we look to continue enhancing the lifestyle of each resident and property values within the community," said Jason Proudfit, FirstService Residential Arizona President.
The Allison Condominiums community is located at East Thunderbird Road and 92
nd
Street in Scottsdale. This community offers residents multiple floor plans with stainless steel finished appliances, walk in closets, private balcony/patio and much more. The Allison Condominiums also offer residents several amenities including multiple swimming pools, spa, clubhouse, several courtyards and an outdoor grilling area.
FirstService Residential provides full-service community management solutions to a wide range of homeowner and condominium associations including some of Arizona's most beautiful and recognizable communities. Since 1968, its team has worked hard to serve the homeowners of Arizona, and today, the company is recognized as the leading
HOA management company
throughout the state. FirstService Residential has been selected as Arizona's top choice of HOA management companies by Ranking Arizona for eight consecutive years.
About FirstService Residential
FirstService Residential is a subsidiary of FirstService Corporation, a global leader in the rapidly growing real estate services sector, one of the largest markets in the world. As a leading property management company in North America, FirstService Residential oversees more than 6,500 residential and commercial associations including 1.5 million residential units and over 50 million square feet of commercial space across 21 U.S. states and three provinces in Canada. The company has more than 12,000 employees driving local market expertise and manages in excess of $6 billion in annual budgets. For more information, visit
www.fsresidential.com
.
###