FirstService Residential Selected as the #1 HOA Management Company in Arizona for the Eighth Year in a Row
FirstService Residential, the leading community management company in Arizona, has been named the #1
Homeowners Association Management
Company by Ranking Arizona. This is the company's eighth consecutive year winning this honor from Ranking Arizona. Additionally, FirstService Residential also was named the #2 Best Workplace Culture in the Residential Real Estate category by Ranking Arizona.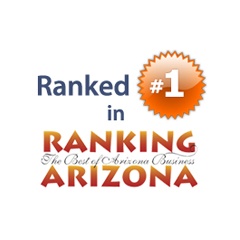 "We are beyond honored to receive this award for an eighth straight year. This is a very special award for us each year because it is voted on by our clients, the Arizona business community, and our employees. It demonstrates that we have effectively delivered on our mission to provide exceptional service to all our communities and business partners while at the same time creating an excellent working environment for our employees." said Jason Proudfit, FirstService Residential Arizona President.
In addition to FirstService Residential's #1 HOA Management Company and #2 Best Workplace Culture rankings this year, they also had five of their properties ranked in the top High Rise Living Condominiums category. The following properties were named in the top 10; Edgewater at Hayden Ferry Lakeside (#2), Third Avenue Lofts (#3), Residences at 2211 (#4), Bridgeview at Hayden Ferry Lakeside (#6) and Biltmore Square (#7). FirstService Residential and several of its properties are up for multiple awards in the 2015 Residential Real Estate voting categories.
FirstService Residential provides full-service community management solutions to a wide range of homeowner and condominium associations including some of Arizona's most beautiful and recognizable communities. Since 1968, its team has worked hard to serve the homeowners of Arizona, and today, the company is recognized as the leading
HOA management
company throughout the state. FirstService Residential has been selected as Arizona's top choice of HOA management companies by Ranking Arizona for eight consecutive years.
About FirstService Residential
FirstService Residential is a subsidiary of FirstService Corporation, a global leader in the rapidly growing real estate services sector, one of the largest markets in the world. As a leading property management company in North America, FirstService Residential oversees more than 6,500 residential and commercial associations including 1.5 million residential units and over 50 million square feet of commercial space across 21 U.S. states and three provinces in Canada. The company has more than 12,000 employees driving local market expertise and manages in excess of $6 billion in annual budgets. For more information, visit
www.fsresidential.com
.
###