Six Steps to Putting More Play in Your Playground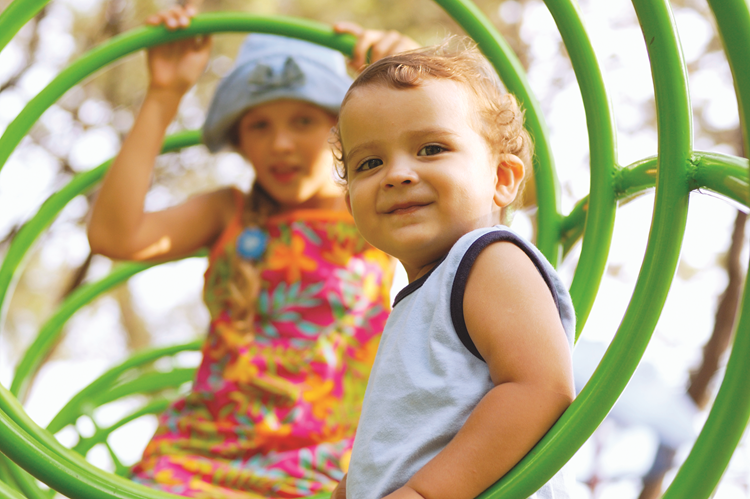 Sometimes, creating a better community can be child's play. After all, many of our community residents are children, so creating a happy place for them has a way of making happy adults, too.
So let's talk playgrounds. As the centerpiece of a community, a playground has a way of bringing both children and adults together, and that creates more tightly knit neighborhoods. It's a fun way to leverage one of your most important amenities toward building community spirit - so long as it happens safely.
To that end, here are a few steps you can follow to create a safe playground, courtesy of
American Pool Enterprises
, the largest swimming pool management company in the United States.
1. Decide what you need.
There's a real science to fun. That's why you'll want to engage the services of a playground expert (yes, they exist!) right from the outset. This advisor will take a look at your space, assess the lifestyle of your residents, and incorporate ways to comply with the Americans with Disabilities Act (the ADA). Get your association insurance agent involved, too, so you can determine if a new playground will impact your insurance costs. Sound like a lot? Consider speaking with a
HOA management company
- these experts are used to quarterbacking big projects with lots of moving parts.
2. Design.
This is the fun part. It's part science, part creativity, and, if done well, completely rewarding. Considering age ranges, use zones and safety, your playground expert will develop a facility that's tailor made for your community. Along the way, he or she will make sure it complies with American Society for Testing Materials standards, ADA requirements and International Play Equipment Manufacturing Association Criteria. Your job at this phase is to communicate openly with the expert and be clear about your (very realistic) expectations.
3. Get the community involved.
Get buy-in from the get-go. As part of a master-planned community, everyone will share in the facility – even those without children. With community-wide support, you can be sure the facility you've invested in will be used by the greatest number of individuals. And besides, you can make an event of it – unveiling the design plans or installation day are great opportunities to get the whole community together. Final detail: make sure your plans meet the approval requirements under governing law, your association's documents, or both.
4. Plan for a smooth delivery.
Delivery is a big job. You'll have semi-trucks and trailers coming into the neighborhood, delivering large pallets of material. This can be disruptive, to say the least. Give residents a heads up in advance to help minimize any inconvenience, and make sure to level the ground and have the safety surface installed ahead of time, too. But it's not all work – the delivery of the equipment is a great opportunity for a community event as well.
5. Install it.
The fun is about to begin. You can opt for a professional installer or choose to put everything together yourself with the help of some volunteers. If you choose the latter, at least have an expert from the playground company stay involved to guide your team along the way.
6. Play - safely.
Here in Arizona, summer safety comes with rules all its own. Remember that metal equipment can get extremely hot and cause burns. Even plastic parts can heat up to dangerous temperatures under the scorching sun. Most of all, exercise caution with slides - both metal and plastic alike. Test the surface before allowing your child to go down the slide... they can heat to harmful temperatures even on days that don't feel that hot. A shade structure can help, but it's a good idea to stay cautious. And no matter what time of year it is, encourage adult supervision while children are at play, and make sure playground maintenance is part of your ongoing maintenance plan. For more safety tips, you can visit
playgroundsafety.org
.
Playgrounds are all play. But if you put in the work, you can ensure countless hours of safe and happy fun. For more insight on play structures in your community, contact
FirstService Residential
, Arizona's HOA management company leader.