How Condo Owners Can Manage Their Homes During Summer Vacation
Download our Infographic
Click on the button below and fill out the form to download our Worry-Free Vacation infographic.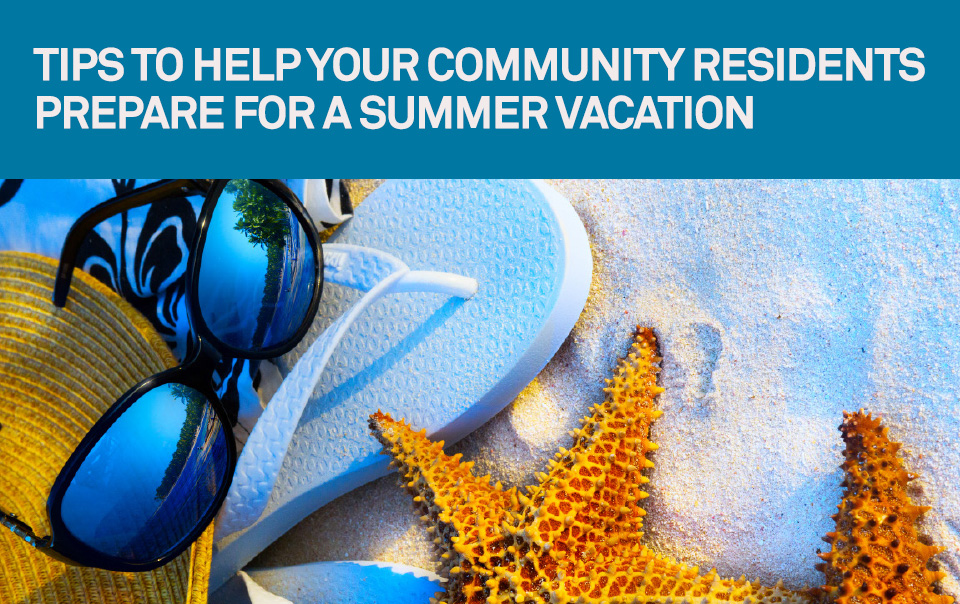 Just as you are excited that the sun is out and that summer is finally here, the chances are that many of your residents in your condo community feel the same way!
They're likely planning a trip to the cottage for the weekend, making extended plans with family and friends for the week, or heading up to the mountains for hikes - all lengthy activities. Before the fun starts, you should remind condo owners that it is essential to plan and write out how they plan to upkeep their condo while they are away.
Here, we recommend what you can share with residents. Your community management company can also make suggestions that apply to your community.
1. Save energy sensibly.
The first thing condo owners should consider is turning off appliances that won't be used while they're gone. They will be saving energy and lowering their costs as well. They can start by turning off their water heater. We recommend unplugging appliances in the kitchen, such as toasters, coffee makers, and toaster ovens. Unplugging computers and printers is a good idea as well. Before leaving, they should enter each room to make sure every light is turned off. They do not want to come home after a few days to see their bathroom light was left on. If you use air conditioning, set it to a cold temperature to turn on only once your home gets extra hot.
2. Make your condo look lived in.
The last thing you want your residents going through is a break-in while they were gone. Please provide them with a list of recommendations they can use to signal that they have not left their home.
This includes:
Temporarily stopping delivery of mail (easily managed online at www.canadapost.ca) and newspapers or designating a family member to collect your mail
Asking a friend to park a car in your driveway
Alerting other neighbours and your community manager that you will be gone for a certain number of days
3. Count on a trusted relative or friend.
If you trust someone to look over your home, this is ideal because you can provide them with your keys and ask them to check your home every other day. Along with your keys, give them your contact information and the address of where you'll be staying. This is especially helpful if you have pets that need to be taken care of and fed, plants that need watering, etc. As a small token of appreciation, bring them a nice souvenir when you come back. This can be a mutual favour whenever they leave for vacation as well.
4. Don't overlook maintenance.
Ask the person who is minding your condo to make sure there are no leaks or other issues that need immediate attention. If you live in a home where you are responsible for outdoor maintenance, arrange to have someone keep your property tidy while you are away.
Always be one-step ahead of the game when helping your residents prepare for vacation. It can help make your residents' vacation time that much more relaxing. To know more about how to make your property safe, read these
security tips
. Find out more about how a professional condominium management company can help keep your community safe and secure. Contact FirstService Residential, Alberta's leading property management company.