Fire Prevention and Safety for High- and Mid-rise Condo Dwellers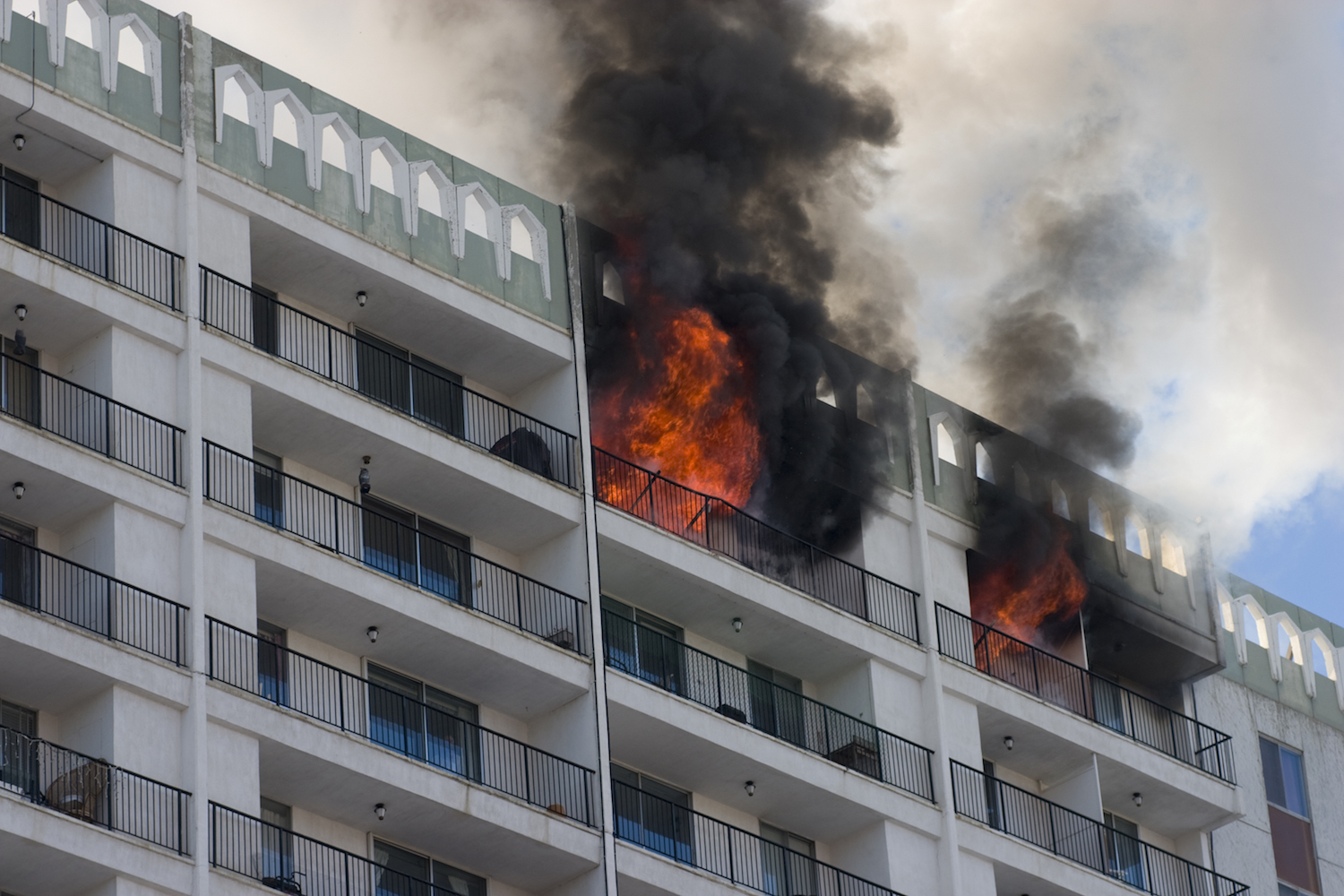 Many Alberta residents would agree that living in a high- or mid-rise condominium building comes with many perks. Convenience, breathtaking views, amenities and concierge services are among the reasons people choose this lifestyle.
One thing you may not have thought about very much, though, is what to do if there is a fire in your building. Many condominium corporations have rules aimed specifically at fire safety, and it's important that you do your part by knowing and abiding by these rules. In addition, Fire Prevention Canada, the national voice of fire prevention education in Canada, offers free fire safety fact sheets.
We've also provided these seven fire prevention and safety guidelines to help keep you and your family safe.
Get familiar with your building, and have an escape plan.
You should know the location of fire alarms, stairwells and exits in your building. The building's fire safety and evacuation plan will show you the closest escape route in the event of a fire. However, be aware that the most convenient escape route may not always be passable in an emergency, so it's important that you know where alternative exits are located, too.

Have a plan on where everyone in your home should meet if there is a fire, and make sure that all members of your household—even children—know the location. This meeting place should be a safe distance from the building, and you should all remain at that meeting spot until everyone has arrived. Don't forget about your pets. Keep leashes or pet carriers close to the door so you can quickly take pets if you need to evacuate.
Discuss fire safety with your condo manager.
Make a point of informing your condo manager of anyone in your household who might need special assistance in the event of a fire. Your condo board or condo manager should also hold meetings and other safety events to educate residents about fire prevention. Topics should include the building's fire alarms and sprinkler systems, as well as fire safety and evacuation plans. Be sure to participate in these meetings and events, as well as in regular fire drills. If your condominium corporation does not currently have fire safety meetings or events, suggest the idea, or offer to spearhead a fire safety committee.
Practice fire prevention at home.
Take these precautions to prevent a fire at home and to protect your family, home and pets:
Never leave candles, stoves or other sources of fire unattended.
Do not overload electrical outlets.
Unplug appliances that you are not using.
Supervise children and pets around open flames and electricity.
Put an animal alert sticker near your main doorway to let firefighters know that you have pets, and be sure pets are tagged, collared and microchipped.
Have functioning smoke alarms in your living room and all bedrooms. Test units regularly, and change the batteries twice a year when you reset your clocks.
Keep exits unobstructed. For example, do not leave bicycles, shopping carts or strollers in front of doors.
Prep your fireplace for the season by getting it inspected by a certified inspector and getting it cleaned. (More fireplace prep tips are available by visiting The Elements of Living.) Make sure you have nothing flammable around the hearth and that you extinguish fires completely before going to bed.
If you live in a building that allows smoking, make sure there are designated receptacles to properly dispose of smoking materials. If you are a smoker, appropriately dispose of cigarette butts, etc. Never extinguish smoking materials in potted plants. (Read this article to find out why.)
When is it time to evacuate?
The type of building you live in can impact whether you should stay or go during a fire. If the building is noncombustible (fireproof), a fire is less likely to spread through the walls to other floors or units. Therefore, the general rule is to stay in your unit and call 911 if you live in such a building and the fire is not in your individual condo unit.

Buildings that are combustible (not fireproof) are constructed of components that will burn (such as wood). Fires can spread easily, so if there is a fire you will need to evacuate.

Regardless of whether your building is combustible or noncombustible, you should evacuate if the fire is in your unit.
Leave quickly if you need to evacuate.
Whether the fire is in your unit or you are instructed to evacuate, it is crucial to leave as fast and as calmly as possible. Be sure to follow the instructions given by emergency personnel, your condo manager or your alert system.

Before exiting your unit, feel your main door and doorknob to see if they are hot. If not, open the door a crack to check for heat, smoke or fire in your hallway. Gather your household members and pets, and leave your unit quickly if it is safe to exit. Remain low to reduce the possibility of smoke inhalation. Take your keys if you can grab them quickly, and close interior doors behind you. Close (but do not lock) your front door to prevent the fire from spreading. Head for the closest (or safest) stairwell; do not use the elevator.

Should heat, smoke or fire prevent you from exiting through the front door, use the fire escape if there is one. Proceed cautiously and carry small children.

Once you have exited the building, go straight to your planned meeting place. Call 911 if emergency personnel have not yet been alerted. Be prepared to give the dispatcher your location and the building's address, along with other basic information.
Keep your cool and act fast if it's best to stay put.
If safety or circumstances such as a medical condition dictate that you stay in your unit, pack wet towels or sheets under the doors and in air vents or other openings where smoke could potentially enter. Call 911 and provide your address, floor, unit number and the number of people and pets with you in your unit. Open windows slightly at the top and bottom unless you see smoke or flames coming from below. If you are unable to open the windows, do not attempt to break them. The draft from an open window can sometimes increase the smoke level, so you need to be able to close your windows quickly if this happens.
Stay away from the elevators.
For safety reasons, you should never use elevators during a fire (unless instructed to do so by emergency personnel). Buildings can lose power during a fire, leaving you with no means of escape, stuck on the same floor as the fire or unable to use the call button. In addition, elevator shafts can quickly become smoke filled.

Even without these safety concerns, an elevator is not an efficient way to evacuate an entire building because it does not hold many people. It is also possible that firefighters will need the elevators to move personnel and equipment quickly.
Living in a high- or mid-rise condo can be a great experience. By knowing proper fire procedures, you can also make it a safe choice.
Want to learn more about the FirstService Residential ResidentAlert system or the role a condo management company in fire safety?
Contact FirstService Residential
, Alberta's leading condominium management company.