FirstService Residential's Local Service Structure and Expertise How Your Community Benefits
Toronto Property Management Requires Diverse Professional Management Partners
Toronto property management needs a unique management team and services for their diverse communities to thrive. At FirstService Residential, our mission is to make a difference every day by serving as your partner in your community's management, evolution, and enhancement. It's rewarding work that is built on solid relationships, grounded in our deep local market knowledge and substantial industry experience. As the leading residential property management company in North America, we are committed to providing board members like you the guidance and support you need to ensure your community's continued success.

That is why FirstService Residential has structured the delivery of our exclusive services and value-added resources so your property manager and fellow board members can easily take advantage of them. After all, they are some of the reasons why you selected FirstService Residential as your Toronto property management partner.
Our Local Team is Structured Around You
The FirstService Residential service delivery model is built on the belief that the best way to support the communities we manage is with a strong local presence and a deep understanding of the local market. Toronto is a unique city with diverse neighbourhoods, from Chinatown to the Junction, the Beaches to Little Italy; every Toronto neighbourhood has different needs and priorities for their condo corporations. That's why we surround your property manager with an experienced and informed team of empowered Toronto property management professionals who are knowledgeable about your market because, more often than not, we live there too.

These executive-level leaders know your neighbourhood and understand its culture. They have relationships with the best local vendors and are well-versed in the local laws that directly impact your condo corporation. And together, these strengths enable them to partner with your property manager and board to affect your property values and enhance the lifestyle of your residents. Not to mention, allowing them to successfully handle the challenges that arise, which are unique to your part of the country and province.

Each property manager is supported by:
Regional director
Vice president
President
Administrative team
Customer care centre
Together, these professionals help our boards and communities successfully address issues and make better use of the in-house services that are built right into FirstService Residential's framework. This structure also ensures that none of our communities are tied to just one individual — namely, your property manager — and that the entire company is aware and responsive to your corporation's needs.

The Best of Both Worlds for Toronto Property Management
A tangible benefit to working with a North American-wide company with a local service delivery structure is that your local team has the backing of 19,000 associates and 8,500 communities across Canada and the United States. Bringing even more knowledge to the table. So what happens if your corporation requires specific expertise that your local team doesn't have? They can quickly find insights from experts and thought leaders across North America that hold decades of experience.

"At most smaller property management companies, the property manager undertakes the administrative tasks as well. This could add some strain to the property manager's time management, as administration tasks can take up a lot of time. At FirstService Residential, our centralized administration support team takes care of all the administration tasks for the property manager. This enables our property managers to give their day-to-day running of the communities their undivided attention, with all the administrative responsibilities taken care of by our support team," said Mark D. Hopkins, president at FirstService Residential – Ontario.

Put another way, we are uniquely able to offer our communities proven, practical solutions because we've seen it all. So as issues arise, local teams can tap into the best practices that have been shared by their counterparts across the organization. Allowing the local team to tackle problems head-on and solve them in a timely manner.
Local Expertise Put into Practice
An excellent example of how our local teams can find effective solutions for solving problems for their communities is from earlier in the pandemic.

A property manager from one of our Ontario communities discovered that the Ontario Electricity Rebate (OER) had not been applied to the community's electricity bills. There was confusion as to whether the community qualified for the rebate. Since this was a complex issue that demanded detailed research and investigation, it was a challenge for the property manager. To help solve this issue, he reached out to our director of energy and sustainability for assistance. They worked together to have the bills adjusted and to recuperate the funds for the community.

Upon their investigation, the utility company cancelled all bills going back to January and rebilled them with the OER credit. The community received back $88,214.64 in funds for the retroactive of the Ontario Fair Hydro Plan and $44,157 for the OER rebate. And from now on, the corporation will continue to receive the OER subsidy until the program ends. Which is estimated to save the community an additional $66,000 per year. Our director of energy and sustainability, Suneel Gupta says, "we likely are the only property management company that has delivered $1M of savings during six months of Covid."
Unique City, Unique Property Types, Unique Services
The Toronto property management industry encompasses a wide variety of property styles. From high-rise, mid-rise and low-rise buildings to townhome complexes and commercial condominiums. Fortunately, our services are designed to meet the needs of any property regardless of the type or size. Catered to meet the unique needs of each community, our services range from managing packages for all different building sizes to maintaining common elements of townhouse complexes and everything in between. More importantly, our Toronto property management teams are well versed in the various needs of these properties so they can ensure the required services run smoothly and successfully.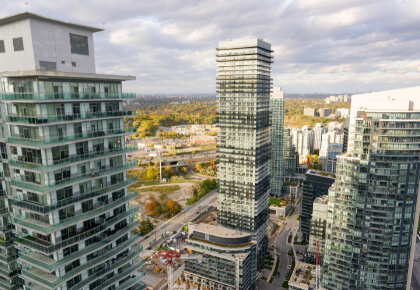 By leveraging our relationships throughout Canada and the U.S. and implementing the right services for the property, FirstService Residential can make a significant and positive difference for the communities and boards we serve — a difference that is delivered and experienced locally.