FirstService Residential Associates Recognized for Customer Service Excellence by Las Vegas Metro Chamber of Commerce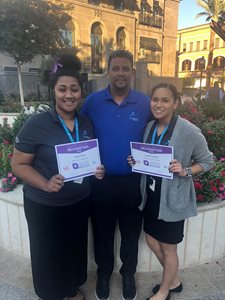 LAS VEGAS (December 12, 2018)
--- FirstService Residential, North America's leading community management company, recently had two members of its national customer care team recognized for service excellence. Las Vegas-based associates Alana Ulrich and Teuila To'o were each honored with a Customer Service Excellence Award sponsored by the Las Vegas Metro Chamber of Commerce and the Las Vegas Convention and Visitors Authority.
The Chamber presented the pair with certificates of recognition for their dedication to outstanding customer service during a ceremony held on November 8, 2018. Alana and Teuila were lauded for their excellence in providing support for escalated customer care calls, training new associates and leading new initiatives and contests among their teams.
Both associates work at FirstService Residential's new 24/7/365 Customer Care Center in Las Vegas, which opened on October 10, 2018. In conjunction with its companion center in Dania Beach, Fla., the national FirstService Residential customer care team responds to an average of 5,000 calls per day, with residents able to reach out by phone, email or social channels.
Alana is a team manager and Teuila is a tier III customer care associate. Both have worked at FirstService Residential for four years.
"Alana and Teuila embody FirstService Residential's core values in the way they treat new associates, lead tasks and are always looking for ways to improve," said Rolando Hernandez, national director of customer care at FirstService Residential. "They represent our company's commitment to being genuinely helpful, and they demonstrate sincere care for the residents we serve on a daily basis."
About FirstService Residential
FirstService Residential is recognized as Nevada's leading and most experienced full-service community association management firm. For nearly 30 years, FirstService Residential has continued to provide the best-in-class community management solutions and genuinely helpful service to its over 370 properties and communities throughout Nevada.
FirstService Residential is North America's largest manager of residential communities and the preferred partner of HOAs, community associations and strata corporations in the U.S. and Canada. FirstService Residential's managed communities include low-, mid- and high-rise condominiums and cooperatives; single-family homes; master-planned, lifestyle and active adult communities; and rental and commercial properties.
With an unmatched combination of deep industry experience, local market expertise and personalized attention, FirstService Residential delivers proven solutions and exceptional service that add value, enhance lifestyles and make a difference, every day, for every resident and community it manages. FirstService Residential is a subsidiary of FirstService Corporation, a North American leader in the property services sector. For more information, visit
www.fsresidential.com
.