FirstService Residential Arizona Hosts Hundreds of Attendees at HOA Conference and Exposition in Phoenix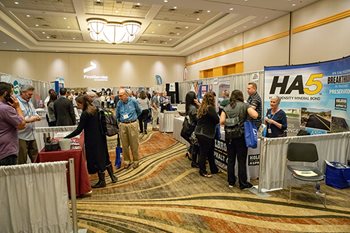 SCOTTSDALE, Ariz. (Nov 27, 2018)
---
FirstService Residential
, Arizona's leading HOA management company, hosted its sixth annual FirstService Residential Conference and Exposition on Friday, November 16 at the JW Marriott Phoenix Desert Ridge Resort & Spa in Phoenix.
As the largest HOA board member event in Arizona, more than 500 individuals attended, including board members from across the state of Arizona, nearly 100 vendors as well as industry professionals and legal experts. Board members in attendance represented various types of associations, including large-scale, master-planned, high-rise and condominium. The free conference and exposition connected board members and industry leaders by offering networking opportunities with vendors, informative seminars, free legal clinics with top local attorneys as well as a complimentary buffet lunch and cocktail hour.
"The conference is all about supporting Arizona board members and helping make their roles easier by providing them with easy access to the best resources and professionals in the industry," said John Kemper, president of FirstService Residential Arizona. "We understand that being an HOA board member can be challenging, so our goal was to create a best-in-class environment for open dialogue, education and networking in order to better support them and their communities."
The event also hosted two educational seminars by HOA legal experts. Javier B. Delgado and Mark K. Sahl of Carpenter, Hazlewood, Delgado & Bolen, LLP presented
Disrupting the Disruptors: Taking Back Your Board Meetings and Your Life
, while Jeffrey B. Corben and Brian W. Morgan of Maxwell & Morgan, P.C. shared a 2019 Arizona Legislative Update. Attendees were also able to attend free legal clinics throughout the day where they could meet with legal experts and have their questions answered.
Sponsors of the 2018 FirstService Residential Conference and Exposition included:
About FirstService Residential
FirstService Residential is North America's largest manager of residential communities and the preferred partner of HOAs, community associations and strata corporations in the U.S. and Canada. FirstService Residential's managed communities include low-, mid- and high-rise condominiums and cooperatives; single-family homes; master-planned, lifestyle and active adult communities; and rental and commercial properties.
With an unmatched combination of deep industry experience, local market expertise and personalized attention, FirstService Residential delivers proven solutions and exceptional service that add value, enhance lifestyles and make a difference, every day, for every resident and community it manages. FirstService Residential is a subsidiary of FirstService Corporation, a North American leader in the property services sector.
In Arizona, FirstService Residential is recognized as the leading homeowners association management company in the state, serving over 270 community associations and more than 90,000 households. We offer a comprehensive range of homeowners association and property management services to communities of all types and sizes throughout the state, including the Greater Phoenix and Tucson areas. Ranking Arizona has named FirstService Residential as Arizona's top choice of HOA management companies for the 12th consecutive year.
For more information, visit
www.fsresidential.com
.