What If Our Manager Leaves? How to Handle HOA Staff Changes
Download a free guide!
Fill out the form below to download Welcoming Change: Smooth Staff Transitions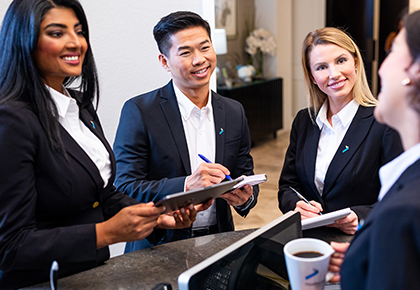 HOA staff and manager changes are often inevitable. Your manager may get promoted or they may retire or move to a new location. Additionally, you may face transitions with other staff members, such as front desk associates or maintenance managers. The good news is that not all staff or manager changes need to be challenging.

While staff changes can be unsettling for boards and residents alike, they don't need to be disruptive to your association's operations. The key is to partner with a management company that has a proven process for transferring responsibilities and institutional knowledge.

Remember that not all staff changes are alike or require the same level of support. A manager transition for a 150-unit single-family home community with 2 staff members is very different than a 5,000-home master-planned community with on-site staff and amenities. Your management company should provide an appropriate level of support for your unique community.

So what can you and your board do to prepare for future changes? For starters, your management partner should be open to proactive conversations about staff changes, without considering the topic taboo. Then, review the following questions with your management company to ensure a smooth staff or manager transition.

Who keeps the institutional memory during a staff or manager change?
Changing managers in particular raises a lot of questions: How long will it take our new manager to get up to speed? How will our new manager learn everything our old manager knew? Who do residents contact in the interim? How will finances and records be maintained? Who will oversee ongoing activities and capital improvement projects?

It's important to understand that transitioning manager duties is a common industry practice for association management companies. And if the company applies a management team approach, knowledge about your community won't just reside with one person. A regional director or senior leader who works closely with your manager will often have a direct relationship with board members and be familiar with your community's needs, projects and issues. They will make sure everything stays on track while your new manager gets settled in. Local and regional support specialists in accounting, human resources and technology will have insight into your community, too.

Stephanie Parker, vice president of operations at FirstService Residential, said, "Of course, the relationship between boards and their manager is key, but the broader support that both your manager and your community get from the company is just as, if not more, important."

A great management company can also make it easier for the management team to share knowledge and stay up to date by implementing a secure technology platform to centralize your association's information. For instance, FirstService Residential Connect, a proprietary and secure technology platform, saves valuable information and tasks related to your community or building. This way, whether your current manager leaves or simply takes a day off, a team of equally informed associates can access that information to quickly get up to speed about your community.

Your management company should provide your community with answers and peace of mind during this transition process via a strong support system that includes:
Accounting team
Community support teams
Regional director or senior leader and operations team
Specialized administration team
24/7 customer care center
HR team
To learn more about the value of a management team approach, read the article, Is Your Association Manager Equipped for Success? 3 Questions to Ask.

When a manager (or staff member) changes, how do we find the right replacement?
When you need a new manager or staff member, how does your management company find the best candidate for your community? For starters, your management company should provide training, a great culture and comprehensive benefits, so that they can attract the right candidates from the start. Secondly, your management company's support team, including a robust HR department and recruiting team, is key to a smooth transition and replacement.

When the regional director or senior leader stays in the loop from beginning to end, they will know your community's expectations and personality and can match you with the ideal manager. They should understand the nuances in the relationships of the community.

Great management companies have consistent onboarding procedures for managers, extensive resources to train managers and develop their skills and a communications strategy to keep residents, vendors and other stakeholders informed. Training resources, such as hands-on training, online courses, and mentorship programs, can help educate managers with the knowledge and best practices they need to excel in their role. This method alone can reduce community disruption and ensure you receive the same level of exceptional service regardless of who your manager is.

How can we effectively communicate staff changes to our residents?
Effective communication is essential, especially when a key member of your association's staff changes. A good management company should keep you in the loop during this process. It's important to advise your community on staff changes through mass communication channels. Keeping residents informed through various platforms ensures a better chance of the message reaching them. Once a new manager is selected, schedule a virtual meet and greet for residents to meet their new manager and get acquainted. Work with your management company to come up with an effective communication plan using these channels:
Community website
Email
Text messages
Virtual conferences
When your association is in search of a new manager, the transition of responsibilities sets the tone for the future success of your community and the ongoing relationship with your management company. Hiring a new manager who has the right expertise and skill set can positively influence your community. It's important to remember that a fresh perspective can also bring a lot of value to your community and residents.

Change may be inevitable, but when handled properly, it can be an opportunity that revitalizes residents' energy and benefits your entire community.