Five Things to Know About Adequate Staffing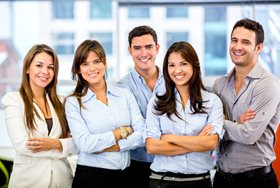 What makes a community? It's a lot more than just the amenities you offer. It also comes down to lifestyle – and often that's powered by the staff you have on hand.
"So much goes into staffing a community," said Kay Mabson, corporate recruiter with FirstService Residential in Nevada. "It really is a people business – you have to do right by the association and the candidate, and make your match carefully."
And yet when it comes to
HOA management
, staffing is both a science and an art all its own. That's why it's smart to partner with an HOA management company that offers value-added tools and services to help populate your community with the people who can create the lifestyle your residents deserve.
Let's take a look at how that can happen.
1. Assess your current versus future needs. No community is stagnant. As times change, so do the demographics and lifestyles of your residents. Currently, your needs might be pretty clear-cut -- compliance manager, compliance inspector, concierge, security, seasonal staff, lifeguards and other professionals are the basics. But what if part of the vision of your community is to become more lifestyle-oriented? What if your aging population means there's a transition to an active-adult community in your future? Then you may need more specialized staff, such as a lifestyle director, who can manage and oversee those changes. An HOA management company that's adept at staffing can help you fill the vacancies now and plan for the roles you'll need in the future.

2. Make sure you've got the resources. Staffing is no small task. Does your current HOA management company have the resources to take on this responsibility? Look to a firm that has a corporate recruiter on-staff – one who is experienced in developing teams for lifestyle communities. This individual will have the knowledge and expertise to pair your community with the ideal candidates. Think of them as the ultimate matchmaker.

3. Balance understaffing vs. overstaffing. The challenge here is money – and both understaffing and overstaffing come with costs unique to themselves. If your community team is on the thin side, then you won't have the manpower to accommodate residents' needs. That means unhappy residents, which ultimately translates to fewer residents (and lower revenue from assessments). With overstaffing, you're paying for professionals you don't need, which costs you money, too. A staffing expert can help you strike just the right balance, which will enable you to stay true to your fiduciary responsibilities.

4. Your culture matters. Beware of any staffing professional who doesn't get to know you and your community personally. There is no one-size-fits-all solution for staffing, and it should never be approached that way. A great corporate recruiter will take the time to get to know your unique culture, along with the vision for the culture you ultimately want to create. This individual should be able to tell the difference between an expressed desire for staffing versus what the community really needs – sometimes the most critical requirements aren't expressed verbally. Rather, they become apparent after getting to know the community's unique culture and challenges.

5. The hire is only the beginning. So you've just been connected with a great new team member. Job's done, right? Wrong. A great HOA management company will put employee retention programs in place so you can keep your best people for the long-term. This program should be formalized and in writing. Your HOA manager should be candid about your current landscape from an HR perspective, and offer solutions to help make it more employee-friendly.
As you can see, a lot goes into adequate staffing. That's what makes an HOA management company with the resources to help you with this aspect of operations so essential. For more information on staffing and other important issues,
contact FirstService Residential
.