FirstService Residential Associates Beautify City Park for Earth Day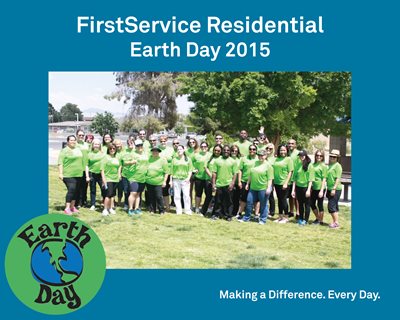 (April 27, 2015, Las Vegas, NV) – Associates of FirstService Residential, the leading community management company in Nevada, participated in a beautification project at Ed Fountain Park in Las Vegas in observance of Earth Day. The 46 acre park presented several cleaning opportunities, including trash and debris removal throughout, painting of pillars, gates, wrought iron features and water fountains, cleaning of playground equipment, picnic tables and barbecue grills.
FirstService Residential partnered with The Outside Las Vegas Foundation to organize this volunteer event. The Outside Las Vegas Foundation hosts volunteers in public parks and on trails within Las Vegas, Clark County and North Las Vegas. "Outside Las Vegas Foundation likes hosting corporate groups as volunteers," said Jessica Millette, Program Manager of The Outside Las Vegas Foundation. "Yesterday FirstService Residential at Ed Fountain Park was a great example of how corporate teams can have fun, give back, and get to know each other better all at the same time. The effort from the volunteers will be seen for weeks and months to come."
Approximately 36 associates from FirstService Residential participated in the Earth Day event as a way of giving back to their community. "It was such a fun experience to do with our coworkers and to show that FirstService Residential truly cares about making a difference for not only the communities we manage but the community as a whole," said Erin Pinegar, associate of FirstService Residential in Nevada. "I am glad that they gave me this opportunity to help out."
Ed Fountain Park is located at 1400 N. Decatur Blvd. and contains multiple ball fields, covered play areas and a BMX racecourse.
About FirstService Residential
FirstService Residential is recognized as Nevada's largest and most experienced full-service community association management firm. For over 25 years, FirstService Residential has continued to provide the best-in-class community management solutions and genuinely helpful service to its over 350 properties and communities throughout Nevada.
FirstService Residential is a subsidiary of
FirstService Corporation
, a global leader in the rapidly growing real estate services sector, one of the largest markets in the world. As the leading property management company in North America, FirstService Residential oversees more than 6,500 residential and commercial associations including 1.5 million residential units and over 50 million square feet of commercial space across 21 U.S. states and three provinces in Canada. The company has more than 12,000 employees driving local market expertise and manages in excess of $6 billion in annual budgets. For more information, visit
www.fsresidential.com
.
###