Download 7+ comprehensive and insightful HOA survey reports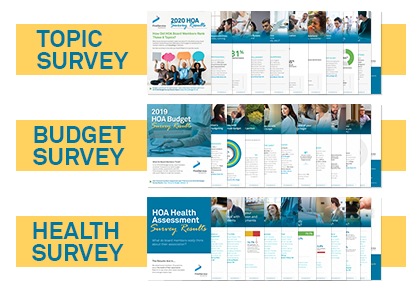 We've gathered survey responses, data and insights from more than 1,200 association board members over the past several years to get some great insights into what matters most to you and your colleagues. These reports include:
2020 HOA Topic Survey Results – Learn how board members ranked 8 popular association topics.
2018 and 2019 HOA Budget Survey Results Reports – Find out how other HOAs are managing financials and reserve funds.
HOA Health Assessment Results – Hear what board members think about the health of their association.
Want to hear what other board members have to say? Fill out the form on this page to download 7 HOA survey reports and get access to data, best practices and insights from over 1,200 association board members.