FirstService Residential Coordinates Service Day in Maryland

Baltimore, M.D. – September 27, 2021 – On Saturday, September 25, FirstService Residential, the leading residential property management company in North America, partnered with the staff and residents of one of its managed high-rise communities — Silo Point — as well as local businesses, to hold its Service Day benefiting the Francis Scott Key Elementary/Middle School in Baltimore City.

"I am so proud of the collective efforts of our associates and residents in Baltimore," said Michael Mendillo, president, FirstService Residential. "Under the leadership of Silo Point General Manager, Chris Petrik, this incredible team spent the day making a significant positive impact for the students of Francis Scott Key Elementary/Middle School for the start of the new school year."

"This is our second year coordinating this event and it continues to exceed expectations," said Silo Point general manager, Chris Petrik. "When the day is done, the school looks brand new. It was great to bring everyone together to pitch in and make a real difference."

A group of nearly 40 sponsors and well over 100 volunteers spent the day completing numerous projects at the school, including:
Painting of multiple exterior areas.
Multiple landscape enhancements.
Extensive landscape clean-up, clearing area for garden, replacing mulch and new plantings.
Pressure washing walkways and restriping the school parking lot.
Interior cleaning of the school and steam cleaning of all carpets.
Extensive general repairs made by the Silo Point Maintenance team.
New outdoor tables assembled and stained.
Washing of all school windows.
Gathering donations of school supplies.
Donation of leftover mulch (nearly 20 yards) to the Locust Point Civic Association to be used at nearby Latrobe Park.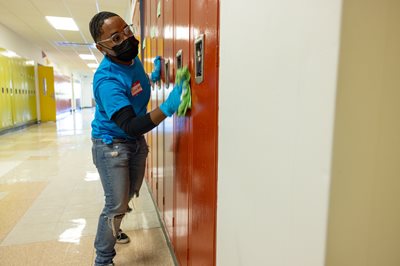 "I could not be happier to with the turnout," said FirstService Residential, president, MidAtlantic, Trent Harrison, CMCAⓇ, AMSⓇ, PCAMⓇ. It's amazing what the Silo Point team, our sponsors and volunteers were able to accomplish for these students in just one day."

The event's sponsors included: BrightView Landscaping; Double Zero Baltimore; BYLT; CPI Restoration; Secure Core; Harris Teeter; Southeastern Roastery; Planned Companies; CertaPro Painters; Preferred Insurance; Cowie & Mott Attorneys at Law; SpotWash; Whiteford | Taylor | Preston; Corporate Maintenance Group; Capitol Boiler Works; South River Restoration; A.J. Adam Engineering, LLC; Kastle Systems; PTG Enterprises; Heartline Fitness Systems; Iron Rooster; iHeart Radio; Hann & Hann Construction Services; Nania Energy Advisors; thyssenkrupp; Oliveri & Associates, LLC; Progressive Air Systems; Express Employment Professionals; Amber Cafe; Hull Street Blues Cafe and Bakery Express.

Silo Point has set up a GoFundMe page to replace the school's old playground set and is requesting monetary donations to help them reach our goal of raising $64,000. Please consider donating by clicking the link here.

For a full gallery of photos, click here.

About FirstService Residential
FirstService Residential is North America's property management leader, partnering with more than 8,500 communities across the U.S. and Canada, including low-, mid- and high-rise condominiums and cooperatives; single-family communities; master-planned, lifestyle and active-adult communities; and mixed-use and rental properties. HOAs, community associations and condos rely on their extensive experience, resources and local expertise to maximize property values and enhance their residents' lifestyles. Dedicated to making a difference, every day, FirstService Residential goes above and beyond to deliver exceptional service.
FirstService Residential is a subsidiary of FirstService Corporation (FSV), a North American leader in the property services sector. Visit www.fsresidential.com.
###