FirstService Residential Associates Earn PCAM® Designations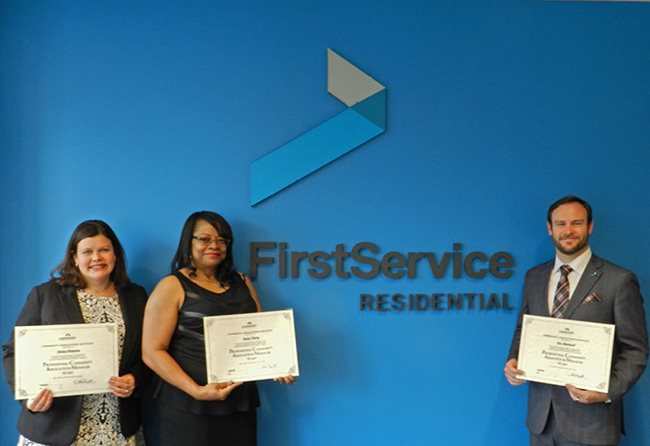 CHICAGO, Ill. (December 6, 2016):
FirstService Residential
, Chicagoland's leading property management company, is pleased to announce that
Asa Sherwood
, Jessica Peterson and Janice Avery have each earned their Professional Community Association Manager (PCAM®) designations. The PCAM® is the highest professional credential available to managers who specialize in community association management. This elite designation is accredited through Community Associations Institute (CAI).
"The addition of three new PCAM® designations on the FirstService Residential property management team speaks to our commitment of delivering outstanding service and solutions to communities in our care throughout Chicago," said Chuck Fallon, CEO of FirstService Residential. "We are committed to
investing in our team to ensure first-class skills and knowledge
in delivering expert management services that make a difference, every day, for the communities we serve."
The PCAM® designation is only available for those who have at least five years of direct community association management experience, have completed all six M-200 level courses and successfully passed the Certified Manager of Community Associations (CMCA®) examination administered by Community Association Managers International Certificate Board. This prestigious designation provides standards for association management that can give homeowners and board members confidence in their manager's knowledge and ability to provide expert service.
"Community Association Managers who have earned the PCAM® designation, the highest professional community association management recognition available nationwide, are part of an elite group of the most experienced managers in the nation," said Cheryl Murphy, executive director of Community Associations Institute of Illinois. "PCAM® Managers have committed significant time and resources to their education and careers, and demonstrate the knowledge, experience and integrity that will help create overall excellence within the communities they manage."
There are now four associates in the Chicago office who have earned this tremendous recognition;
Patricia Bialek
, vice president of FirstService Residential in Illinois, also has the PCAM® designation.
"This was a challenging process and I'm so proud of our accomplishment. Our associates will benefit from having four resources in the office to support further training and development opportunities to better serve the communities in our care," said Jessica Peterson, director of people development and operations.
About FirstService Residential
FirstService Residential is recognized as Illinois' leading and most experienced full-service community association management firm. For over 65 years, FirstService Residential has continued to provide the best-in-class community management solutions and genuinely helpful service to its more than 150 communities and 50,000 residents throughout Chicagoland.
FirstService Residential is North America's largest manager of residential communities and the preferred partner of HOAs, community associations and strata corporations in the U.S. and Canada. FirstService Residential's managed communities include low-, mid- and high-rise condominiums and cooperatives, single-family homes, master-planned, lifestyle and active adult communities, and rental and commercial properties.
With an unmatched combination of deep industry experience, local market expertise and personalized attention, FirstService Residential delivers proven solutions and exceptional service that add value, enhance lifestyles and make a difference, every day, for every resident and community it manages. FirstService Residential is a subsidiary of FirstService Corporation, a North American leader in the property services sector. For more information, visit
www.fsresidential.com
.
###