How Will The California Minimum Wage Increase Impact Your HOA?
In April 2016, Gov. Jerry Brown signed into law a bill to raise California's minimum wage. The new legislation (Senate Bill 3) gradually increases minimum wage from $10 an hour to $15 an hour by 2022, which is a 50% increase over six years. This new law will impact community association budgets and planning. Let's take a look at the timing and details so your association can prepare and respond appropriately.
The new law raises minimum wage from $10 an hour to $10.50 an hour on January 1, 2017, and then raises the wage each year until it reaches $15 an hour in 2022. By 2022, a full-time minimum-wage worker in California will make $31,200 per year, up from $20,800 today. (To learn more, see the governor's press release
here
and a Q&A on Littler.com
here
.)
Meanwhile, certain cities have approved increases to go into effect even sooner. Once the minimum wage reaches $15 an hour, it can be increased each year based on the rate of inflation, as measured by the Consumer Price Index (CPI). See the chart below for scheduled increases in your area: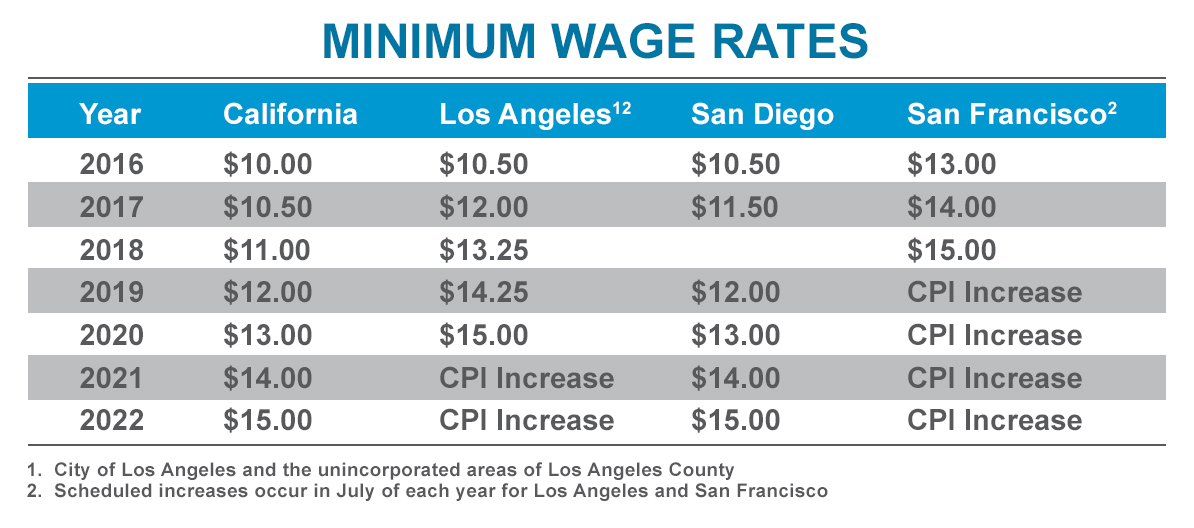 The increase will likely impact more than just workers earning the minimum wage. As minimum wage workers earn more, this will put pressure on employers to increase wages for more tenured, skilled workers who earn just above the minimum wage. If they do not receive at least the same increase, they will suffer from "wage compression," which occurs when employees at the bottom end of the pay scale get raises that others do not receive. As a result, companies may decide to increase wages for all their hourly workers.
The new law could also impact the wages of some salaried employees. California employees who are salaried – meaning they are exempt from overtime – must earn at least twice the state's minimum wage. This means that under a $15 minimum wage, the minimum annual salary for exempt employees increases from $41,600 to $62,400.
How Will This Impact My HOA?
Many vendors in the community management industry employ a labor force primarily comprised of workers who are at the minimum wage level or slightly above. Examples include landscaping, pool, security and janitorial companies, but other vendors with a significant administrative labor pool will be impacted as well. Past state wage increases have ranged from 1% to 3% annually, but a 50% increase over six years represents a considerable cost for vendors and they may be forced to pass along their higher labor costs. You may also be impacted by the increased cost of materials and the amount needed in your reserve allocations.
What Should I Do Now?
Because of the expected impact on vendors, you should anticipate a gradual increase in costs. As a result, we recommend increasing service contracts by 5% next year. Your community management partner should consider incorporating this increase with proposed budgets with the intent to review the law's impact every year thereafter. Please keep in mind your community management company should not solicit any increases from your vendors and the budget remains the board's decision. This is a proposed budget and you can include, or not include, these increases. The key is being proactive and account for the possible impact of service contract increases.
Some of your vendors may have already contacted you to discuss how this will affect their contract with you as they plan to address the minimum wage increase. If you haven't heard from your vendors, we suggest you work with your community manager to reach out to them to begin these discussions. We also recommend you begin to communicate with your homeowners so they are aware of the potential impact on your budget. If you need to raise assessments, you may want to consider a gradual year-over-year increase rather than holding off for a year or two and then enacting a large increase.
What Role Should Your Community Management Company Play?
A strong California community management company is proactive. This includes meeting with industry leaders to understand how the higher minimum wage law will impact their businesses and what it could mean for their clients. They should have the resources and processes to educate community managers and client accounting teams. This will help ensure the proper support and guidance is provided to boards during the budget planning process. Together, your association can plan and budget for these changes placing your community in the best position to succeed.
Learn more about how an HOA management company can help you plan and budget in an ever-changing legislative landscape.
Contact FirstService Residential
, California's leading association management company.