Professional Alexandria Property Management by FirstService Residential
FirstService Residential has been providing tailored Alexandria property management services for nearly two decades and provides custom HOA management solutions for the Alexandria and surrounding regions for years.
Pro tip: For best practices on board alignment, check out the video above!
About Alexandria, Virginia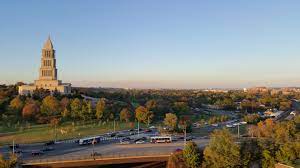 Eclectic shops, a variety of dining options, and well-preserved 18th- and 19th-century architecture are part of the appeal of living in Alexandria, Virginia. Not to mention, being just across the Potomac River from Washington, DC, Alexandria residents have favorable job opportunities and convenient access to numerous historical and cultural sites.
Alexandria is located in the northeastern tip of the Northern Virginia region on the banks of the Potomac River. Just across from Washington, D.C., Alexandria sits in the Washington-Arlington-Alexandria Metropolitan Statistical Area.
Historic Old Town Alexandria is a bustling center of local boutiques, award-winning restaurants and impressive arts and culture, all nestled within a landscape of colonial-era architecture and cobblestone streets.
As a Top ArtPlace 2013, cultural activities abound at galleries like the popular Torpedo Factory Art Center and the Athenaeum, or live entertainment staples MetroStage and the legendary Birchmere Music Hall.
Alexandria is primarily known for its rich colonial history as George Washington's hometown, and includes attractions frequented by America's founding fathers frequented, such as Christ Church and Gadsby's Tavern Museum.
Take to Alexandria's scenic waterfront for dockside dining, cruises along the Potomac River or bike rides to George Washington's Mount Vernon for a day of historic exploring. Just minutes from Washington, DC, Alexandria brims with buzzworthy eateries, stylish shops and family-friendly activities perfect for an extraordinary getaway.
It's only 11 kilometers from Washington, D.C., but Alexandria has a character all its own. Both an escape from the bustle of D.C. and a fun extension of it, this city with the thread of history running through it maintains a relaxed, modern attitude. Though very much a preserved colonial village, Alexandria's Old Town feels fresh and vibrant, its historic architecture housing cool shops and restaurants. Take a romantic stroll along gas-lit cobblestone streets, or explore the waterfront, a vibrant hub for dining as well as a launch for boat tours of all types. Engage with authentic history at a more relaxed pace with easy access to major airports and the best D.C. attractions via Metrorail.
Authentic U.S. History
The key to understanding Alexandria's storied role in U.S. history is a tour (or several tours) of Old Town, established in 1749 and home to first U.S. President George Washington. Walk along King Street (or take the free King Street Trolley) past hundreds of unique shops and restaurants amid vividly preserved architecture. Next, take a bike, bus or boat to Mount Vernon to explore the stately mansion and gardens Washington called home. Learn even more about one of the country's Founding Fathers at the spectacular George Washington Masonic Memorial, which includes a museum, chapel and observation deck. Spend a little time sitting in historic Christ Church, a colonial-era structure once attended by Washington and dozens of other American presidents.
Old Town's Artistic Bent
History really is everywhere here, and that includes the Torpedo Factory Art Center, a one-time naval munitions factory turned art mecca. With 160 professional artists showing and selling work in 82 studios and six galleries, it's a real feast for the eyes. The same is true at the Museums at Market Square. Situated in Old Town, Gadsby's Tavern, the Carlyle House and the Stabler-Leadbeater Apothecary are three original colonial-era buildings functioning as museums within one block of each other. See what daily life and marketplace activity was like when Washington walked these historic streets.
Local Treasures
The city may be old, but it keeps to a modern beat. Gravitate to the Potomac River waterfront for all manner of recreation: from sailing or cruise tours to biking the Mount Vernon Trail, dining right at the water's edge or relaxing in the park. Visit the Alexandria Farmers Market on Saturday (it's recognized as the oldest continually operating farmers' market in the country). Take in a show at The Birchmere, a much-loved musical hall that's been drawing the best acts since the 1960s. At Port City Brewing Company, rated the best small brewery in the U.S. at Great American Beer Festival 2015, sample the craft brews on tap in the Tasting Room.

From townhome communities to condos, FirstService Residential has been making a difference every day by proudly serving Virginia community associations for 35 years. Our proactive partnership approach protects your investment while allowing you to enjoy your lifestyle.
Alexandria Property Management by FirstService Residential includes services like:
• Comprehensive accounting services and financial reports providing for transparency, security and accountability.
• Vendor management as well as combined buying power to save you money
• Regular property inspections and implementation of a work order system using mobile technology
• User-friendly communication tools connecting Board members, residents and the management company to ensure the business continuity of all of your Alexandria property management needs
• Customer-focused associates and a 24/7 customer care center at no additional cost to the association to ensure you have dedicated service.



Contact us to learn more about how FirstService Residential's specialized, full-service Alexandria property management services can benefit your community.
Get in touch
Let us show you how FirstService Residential can serve your community