FirstService Residential Selected to Manage 2520 Robinhood Luxury High Rise
(June 6, 2016 Houston, TX) - FirstService Residential, North America's leading property management company, was recently selected to deliver full-service association management services for the 2520 Robinhood Owners' Association. Located in the heart of the highly desirable West University area of Houston, 2520 Robinhood is a 17-story, luxury high-rise community that houses 78 condominiums and offers residents first-class amenities that include 24/7 concierge services, a fitness gym, and more.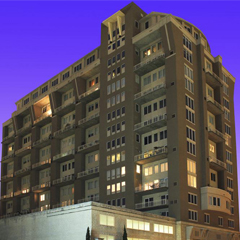 "Our high-rise community chose FirstService Residential as our new property management company primarily for their extensive high-rise experience," said Tim Dooley, Board Treasurer. "We are thrilled with the attention to cost savings that FirstService Residential brings to the table and respect their way of doing business; it's exactly what we needed here at Robinhood."
"We're honored to be partnered with this community," said Rolando Coronado, President, FirstService Residential Houston. "FirstService Residential is dedicated to delivering exceptional service and we believe that our professional on-site team and top operational expertise will enhance the overall resident experience at 2520 Robinhood."
FirstService Residential currently manages over 340 associations throughout the Greater Houston area and more than 25 urban living high-rise associations in Texas. The 2520 Robinhood Association is an important addition to the FirstService Residential portfolio, expanding the company's footprint in high-rise condominiums managed in the Dallas, Austin and Houston markets.
About FirstService Residential
FirstService Residential is North America's largest manager of residential communities and the preferred partner of HOAs, community associations and strata corporations in the U.S. and Canada. FirstService Residential's managed communities include low-, mid- and high-rise condominiums and cooperatives, single-family homes, master-planned, lifestyle and active adult communities, and rental and commercial properties.
With an unmatched combination of deep industry experience, local market expertise and personalized attention, FirstService Residential delivers proven solutions and exceptional service that add value, enhance lifestyles and make a difference, every day, for every resident and community it manages. FirstService Residential is a subsidiary of FirstService Corporation, a North American leader in the property services sector. For more information, visit
www.fsresidential.com/Texas
###