FirstService Residential's Managed Properties Recognized with Building Excellence Awards
CHICAGO (January 31, 2017):
FirstService Residential
, Chicagoland's leading property management company, is pleased to announce its annual building awards, recognizing the hard work of property managers and engineering professionals at the
company's managed properties
in 2016. Robert Meyer, director of engineering services at FirstService Residential in Illinois began the award program in 2011.
This year, FirstService Residential recognized four properties in the categories of most improved, best maintained vintage, high-rise and low-rise. To determine award recipients, Meyer visited more than 20 of FirstService Residential's 150+ managed properties. He rated buildings on their overall appearance and maintenance.
The Most Improved Property award went to 1600 Museum (The Adler). Due to unforeseen circumstances with the original construction, the building's heating plant was failing and risers were falling within their own pipe chases. In 2016, a two-year re-engineering project to correct these issues was completed.
"Property manager Julianne Jackson and building engineer Rich Dziadoz at 1600 Museum worked arduously to replace the building's original heating plant as well as initiate a HVAC Riser repair project in a small time frame. They managed both projects while continuing to maintain the integrity, cleanliness and myriad of other day-to-day operations of the property to keep owners safe and comfortable in their homes," said Meyer. "If left unaddressed, these issues could have resulted in catastrophic scenarios. We appreciate the hard work of these two professionals to improve the property value and quality of life for those homeowners."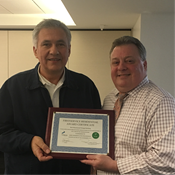 The Best Maintained Vintage award went to 1540 Lake Shore Drive. This 16-story, 28-unit cooperative in the Gold Coast has a newer fitness room, new boilers and stainless steel flue stack. The beautiful and prestigious building was built in 1929.
"This property is a gem. Both front and back of the house are impeccable. Hats off to property manager Randy Grimes and engineer Walter Kondeusz and assistant engineer Jimmy Durakovic for a fantastic job," said Meyer.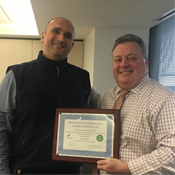 1400 Museum Park received the award for Best Maintained High-rise Building. Built in 2008, this 33-story, 260-unit South Loop high-rise condo features a rooftop indoor pool, great party room with a view of the lake, great fitness room and much more. Judy Pierson is the property manager and Adis Alic is the building engineer.
"Again, another completely well maintained property," said Meyer. "Judy and Adis make an amazing team."
Best Maintained Low-rise Building was awarded to Park Claridge in the North Shore suburb of Highland Park, IL. This 3-story, 36-unit condominium building was built in 1991. The property features a full-size indoor pool, spa, party room, outdoor garden area and indoor heated parking. Park Claridge is managed by Britt Fisher and Nicolaie Izbasiae is the engineer.
"At 25 years old, this building is starting to see the need to replace their mechanicals while realizing the energy savings by incorporating new, energy efficient equipment," said Meyer.
"We take pride in delivering exceptional service, from greeting residents to overseeing major capital projects. These annual awards help us recognize our team's accomplishments in doing what's right and providing value for our clients," said
Asa Sherwood
, president of FirstService Residential in Illinois.
About FirstService Residential
FirstService Residential is recognized as Illinois' leading and most experienced full-service community association management firm. For over 65 years, FirstService Residential has continued to provide the best-in-class community management solutions and genuinely helpful service to its more than 150 communities and 50,000 residents throughout Chicagoland.
FirstService Residential is North America's largest manager of residential communities and the preferred partner of HOAs, community associations and strata corporations in the U.S. and Canada. FirstService Residential's managed communities include low-, mid- and high-rise condominiums and cooperatives, single-family homes, master-planned, lifestyle and active adult communities, and rental and commercial properties.
With an unmatched combination of deep industry experience, local market expertise and personalized attention, FirstService Residential delivers proven solutions and exceptional service that add value, enhance lifestyles and make a difference, every day, for every resident and community it manages. FirstService Residential is a subsidiary of FirstService Corporation, a North American leader in the property services sector. For more information, visit
www.fsresidential.com
.
###
Find out how a great property management company can help your association by filling out the form below:
{^widget|(name)BizForm|(image_guid)c99e75ad-dce9-4cf0-a561-79e249ffd41c|(bizformname)FSRIllinoisCMArticlesMailingListForm_8.25.16|(widget_displayname)On-line+form|(width)|(height)^}