How to Increase HOA Volunteerism in Your Community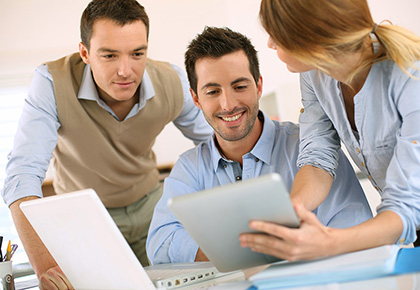 Communities flourish when dedicated volunteers achieve their goals.
Getting people involved
in and around the community isn't easy. It takes time and effort, but every community association board and committee
needs resident volunteers
to keep the community running smoothly and its residents engaged.
No matter the size of your community or where it is located, fostering community involvement can prove to be a difficult but necessary task. Here are several ways to encourage homeowners to get involved and create a positive environment for those who wish to volunteer.
Taking an active role in your community by volunteering will allow you to become more involved. You clearly have a vested interest in your investment just by being a homeowner. As some individuals may be hesitant to volunteer and serve on the board or one of its committees due to personal issues or lack of time, there are a few ways to inspire your neighbors, keep them interested in their community and bring added value to your association.
1. Always keep the line of communication open.
It may not be the first or second time you have asked some of these homeowners to volunteer. Although it is easy to get discouraged, remain determined; it's important you continue to try to get them engaged in the community. Try using various channels to reach people who simply may not be aware. The approach you use may affect the likeliness of homeowners wanting to participate. Many times people want to be involved but are unaware of what volunteering for the board entails. Inform your residents what volunteering in your community is all about! Publish expectations and key pieces of information on your community newsletter so it's sure to reach a lot of residents. You may even want to brainstorm ideas with other neighbors; it's beneficial to always maintain the lines of communication open. A great community association management company will be able to offer more ideas in regards to engaging with community members.
2. Make it personal.
When your community members are familiar with one another, they are more like to get involved. A sense of camaraderie is instilled and they want to be a part of it. When board members have a strong presence in the community, it resonates well with residents and helps them relate with one another on a more personal level.
A great way to get homeowners to connect with one another is by holding special event days. You can set up spring cleaning days, get to know the neighbors' pool parties, potluck meals and ice cream socials to get residents familiar with each other.
3. Be sure it's real work.
Volunteers are giving up their time to focus on the best interests of the community. It's important that each member knows how their part contributes to the overall goals and mission of the community. Keep that in mind when assigning them duties. Knowing that they are serving a purpose gives them extra motivation to put their best foot forward. Same goes for volunteers being more likely to do their part if they feel part of a team. Be clear when delegating tasks in order to utilize people's time efficiently. Set your board up for success by determining clear deadlines to achieve their objectives. If you need help defining roles, talk to a knowledgeable associate from your community association management company – he or she has probably helped other boards in this way before.
4. Be generous with praise.
Everyone appreciates being recognized. It is important to keep in mind the time and effort that goes into volunteering. While some board members are passionate about being involved in their community, it's not all about altruism. Despite all the changes being made, it is important to properly recognize the efforts of board members and committee volunteers when you have the opportunity. You can do this through various channels such as the community newsletter, in meetings, or after an accomplished event. Remember that these individuals are continuously committing to community involvement, and that merits recognition!
5. Cheer them on.
Continuous engagement takes a lot of momentum. With the support of other community members, opportunities to create a welcoming neighborhood environment are achievable. Support one another to stay inspired. Whether you are a leader in your community or have just begun volunteering, the common goal of increasing volunteerisms is purely to benefit the community.
It is important to share successes with your board when things go right!
A shared sense of accomplishment
can be a strong motivator. After all, these people are volunteering to make a difference in your community.
Developing a culture of volunteerism isn't easy, but it is certainly feasible. Start with these five steps and you'll see a positive change in your community's level of involvement. For more ideas,
contact FirstService Residential
, North America's leading community management company.