Four Simple Tips to Enhance Your Residential Building Lobby Design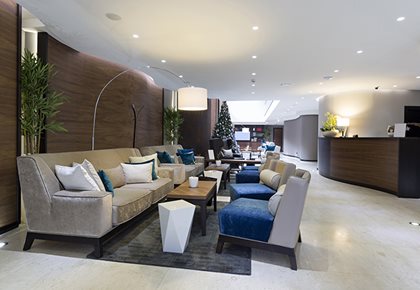 We're all familiar with the old adage, "You never get a second chance to make a first impression." And though the sentiment typically applies to people, the same rings true for places that have the power to make a lasting impression, such as the
lobby
of your building.
The lobby of your building is like the doorway of your home – it serves as the entryway that welcomes residents and guests, and very often sets the tone for the rest of the building.
Residential lobbies come in all shapes and sizes – from the luxurious and grand, to the simple and functional, to the hip and minimalist. Whatever it looks like, you want your lobby to be inviting and as aesthetically appealing as possible, while also being functional. Your lobby is, after all, the heart of your building, serving as a gathering place for residents and providing them with essential services.
As a member of your Board, ask yourself a few questions: is your building's lobby living up to its full potential? Is it as functional as it can be? Is it making the right first impression to residents, guests and future homebuyers? If you answered no to any of these questions, we have some suggestions that can help.

1. Décor
Getting creative with the design of your lobby can go a long way in making it more attractive and welcoming to residents and visitors. Adding the right blend of furnishings and décor not only adds ambiance, but can convert your lobby into an inviting space for residents to gather. Consider adding comfy couches or accent chairs in stain-resistant fabrics; cocktail tables with interesting book and magazines will encourage visitors to take a minute and browse through the selections. Even if visitors don't linger, the right décor will leave a positive impression for those who are just waiting for the elevator.
When it comes to furnishing your lobby, a good rule of thumb is to stick to smaller, lighter pieces with clean lines. They help create a sense of space and won't pose obstacles or hinder traffic. On the other hand, if your building is ornately decorated, grand furnishings might enhance the classic theme. Regardless of the theme, adding glass and mirrored surfaces in smaller areas, such as hallways and elevators, will visually enlarge the space. It will also maximize visibility, which is an added bonus for security purposes.
One very easy, and often affordable, design feature to consider is adding your building's logo on your entrance doors, area rugs and even planters. Not only will it add to the look of your lobby, but it is an effective way to brand your building.

2. Flooring
Flooring is an important consideration when it comes to the aesthetics of a building's lobby. It should be durable and maintained despite the constant traffic and tracking in of dirt and mud from
people and pets
.
Equally important is that your floor surfaces aren't slippery or slick, especially in wet weather, which is a constant in Florida. If your lobby is not carpeted, an easy solution is to put out non-slip mats in inclement weather. The benefits of doing so are twofold – they will prevent slips and falls, and also protect the floor from water damage. If your association is considering replacing your lobby's flooring, look for options that look good and wear well. Depending on your budget, you may want to consider wood laminates, hardwood or some more contemporary materials like stone, marble or concrete.

3. Appeal to the senses
The right lighting can go a long way in creating an inviting experience for your residents and guests. Because the front desk is often an area where residents and visitors alike receive valuable information and services, it is a best practice to keep this area well lit. However, waiting and/or seating areas may benefit from accent lighting that is a bit dimmer so as to create a more relaxed, intimate mood. Spotlights or backlighting may be a good option for these areas as well. A small detail to consider is the type of bulb to use. Whether you choose to go with warm or bright, LED or fluorescent bulbs, keep them consistent throughout the lobby.
Another way to appeal to the senses is to play soft music in the building's lobby. The key is to find a sound that reflects the character of your building, and keep it low enough so it does not interfere with verbal communications. Maintenance staff should also always be on the lookout for unappealing sounds like doors that squeak or slam and rectify the issue as soon as possible. Area rugs can help muffle echoes in large buildings too!
And if you want to go the extra mile, you may want to look into automated fragrance dispensers for your lobby that dispense soothing aromas that prompt residents and guests to relax and perhaps stay longer.
4. Package retrieval
Package delivery and retrieval is an everyday activity in most buildings (
especially during the holidays
), so make sure that you allot an adequate amount of space for this function. If your building has front desk staff, they can sign for packages and notify residents when they arrive. They can do so using phone, email or virtual notification systems. If your building is managed by a property management company, they may offer specialized software that automates this process. For example, FirstService Residential's FirstService Residential Connect tracks package deliveries and instantly notifies residents.
If your building is not staffed, make sure that your package area is secure. You may choose to utilize a separate area for packages or have residents retrieve their parcels in lockboxes.
When it comes to package delivery and retrieval, you may also want to consider providing package delivery companies like UPS and FedEx an alternate route into the building. This can eliminate traffic in your busy lobby and avoid the unfortunate wear and tear that occurs when delivering large packages, such as scratched walls, scuffed doorframes, etc.
Before considering any material alterations to your building, please contact the association's attorney to determine if there are any restrictions on such alterations under your documents or applicable law.
Your building lobby serves many functions – from creating an inviting first impression for residents and guests, to serving as a gathering place and central hub for essential services. If your lobby is in need of some sprucing up, these four simple tips will go a long way toward enhancing your building's property values and the quality of life of your current and future residents. For more information on how to enhance your building's lobby, contact
FirstService Residential
.