Do You Have a Community Communication Plan?
Is your community always aware of upcoming events, scheduled construction projects and upcoming board meetings? Do they understand their responsibilities and the policies they need to comply with? Clear, effective communication from the board to the residents makes a difference in the overall well-being of any community. Poor communication is a real problem that can negatively impact your community's reputation and even your operating budget and property values.
Why is good communication so important?
The most important reason to make sure that your board is communicating effectively is trust, according to David Readinger, executive director at FirstService Residential. "The community has to know that the association fees they are paying are being used for the betterment of everyone who lives there," Readinger said. "When there is a lack of communication you get what I call a 'black hole' or a 'silent spiral.' That void will fill with misinformation and rumors which tend to be negative. When you have a community that isn't happy with where they live, it will directly affect your home values. That negative word of mouth spreads faster and further than people realize."

John Rivera, manager of training and development at FirstService Residential, agrees. "Learning to communicate more effectively is what will ultimately assist board members by creating strong relationships with homeowners and residents. Plus, great communication will help the management team create a memorable client experience. Open and honest communication creates the perception of transparency and facilitates a feeling of community."

Rivera works with community managers to train them on a variety of issues related to managing their associations, including communication and board member training. "Board training is extremely important because it helps us ensure the board is aware of their legal responsibilities, creates a climate of trust, candor and willingness to openly share amongst board members, and board members begin shaping association objectives for the betterment of the community. The board is made aware of tools and proven techniques which can lead to their success," he said.
How can you create a good communication plan for your association?
Identify the primary focus or goal of your communication. For example, the purpose of the communication is to make the community aware of their homeowner assessment increase and explain why it is necessary. Rivera shared the steps he suggests for creating a communication plan that works.

Break down your objectives in attainable goals. What do you want your communication plan to accomplish? Outline your steps within the SMART format (Specific, Measurable, Attainable, Realistic, and Timeframe).
Speaking of timeframe, start communicating new issues or ideas earlier rather than later. Allow time for discussion and digestion of material (but not too much time).

Think of your audience!
What is the audience's current understanding of the situation?
How knowledgeable are they?
What information would you want if you were in their shoes?
Remember that your residents haven't been dealing with this item on a daily basis like the board has. They may need basic background information.

How controversial is the item? If you feel it is more controversial, then address it head-on. Hold town hall meetings to address homeowner concerns. Partner with experts, including vendors or local officials, and invite them to these meetings. Allow the homeowners to ask questions of the experts.

Reach out to your critics, to anyone you realize may have a negative reaction to a proposed policy or other item. If time allows, try to meet with the opposition and allow additional time for dialogue. They will feel like a part of the process and you may win them over. It may be that just being heard in a more intimate setting may be enough to move them from negative to neutral, if not negative to positive.

Use available resources and channels: e-blast, newsletters, billing statements, announcements at meetings, reminders at board meetings, social media and Resident Alert, FirstService Residential's proprietary mass communication platform.

Choose more than one method. Choosing only one method of communication may cause you to miss a segment of your community. It may be helpful to conduct a survey to find out the preferred ways people want to hear from you and dedicate resources to the most common methods. It doesn't matter how great your message is if people don't see it.

As a best practice, don't use personal or work email addresses to communicate any association business. Create individual email accounts for your board members to use to communicate with residents, management staff, vendors and other board members. The board member email accounts can be created by using your community's domain name or a free email service.
What topics should you be most concerned about communicating well?
As mentioned above, every area of your community is impacted by communication. Of course, you want to make sure that your community knows about upcoming events and board meetings. But it's more than that.
Rules and regulations need to be reiterated regularly so that all residents are aware of them. If your community sees a higher than normal resident turnover, that's a great time to send a communication reminding everyone of policies that need to be followed. An increase in violations, especially those that impact the community's aesthetics, can cause property values to decline.

When it comes to architectural modifications, communication matters. Residents need to be aware of the process and all steps they need to take to get an architectural modification approved. Communicating the policy about architectural modifications, including any limitations or restrictions, is essential. Some communities have policies that allow residents to assume that their requests for architectural modifications are approved if they aren't responded to in a certain amount of time. Failure to communicate in response to a request for architectural modifications can have unpleasant consequences for a community's curb appeal and, ultimately, property values.

Communication to residents is never more important than when it comes to financial matters. Boards should communicate regularly with residents about how much they owe and when payments are due. Communication about finances could be eased with an effective technology platform that allows residents to check their balances and make payments at any time. This sort of transparency can improve your community's collection of association dues, because it makes residents feel more in control of their finances.

A vital part of managing your community is understanding how much, or the lack of, communication can impact your community, positively or negatively. Creating a good communication plan, using the guidelines above, and focusing communication on the most important topics, will help keep your community on track, improving both resident lifestyles and property values.

Partnering with a quality property management company can provide your community with the resources you need to craft a comprehensive communication plan: effective board training, an innovative technology platform and guidance in creating that plan. To learn more, contact FirstService Residential, North America's leading property management company, today.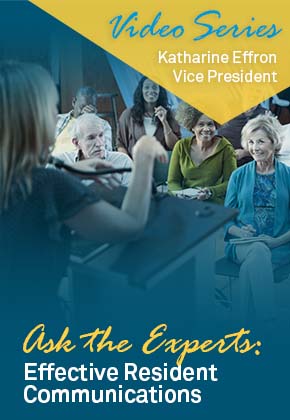 Watch the full video
Learn best practices to set your association on the path to clear, consistent resident communication. Download our Effective Resident Communications.
Watch now!