Association Parking Rules: 6 Questions to Assess Your Policy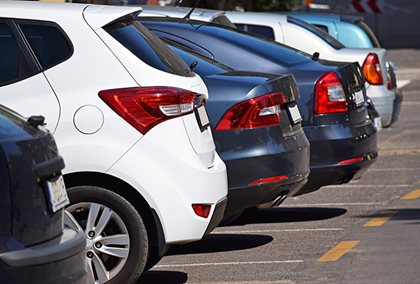 Whether you serve on the board of a Miami high-rise with an underground structure or a single-family home association in Sarasota with street and garage spaces, most associations must deal with some sort of parking challenges. From guests parking in resident spaces to residents parking in other residents' spaces, to commercial vehicles parked in the community overnight, parking issues are at times inconvenient and often contentious. These are just a few more common violations you may have seen or experienced:
Parking in handicapped spots
Parking in fire lanes
Parking on landscaping
Overnight parking in a prohibited location
Prohibited street parking
RV and boat parking
Inoperable vehicles
Vehicles leaking fluid
Unregistered or expired license plates
A well-written, clearly communicated parking policy can help minimize these parking challenges and their repercussions, including violations, fines and towing. Additionally, keeping residents in the know on important policies may also help improve resident/board relations. When residents understand the rules (and perhaps more importantly, the why behind parking policies), they are more inclined to follow them and less inclined to feel frustration.

How can you ensure that your association's parking rules are fair and easy to understand and follow? Here are 6 essential questions to ask before you create or enforce parking policies:
1. Does your association have jurisdiction on the roads in your community?
Before creating or implementing a new parking policy, make sure that you understand exactly what jurisdiction your community has on its roadways. Your community cannot supersede local or state laws regarding the use of public roads. For example, even if the public road runs through your community, your association may not be able to impose fines or tow vehicles that are illegally parked on it. In this situation, you will need to contact the city or county that has jurisdiction over the public road and report the problem. If the vehicle poses a threat to the health, safety or welfare of a resident, blocks a fire hydrant or is parked in a handicapped spot, you can ask that the vehicle be towed immediately. Consult with your association attorney and management company to help you determine what jurisdiction you have on the roads in your community.
2. Are there any state or local laws that may impact your association's parking rules?
Always check state and local laws before creating HOA parking rules. Your state or municipality may have laws or ordinances that affect how your community is able to deal with parking and how you may enforce violations. For example, in some states, the vehicle's owner has 48 hours to move the vehicle. A notice can be provided by contacting the owner verbally or in writing, or by posting a visible notice on the vehicle. Check with your association attorney if you are unsure which local laws apply to your association's rules and regulations. Your management company should help keep you and your board abreast of the latest local laws and ordinances. FirstService Residential has a vast network of resources and keeps up to date with the latest federal, state and local legislation that could impact the associations we serve.
3. Are the parking rules in your governing documents easy to understand?
If your governing documents don't spell out the parking policy in a clear, easy-to-understand language, residents may get confused about what constitutes a violation. At the same time, an overly strict parking policy, like any harsh policy, can cause headaches for everyone. Save your residents and fellow board members a lot of frustration by making sure that your parking policy includes the following:
Your association's right to enforce parking regulations and levy fines
A list of what is and is not allowed, including parking areas that are prohibited by law and rules specific to your association. For example,

Handicapped spots
Loading zones
Fire hydrants
Guest parking
Vehicle restrictions

Authorization for your board to grant exceptions and waivers at its discretion
Information around towing, including the association's authorization to tow, reasonable notification procedures and the owner's responsibility for towing-related expenses, if applicable
If any of these details are missing from your association's parking rules, you may need to update your rules and regulations. Additionally, you may need to update your current policy if it is no longer compliant with current state and local laws, if parking issues have emerged that aren't addressed by the existing policy or if changes to your community require additional or modified restrictions (for example, if you recently built a new recreational space that requires limited or hourly parking). As always, make sure you involve your association's attorney to ensure that you're following the law and fairly enforcing the rules.
4. Do you frequently communicate parking policies?
While your association's governing documents should be updated with the latest parking policies so that residents can refer back to them, you should also communicate them on a regular basis. As with most information, "out of sight, out of mind" often holds true. Instead of expecting homeowners to check the rules and inform their tenants and guests, your board should reinforce your parking policy frequently. You may want to send out email reminders, post the policy in a visible location at the property and on your community website, discuss at a community meeting or include an informative article in your newsletter.

"The best strategy in policymaking is to be proactive," said Debby Wolf, regional director for FirstService Residential. "The management team can help the board anticipate all possible situations and create rules to handle these; communicate clearly and often to the residents; and ensure the staff is trained to enforce fairly and without any bias."

Read more about policy communication best practices and work closely with your association management company to determine the most effective communication methods for your community.
5. Do you fairly and consistently enforce parking policies?
To maintain a solid reputation with residents and owners, make sure you are enforcing parking policy consistently and avoiding bias. Don't give special privileges to certain residents or board members when it comes to observing policies. This practice can stir up bitterness among residents and damage your reputation. In the worst cases, it can even result in discrimination lawsuits.

However, while fair and consistent enforcement is crucial, there may be extenuating circumstances that can affect your ability or decision to enforce (e.g., emergency situations, natural disasters, etc.). FirstService Residential has worked with associations in various crisis situations and has helped associations determine the best course of action to take. Effective communication in these instances is especially important.
6. Are you equipped with the support you need to assist with parking policies?
A professional property management company with a local presence should be knowledgeable and can share best practices from other communities. This firm should provide experienced, qualified and well-trained staff to assist your association in enforcing parking rules. The management team can also assist by planning and executing a communication strategy to ensure all residents are aware of the parking policy.

Having a good parking policy in place and making sure that your residents understand it can minimize parking problems and help maintain a safe environment for your community. Making sure you communicate it effectively and enforce it fairly will also go a long way in maintaining your reputation with residents and potential owners. For more information on how a property management company can assist in minimizing parking challenges, contact FirstService Residential, North America's leading property management company.