Policies for Hurricane Season: What Your Community Needs to Know
Do you have a hurricane plan in place to help keep your home and loved ones safe?
Download our Hurricane Guide today!
It's that time again. Hurricane season is almost here! From June 1 through November 30, we all pay close attention to every weather pattern and what's going on off the coast of Africa. Hurricanes can be destructive and should never be taken lightly or dismissed. But thankfully, we do get plenty of warning before a storm hits. That time is critical to preparing for a storm, no matter the category.

Planning ahead is vital to keeping your community as safe and secure as possible. With enough planning, storm preparation doesn't have to be stressful on everyone in the community. What policies should you have in place to make sure that all residents are on the same page and protected?

Regarding your hurricane season policies, make sure to think about gaps around your seasonal residents. Some communities in Florida have 50% or more residents who divide their time between here and the north. The "high season" in Florida, when most out-of-town owners come for the beautiful weather, is generally November through April, so those residents may be hundreds of miles away for most of hurricane season. Make sure that storm season policies are crafted in a way to protect their properties as well. Inadequate storm preparation by absent homeowners may also affect their neighbors, especially when properties share a wall or roofline. It's in everyone's interest to make sure that out-of-town owners protect their properties.
1. Storm shutters
If the homes in your community do not have impact-resistant glass in the windows, then storm shutters for each home are critical. Most newer homes in Florida come with the shutters, but just having them isn't enough.
Do residents, especially renters, know how to install the shutters? If shutters are the same throughout your community, it may be worth it to schedule a short informational session about the shutters and how to install them right before the season starts.
Does the community have a service on call that residents can pay to help with installation?
How soon can residents put up shutters – during a storm watch (48 hours before expected landfall) or must they wait until a warning has been issued (36 hours out)?
When, after the storm has passed or the warning is lifted, must residents take their shutters down? What are the consequences for leaving them up?
For seasonal residents: Consider requiring that seasonal residents prove they have a means for putting shutters up in the event of a storm while they are away. That can be a written agreement with a local contractor, for example, and contact information for that person or company. The resident must make sure the contractor knows the timeframe that he or she has to take the shutters down before the resident is issued a violation.
2. Outdoor furniture and other items
The lovely Florida weather means a lot of people spend a lot of time outside, especially on patios and balconies. Does your association require residents to secure or bring in items that could become projectiles in a storm? "Potted plants, chairs, umbrellas, bicycles, trash cans, grills, tables – these can be picked up in a gust and go through a car window or cause other damage," said Christopher L. Pappas, senior vice president of South Florida High-Rise for FirstService Residential. "It's important to make sure residents know what to do with them in the event of a storm."
If you think it's a good idea to require residents to bring in potentially dangerous outdoor items, in what time frame should that be done – as soon as a warning is announced? Whatever the answer, make sure that there's plenty of time for residents to comply and for the management team to inspect and ensure that risk has been mitigated.
Make sure, as with all policies, that the homeowners know the penalty for not complying.
For seasonal residents: If you know that a homeowner is leaving for the summer, ask them to take care of these matters before leaving town, or, as with the shutters, prove that they have a means for taking care of them in the event of a storm.
3. Landscaping
The association is responsible for common area
landscaping
, but individual homeowners have responsibility for the trees and shrubs on their own properties. If possible, consider requiring homeowners to have trees professionally pruned before the start of hurricane season. Properly done, seasonal pruning will protect the tree from storm damage and keep it healthier, as well as limiting the possibility of branches becoming projectiles.
If seasonal residents are already required to maintain their lawns and landscaping while away, simply add this seasonal pruning to the policy.
Of course, there are a lot of hurricane preparation tips that cannot be required, simply recommended. Every Florida newspaper and county website has great information about how to keep your home and family safe during a storm. "But again, think about your seasonal residents. Consider distributing information to them about how they can protect their homes and property before they leave town," said Bobby Knuth, regional director at FirstService Residential.
Rather than turn the fridge and freezer to their coldest settings, seasonal residents should completely empty both appliances and unplug them.
Seasonal residents should unplug all electronics and appliances, and, when possible, elevate them so they aren't on the floor in the event of water entering the home.
They should make sure they have copies of all important paperwork related to their Florida homes in multiple locations: deeds, mortgages, insurance, photos of the home's inventory, etc. They should keep copies in their other home, in a safe deposit box and/or stored to the cloud.
If they own a boat, seasonal residents should prepare for it to be stored for the season or in the event of a storm while they are away.
If possible, turn off the main water and gas lines to the house, or the main shut off valves in the condominium unit.
In flood- and storm surge-prone areas, make arrangements for someone to move their cars to a higher level of the parking garage or to higher ground.
Hurricanes aren't fun. But proper planning and cooperation among the Board, residents and your property management company can minimize the risks and increase safety for everyone in your community. Making sure the right policies are in place and that they are properly enforced is part of that, as is thinking about special circumstances of seasonal residents. It takes everyone's efforts to keep the community safe.
For more information about how working with a professional
property management company
can help your community prepare for a storm,
contact FirstService Residential
, Florida's property management leader.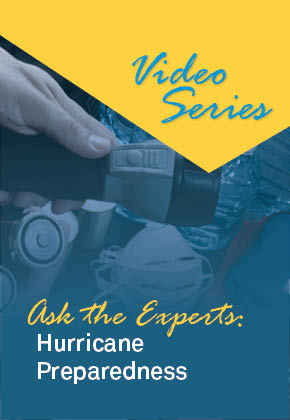 Watch the full video
Is your community association prepared for hurricane season? Access our Hurricane Preparedness video.
Watch now