How Having a Clear Vision Benefits Your Community and Impacts Policies and Compliance
As a board member, you want your community to grow and thrive. Having a vision for your community – the aesthetics of it, its reputation, the lifestyle services it offers and amenities it provides – is critical to its long-term growth and health. A well-crafted vision will transcend board and resident turnover and keep your community on track by helping your board craft the policies and procedures to support it.
"A community needs to ask itself what it wants to be before it can truly determine what policies and rules it needs in place," explained Bill Worrall, director at FirstService Residential. "If their focus is on lifestyle, for example, they need to evaluate their policies with that in mind: 'how does this specific policy impact residents' daily lives and overall resident experience?'"
What are the risks of not having a cohesive vision and using it to direct policy? If policies are made – and worse, enforced – in a haphazard, inconsistent manner, residents will be upset and unhappy. A reputation of the community as a difficult place to live will spread, making it less appealing to buyers and eventually causing property values to drop. Inconsistent policy enforcement can even lead to a discrimination lawsuit against the board. Having a vision makes it easier to be consistent because the vision drives everything your board does, especially policies and compliance.
So let's talk about your community's vision and how that ties into both creating and enforcing policies among your residents and homeowners.

How can you create a clear vision?
Worrall said "As with anything, it starts with communication. You survey your residents, gather their feedback, and ensure you have majority consensus on what the community vision is. That's so important because it will ensure continuity as one board transitions to another. Your property management firm can help you with this, should help you with this, if you have one." A quality property management company will have the technology to help distribute those surveys and make the most of that feedback.
Once you have information collected, you can use it to help clarify the direction you want for your neighborhood or building. It can also be helpful to check out neighboring properties to see what you like and dislike about them. A large property management firm will be able to provide benchmarking data on other communities similar to yours as well as arrange tours of those properties and introductions to their board members. Inspiration might be just down the street!
Developing a vision for your community
may take months of brainstorming, especially if you haven't done it in a long time. Once you've surveyed your residents, either the board as a whole or an ad hoc committee can create a list of goals for the community. For example, what do you want people to think of when they drive by your neighborhood or building? Those aspirational goals become your vision. Your vision shouldn't be static. Review it yearly and make sure it's still right for your community association.
Once you have your vision crafted, make sure it is communicated to everyone in the community. Residents need to be engaged with the community's vision and understand how it will affect them, how it will help enhance their property values and how it will improve their lifestyles. Get their buy-in.
"Alignment from the community on what its vision will be is key," said Edwin Lugo, vice president at FirstService Residential. "Once you have that, the policies and rules will follow."

How can the right policies support your vision?
So you've established your vision. How do you determine if your policies are aligned with it? "Review your current policies to determine if any conflict with that vision. Look at past violations," Worrall explained. "Are there any policies that are violated more frequently than others? Could it be that that policy is no longer a good fit? Or is it too limiting for what it's trying to accomplish? Then review your governing documents to see how you go about making changes. And, of course, always, always, always talk to your association attorney. Make sure you're following the right process for adding or amending policies, and especially that your policies are not running afoul of the law."
Board members often wonder where to start when it comes to policy creation and priorities. A good property management company knows that it's not easy and addresses that lack of understanding and process early on. They will be able to provide guidance on policies established in similar communities and know what some of the hot-button issues are.
Jose Vilarello is a community association manager at FirstService Residential. He said there are three categories of policy issues that come up over and over: pets, parking and people who break the rules. Vilarello said that covering those bases first is a good start. Beyond that, he said your board should look at your current policies to see what's missing that can bring your vision to life. Of course, once you've
crafted the policies
that support your vision, then you need to communicate them to residents and help them understand the "why" behind the policies and why it is important that they abide by them.
Some communities may be happier with fewer rules, just enough to maintain order, while others may want to be more specific about things they believe will impact the community's brand or property values. Your vision can help you determine that, and what those specifics are.
For example, if your vision is a luxury condominium that attracts high-end buyers, you may want to institute a policy that only certain colors of window treatments are used in your high-rise. Make sure that residents understand that the policy isn't meant to inconvenience them, but rather to help everyone's property values increase by maintaining uniformity and quality of appearance to passersby, which in turn helps make the community more marketable and appealing to buyers.
Other examples of how vision can direct policy creation:
Does your active adult resort community want to establish rules about when (or if) children are allowed in the pool, at what age and how they must be supervised?
Does your luxury high-rise want to allow dogs? What size?
Does your exclusive gated community want to allow certain vehicles to be parked overnight?
Your community is a family-friendly, amenities-driven gated community. Do you want to set policies about bicycles and basketball hoops in driveways? What about child supervision in the clubhouse and pool area?

How can compliance with policies enforce your vision?
No one wants to be seen as the "bad guy," but it's important that residents abide by established policies for the good of everyone's safety and security, quality of life and property values. When crafting messaging around violations, especially those related to newly implemented policies, it's a good idea to
reinforce your community's vision and how this policy supports it
. In the above example about window treatments, your violation notice would mention the "why" and tie the policy back to your community's appeal to high-end buyers, which ultimately enhances everyone's property values. For more on how to effectively enforce policies and how your property management company can help with that through tools and technology, stay tuned for part two of this series.
You and your fellow board members want the best for your community. Creating a detailed vision, then using that vision to drive policy creation and enforcement will help your community thrive. A quality property management company will have the resources to help you get input from your residents about their needs and values, create and communicate your vision and craft policies that support it.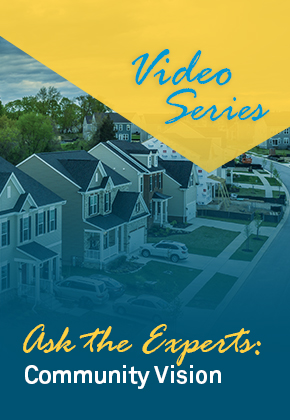 Watch the full video!
What do you want your community to be? Watch our video to learn more about crafting your community vision, communicating it to your residents and more!
WATCH NOW!