Children Explore Heavy-Duty Trucks at Family Event Supported by FirstService Residential
Touch-A-Truck event makes a difference for the community
Chicago, Ill. (September 14, 2016):
FirstService Residential, Chicagoland's property management company leader, participated in a "Touch-A-Truck" event at one of its managed properties as part of the company's commitment to give back to the community.
Lakewood Falls Community Association
hosted the family-friendly event on Saturday, September 10, 2016 at Creekside Elementary School in Plainfield, IL. Approximately 500 people attended the event.
Children had the opportunity to sit-in, touch, discover and safely explore 16 full-sized vehicles, including a 5-ton army cargo truck, concrete mixer, fire engine, ambulance, lift truck, excavation equipment, dump trucks and more. Participants enjoyed free ice cream, courtesy of
FirstService Residential
.
This was the first year that Lakewood Falls Community Association hosted the event. "The children had a terrific time exploring the different trucks and equipment," said Elizabeth Sokacich, FirstService Residential property manager. "The event provided an inspired place to build great relationships with community members and make a difference in their lives."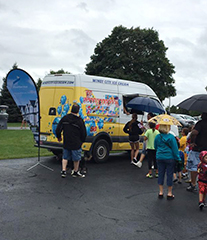 About FirstService Residential
FirstService Residential is recognized as Illinois' leading and most experienced full-service community association management firm. For over 65 years, FirstService Residential has continued to provide the best-in-class community management solutions and genuinely helpful service to its more than 150 communities and 50,000 residents throughout Chicagoland.
FirstService Residential is North America's largest manager of residential communities and the preferred partner of HOAs, community associations and strata corporations in the U.S. and Canada. FirstService Residential's managed communities include low-, mid- and high-rise condominiums and cooperatives, single-family homes, master-planned, lifestyle and active adult communities, and rental and commercial properties.
With an unmatched combination of deep industry experience, local market expertise and personalized attention, FirstService Residential delivers proven solutions and exceptional service that add value, enhance lifestyles and make a difference, every day, for every resident and community it manages. FirstService Residential is a subsidiary of FirstService Corporation, a North American leader in the property services sector. For more information, visit
www.fsresidential.com
.
###