Customer Care: 7 Ways Your Management Company Should "Answer the Call"
Download Your Infographic
Discover property management best practices with the guide, Customer Care: Can Your Property Management Company Answer the Call? Simply fill out the form.
A new resident needs to know how to pay their community association assessment. A pipe freezes and bursts during a cold snap, leaking water into surrounding condominiums. A resident wants to put up a new fence and needs an architectural request form. In a community association, questions or requests for help may come up at any time. Homeowners need to know someone will take responsibility for their issue so they can get back to their everyday world. That's why great property management customer service and self-service options are crucial to customer satisfaction. Does your property management company take care of service in a way that lets you relax and enjoy your life?

Great Property Management Customer Service – Whose Role is it, Anyway?
While you want to be helpful, as a board member it is not always practical for residents to call you directly. You may not be able to entirely avoid sidewalk inquiries or residents making requests when they see you in the pool. But the best use of a volunteer board member's time is in making decisions for the good of the community. In fact, one of the most important tasks of a property management company is to make sure that routine customer requests are taken off the board of directors' plates. That way, the directors maintain a good balance between serving their community and enjoying life in their community.

Community association residents should know how to get help, and when it is appropriate to contact a call center versus contacting the property manager directly. Practices can vary depending on the property management company. Of course, a property manager is always "on-call" for their community association, but a property manager's primary duty is to carry out the vision and decisions of the board of directors.

If the manager spends much time answering routine questions that could be handled by a customer service representative, they will have less capacity to manage the community's projects and counsel board members. In addition, the property manager is frequently out checking the property or meeting with vendors. They might not be immediately available for a resident phone call. That's why a well-run call center with highly trained resident service support staff makes a significant difference in great property management customer service.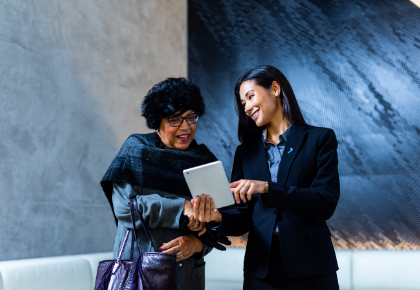 Best Practices for Property Management Call Centers
Unless you analyzed your property management company's customer service and request processes before you signed the contract, it's possible that you're not receiving the exemplary level of service that your community deserves. Fast, reliable phone support is crucial to resident satisfaction, especially when it's an emergency such as burst water pipes. To help you evaluate your current company, here are the best indicators of great property management customer service.

Customer support assistance 24/7, 365. Since issues can come up any time, day or night, your residents should be able to reach a knowledgeable support specialist whenever they need to. There should be no difference between "business hours" and "after-hours."

Multiple ways to get assistance. Some residents prefer to call somebody and have a conversation. This is especially true with older generations who like to speak to someone on the phone. Other people would prefer to search for answers themselves in an online FAQ document or a website such as FirstService Residential's Connect™ and Resident Portal. Your property management company should have an option for all the ways that your residents prefer to get help. In addition, all the help methods should provide consistent information -- one version of the truth.

Acceptable wait times. In the middle of a blizzard, reasonable people know that there may be a wait to talk to somebody about the plowing in your neighborhood. But hold times should always be reasonable and in line with ordinary consumer expectations. The resident's time is valuable, and they want to get help for their problems and then move on with their lives. Your property management company should be tracking and analyzing their call wait times and addressing any issues.

Support specialists who can answer the question. An excellent call center can resolve most issues on the first call. Good support specialists know how to find answers to questions, even if they don't have the answers themselves. Of course, this means that sometimes they may have to call the resident back or have a specialist return a call, but the representative should own the problem and help see it through to completion if they can't resolve it themselves. Great property management customer service includes tracking metrics such as "time-to-close" and "percent of first-call closes" – so ask them for their statistics.

In-house call center. Customer service representatives who work in the same company as the property managers have a distinct advantage. They know how processes in the company work, and they may be able to walk over to someone's desk to quickly get a response. In an outsourced call center, the workforce may be unengaged with the community association and may not be as invested in representing a management company in their best light. In addition, outsourced call centers sometimes handle more than one client and the possibility of mixing up data is always present.

Has multiple call centers. Property management companies that employ multiple call centers are assured that if issues arise at one of them, there is always backup. A regional outage, storm, or other type of emergency, for example, won't affect the service you receive because another center is still available. For this reason, FirstService Residential maintains several call centers across multiple time zones in the United States.

Multilingual support. In a small company or one that is under-resourced, there may not be an associate who speaks the language of the residents. We all know that Google Translate is no substitute for someone who is multilingual, and that mistakes and miscommunication can easily occur if there is a language barrier. FirstService Residential employs representatives who speak more than a dozen languages to offer the best resident service support.

Community association property managers are hired to take care of communities so the residents, and the board members, can enjoy their neighborhood. A crucial component of that management is a dedicated, expert customer support system that handles resident requests and resolves community problems providing great property management customer service in the process. It's possible that the first, or only contact your community residents may have with the property management company is through an interaction with the property management call center. It makes sense to make sure that contact is efficient and satisfactory – every time.
How responsive is your management company's care center?
Learn the right questions to ask by downloading our infographic,
Customer Care: Can Your Property Management Company Answer the Call?