Association Budgets: Mapping Out Your Strategic Plan
In the previous article (
Things to Consider When Creating Your Budget
) we introduced
GERT
, a high-level process that helps set the framework for association boards to create an annual budget. In this article we get into the details of creating a strategic plan for your community.
The purpose of your community's strategic plan
It is important that everyone has the same long-term vision for your community. A strategic plan pushes the board to establish a clear set of goals and objectives for the association and assists board members in determining how to spend their time and when and where to allocate money. But the benefits don't end there. Strategic plans also:
Force the board to look beyond the next 12 months
Drive more consistent action from the board
Allow for proactively scheduling projects to take advantage of pricing opportunities and optimal timing
Identify ways to allocate resources – such as volunteers or committees
Forge a strong partnership and understanding between the board and management team
Keep in mind that strategic plans are meant to be modified from time to time based on the community's needs and the local economy.
Getting started
In our experience, two of the top goals of associations are to maintain – or better yet, increase – property values and to enhance the quality of life of community members. Once the goals are established, the strategic plan becomes the platform for mapping out the next one, three and five years.
To begin, ask yourself the following two questions:
1. What are the association's mandatory needs?
In other words, define the necessary requirements to maintain or enhance the value of the property. An example would be regular preventative maintenance on a major infrastructure element, such as an HVAC system in a condominium building or a private road in a townhome community. Your repairs and maintenance budget should provide sufficient funds for routine and preventative maintenance that prevent deterioration, allow the infrastructure to meet or exceed its expected lifespan and push out the need to dip into reserve funds.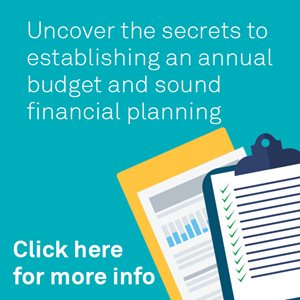 2. What are the association's discretionary needs?
This refers to the items required to maintain the current level of service so that members can retain their existing lifestyle. These needs don't directly affect property values. Rather, they are added benefits above and beyond the mandatory needs. An example would be replacing basic landscaping with a lavish assortment of lush flowers at the main entrance. This would be more of a desire than a necessity.

Prioritization and elimination
Create a master project list from your answers to the two questions. This list provides the basis for a detailed discussion during which you estimate the financial impact of each item and determine its importance. Apply priority drivers and a point system as shown in the example below:
| | | |
| --- | --- | --- |
| Order of Importance | Priority Driver | Weighting |
| 1 | SAFETY | 20 |
| 2 | COST | 18 |
| 3 | CURB APPEAL (AGING LANDSCAPE OR DESIGN ELEMENTS) | 16 |
| 4 | REQUIRED ANNUAL MAINTENANCE | 14 |
| 5 | REQUIRED SCHEDULED PROJECT | 12 |
| 6 | REQUIRED UNSCHEDULED MAINTENANCE | 10 |
| 7 | REQUIRED UNSCHEDULED PROJECT | 8 |
| 8 | UNREQUIRED UNSCHEDULED MAINTENANCE | 6 |
| 9 | UNREQUIRED UNSCHEDULED PROJECT | 4 |
After prioritizing the association's projects, evaluate current services, and define which are required and which can be eliminated. Account for your available resources when defining services that
must
be outsourced versus those that can be effectively absorbed by your management company, sited-staff (if available) or resident volunteers.
Implementation
The final stage is implementation. Incorporate the plan into your reserve study and into your operating budget for the next one, three and five years.
Remember: A strategic plan will assist the board in fulfilling its fiduciary duties to the association members. By going through the strategic planning process, you can identify the community's goals, as well as keep the big picture in sight while examining the details. Failing to properly apply a strategic plan to your budget could put your community at risk for reduced services, decreased property values, special assessments and an underfunded replacement reserve plan.
Want more information on how a professional property management firm can put your community on the right track with a strategic plan?
Contact FirstService Residential
, the leading community management company in Illinois.