Keep Your Community Safe and Cool: Summer Water Safety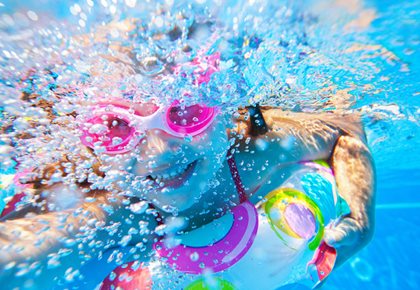 Fishing, boating, swimming, water skiing and other refreshing water sports are a key part of summertime in Georgia. With so many beautiful lakes, including Lake Lanier, Lake Hartwell and Lake Oconee, as well as rivers like the Chattahoochee and a plethora of lovely swimming pools in high-rises and resort communities, Georgians have plenty of opportunities to enjoy the water throughout the summer months.
As a Board member, you want to make sure that your community members and their guests can enjoy your waterfront amenities safely. It's important that you put policies and procedures in place to protect your residents – and your association.
Safety around the water is critical. Unfortunately, a lovely day on the water or at the pool can take a bad turn in a hurry. Follow these safety tips and guidelines to keep your community safe all summer long.
1. Communicate safety protocols.
Bradley White, regional director at FirstService Residential, said that, at the high-rises he oversees, signs are posted that make it clear that there is no lifeguard on duty, as well as other pool rules. "The counties here require that pool rules and hours be posted, and inspectors look for that," he said. "They include all of the basics like no glass containers, no running and no diving."
At Cresswind at Lake Lanier, an active adult community with a marina and common area docks, no swimming is a major rule. Lake Lanier is a man-made lake on the Chattachoochee River, so it's overseen by the United States Army Corp of Engineers. "Our Army Corp of Engineers permit prohibits swimming in our area of the lake. There are cables running underwater to stabilize the marina, and that creates a danger. Fishermen have created reefs under the water to attract fish and those are also potentially dangerous," General Manager Gary Hulion said. "So we post signs all over that make it very clear that swimming is absolutely prohibited. We offer our residents both an indoor and an outdoor pool, so that takes care of swimming needs for most people."
In addition to posted signs, Hulion sends reminders about the rules to residents via a daily update called "Did You Know?" "I remind them about our permit restrictions, and that there's electricity in the water, and the cables and wires," he said. "We make sure to reinforce the message regularly."
2. Make sure that the area is as safe as it can be.
"Our high-rise pools have life rings and buoys available," White said. "We check regularly to make sure that all of the lighting is adequate and working properly, and that the 911 phone works. We also regularly check to make sure that the gates are latching properly. In buildings with 24/7 concierge service, there may be a safety check on the pool every hour that it's open."
Most cities or counties will have very specific requirements for how far an enclosure is from the water's edge, how the entrance gate should function, and more. Following these rules isn't just a matter of compliance – it's a matter of saving lives. Following them may also be a requirement for your insurance to pay any kind of claim, such as a slip and fall after hours. Check with your insurance agent to make sure you are meeting all of your policy's stipulations.
Keeping a pool area safe includes maintaining it. The last thing you want during the summer is a malfunctioning pump or a clogged drain. For tips to help you avoid those headaches – just look
here
. Keep an eye on chemical levels to make sure they're adjusted for the season.
Hulion said that the common area docks in his community include a large sundeck, which is available to anyone in the community, not just slip owners, for sun bathing or fishing for the large-mouth bass, sunfish and blue gills in the lake. "Of course it's tempting to swim there, so I make sure to check regularly to make sure everyone is following the rules," he said.
3. Enlist the community to help enforce policies.
Hulion credits a vigilant community with helping to enforce two key water-related policies in the community. Cresswind at Lake Lanier is an active adult community, and they've chosen to limit the hours that children have access to the community's pools, and what age they must be to use them. The community self-monitors that. "We understand that people visit in the summer, and that may include grandchildren," Hulion said. "But this is an active adult community, and that's part of what the community decided."
Community members also help monitor the boat slips and marina for illegal swimming or other rule infractions. "They let us know if they see any kind of problem," Hulion said. "In addition to the risk of losing our marina and dock permits, no one wants to risk anything happening to the rather expensive boats docked there. So the community members have an investment in making sure everything is done right."
4. Encourage residents to learn safety and swimming.
Have you considered hosting swimming and water safety classes in your community's pool? This approach offers multiple advantages – the biggest being lives saved through better swimming skills. It's also a great way to help build community among residents. Be sure to check with your association attorney about potential liability issues and with your insurance agent about the proper coverage. If you bring in an outside vendor to conduct classes, thoroughly vet their insurance coverage as well.
If you don't want to have classes at your own pool, there are lots of great community resources that can help. Most
YMCAs
offer swimming and water safety classes for all ages. The
Red Cross
may host some at public pools. Both
Fulton County
and the
city of Atlanta
offer classes through their parks departments.
Basic CPR and first aid training save lives. Consider sponsoring community-wide classes in emergency response techniques and provide them to your management staff as well, if they haven't already been trained. Your local
Red Cross
and city or county emergency management officials may provide training, whether at your community or off-site. Your community association management company may be able to help schedule and facilitate a training program for your association.
Georgia's beautiful lakes, pools and rivers offer plenty of opportunities for recreation and summertime fun. Making sure your community is as safe as possible will help keep the fun going into the fall.
For more information about how a professional property management company can help your community manage its pool and other waterfront spaces,
contact
FirstService Residential
, Georgia's leader in residential property management, today.