The 4 Keys to Understanding Hurricane Insurance Coverage in Florida
Download Our Hurricane Guide
If you live in an area affected by hurricanes, it's critical that you have a smart, effective plan in place to help keep your home and loved ones safe. Download our Hurricane Guide to find important checklists and tips.
Hurricane season
is quickly approaching as the days stretch into summer, but there's never a bad time to
prepare to weather a storm
. Start by making sure your community has the tools and items necessary to prepare for a disaster. Meanwhile, you may be among the community association boards across the state that are examining their hurricane insurance policies and wondering what all is covered.
The risks if your community is inadequately covered are varied, but none of them the outcomes are good. The financial repercussions, in particular, can be dire. Without sufficient insurance, the cost to rebuild your community after the storm may prove prohibitive, and homeowners could face special assessments to cover the gap. In fact,
in a high-rise community
, a lack of adequate insurance can cost people their homes.
A good starting place is to examine your existing insurance policies to ensure your
community
has the appropriate coverage. "It's important to have an accurate value of the building on the policy," said Pamela Malfavon, director, FirstService Financial, the banking and insurance affiliate of FirstService Residential. "The association can be penalized for being under-insured." Furthermore, homeowners can sue the board for not having adequate insurance.
Insurance can be complicated and intimidating, obscured behind legal jargon and red tape. Lean on a trusted insurance broker to help you navigate this world to procure adequate coverage. Make sure your broker is up to date on your community and its assets, in addition to being knowledgeable about the common risks for your particular region and all
applicable state laws and regulations
.
The best time to look into your hurricane insurance is now, before any are on the horizon. Talk to your broker and dig into these four aspects to prepare:
1. Ensure Coverage for the Whole Property
Damage from a hurricane or tropical storm can actually necessitate a mesh of different insurance coverages to fully protect your association and residents. Communal property, like common areas and residential buildings, fall under property insurance. Clearly communicate the difference between community assets and individual residences, and their coverage, to your residents.

Property insurance will also typically cover your community from any damage caused by wind and hail. There is a separate policy called named-storm coverage for hurricanes and tropical storms, which must be purchased before the storm is named. Conditions not included in a policy will be specifically excluded. Your policy will likely also require your community to take steps to reduce further damage after a storm to secure the full payout. This can include nailing boards over broken windows or strapping tarps over exposed roofs.

Some areas require additional flood insurance. To discern if your community needs flood insurance, examine your elevation certificate and determine if your buildings are in a flood zone. Even when not explicitly required to have flood insurance by the government, it might prove prescient. Work with your insurance broker to secure the best rates possible for your community.

Your broker can also help decipher unclear language in your policies and elucidate any limitations or exclusions. One misconception people hold about insurance is that "all perils" means the policy covers any possible scenario. "There is no such thing!" says John Lee, vice president, FirstService Financial.
2. Balance Your Deductibles and Premiums
In the event of an insurance claim, a deductible is the amount your association is on the hook for before insurance coverage pays out for the remainder of the cost of repairs. As a rule of thumb, the more you pay in premiums, the lower your deductible, and vice versa. For instance, a bargain policy with low monthly payments may come with a steep deductible. This could save your association on the yearly budget estimates, but cost more in the unfortunate case of storm damage. As a corollary, a pricier policy may compensate for its high premiums with lower out-of-pocket expenses to restore the community after a hurricane.

"Many boards know the price of the policy but do not realize what their true exposure is because they have a high deductible in exchange for a lower premium," Lee said. "Most catastrophic coverage has huge deductibles and associations don't have the cash reserves to cover them. They should be aware of the financial resources they will have access to in the event of an emergency and plan accordingly."

An insurance agent can provide clarity when balancing deductibles against premiums. High deductibles should calculate into your budget as well, particularly in a region at risk to frequent tropical storms like Florida. "Does the deductible reset annually or with each occurrence?" Malfavon recommends asking. "That can make a huge difference in your out-of-pocket costs."

Property insurance typically comes with a set deductible. However, calculating hurricane and wind deductibles frequently comes as a percentage of the total insured value of the damaged property. For instance, a building valued at $40,000,000 would result in a $2,000,000 out-of-pocket expense with a 5% deductible. A 3% deductible is also common.

Local regulations and policy fine print can also determine when these types of deductibles apply. For instance, they may stipulate that a higher deductible is only activated when a named storm of certain wind speeds causes the damage.
3. Understand the Claims Process
It can be beneficial to understand the process for reporting claims ahead of any potential damage. Your agent can provide an overview, as well as a phone number to use if their office is inaccessible, trusted professionals you can rely on to assist with your claim, and best practices to manage any damage or loss.

Dealing with an insurance company can be daunting. This is why your property management company is here: To take the lead throughout the entire process. This will include initial notices, preparing records, liaising with the claims adjustor, and ensuring your association secures the optimal settlement as quickly as possible. Keep in mind that adjustors are busiest directly after a disaster, and may have a backlog of claims. Your management company can compile and vet estimates and tick off any preliminary items on the checklist before repairs can begin. Meanwhile, board members can best assist by taking pictures and documenting damage around the community, contributing to an accurate and efficient process.

One tip is to retain digital copies of your insurance policies, in the case of severe loss that prevents access to hard copies. FirstService Residential's Connect maintains electronic copies of policies offsite for easy, direct access when filing a claim. Distributing paper copies in multiple locations is recommended in case of a prolonged power outage.
4. Make Sure Individual Homeowners Have Their Own Coverage
As mentioned earlier, homeowners need their own insurance coverage in addition to a property-wide association policy. Mortgage lenders will require proper insurance, but cash buyers may not be aware of the necessity in a hurricane zone, particularly international investors. One role of the board is to properly communicate this to residents. In the event of a catastrophe, sufficient homeowner insurance will greatly benefit in helping the community recover quickly, preserving property values and reputation.

"There are several potential pitfalls. The most common is unit owners believing they do not need their own insurance, because the association carries insurance," Lee said. "The second is the need for flood insurance in addition to property coverage."

Condominium owners can utilize an HO6 policy, which allows them to subsidize the community's insurance deductible through something called a loss assessment limit. Many prefer to allow insurance take care of the deductible rather than directly bearing the brunt of the cost among residents, so be sure to clearly explain this to condo membership.

Overall, securing proper insurance coverage can seem like a daunting task, particularly for those not previously familiar with the insurance world. But in the event of a disaster, having sufficient insurance locked in place is essential to soften the blow and protect residents' homes and livelihoods, allowing the community to bounce back within its operating budget. Reach out to an experienced, trusted broker to discuss policies and secure the coverage your association needs.

Learn more about how property staff can prepare for a hurricane, and be sure to sign up for FirstService Residential's news and resources.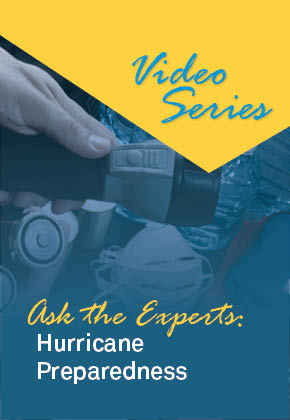 Watch the full video
Is your community association prepared for hurricane season? Access our Hurricane Preparedness video.
Watch now